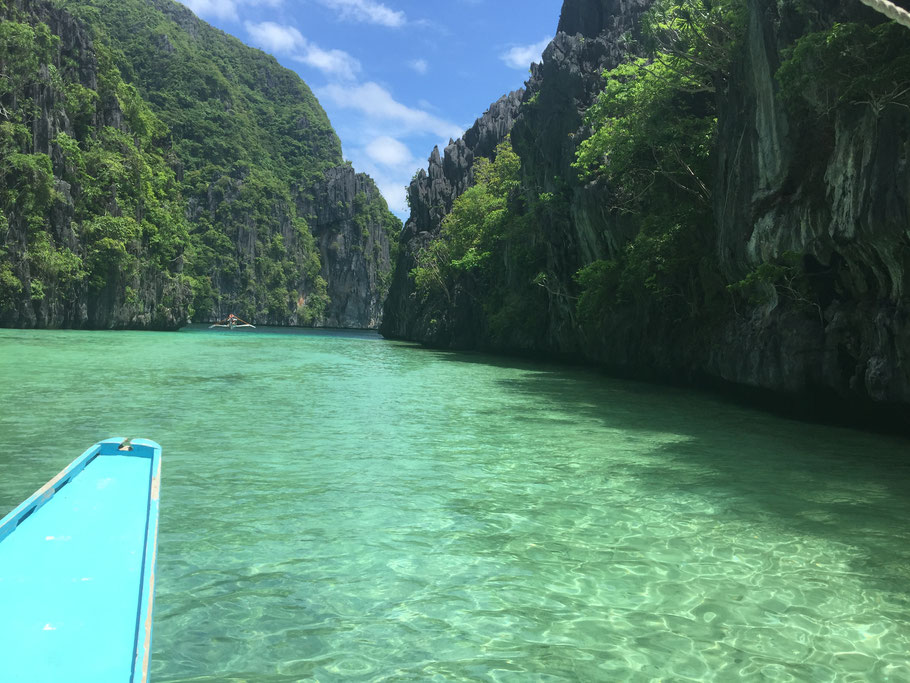 We arrived in El Nido in the late afternoon and my first impressions were not at all what I expected. This is not to say I was disappointed, more intrigued, about how different the reality of this destination was to the image I had created in my head. I feel as though luxury/glamour travel sites and social media have latched onto El Nido as an-up-and-coming location and present in a way that falsely advertises what its actually about. If you're a fan of hot showers, electricity and luxury resorts then I don't think El Nido is the place for you. El Nido is a hot, insect infested, luscious little town perched on the edge of Palawan surrounded by an archipelago of islands and wooden fishing boats. El Nido IS the place to come if you like tropical islands and deserted beaches and motorbike rides through the jungle. Tourism is relatively new and has boomed mostly in the past few years which is evidenced in the unorganized/crazy way in which the town is organised and built. New hotels and resorts are being developed on ever corner to try and cater to the crazy influx of tourists (and because there is money to be made). It's incredibly isolated, being a 5 hour drive from the airport, travelling mainly through jungle and green countryside and there are no ATMS or supermarkets. El Nido itself does have an airport however the flights there are irregular and cost far more than flying into Puerto Princessa. There are tour operating companies left, right and center and plenty of  restaurants, however the food (a lot like the rest of the Philippines) isn't the best and is far more expensive than you'll pay in the rest of the country. El Nido itself stretches across several beaches/small towns.  We were staying up on the hill behind the main town in a hotel called the Viewdeck Cottages. From our balcony we had an amazing view over the village and onto the ocean in the distance.  It was less than a 10 minute walk from our room to the beach (which demonstrates how small this place is seeing as we were at the very edge of town). I booked our accommodation about a month in advance as El Nido is a popular destination and the prices are known to sky rocket close to arrival dates. (a hotel I was keen on staying at started at $23 a night and by the time I got around to booking it (which was about a month later) had risen to $65 a night!!)
We were in El Nido at the beginning of July which is supposedly wet season. We had amazing weather for our entire stay in the Philippines, bar the occasional afternoon storm. I think we were just very lucky because locals told us that the week before we arrived in El Nido none of the island tours had been running because of bad weather. I don't want to recommend travelling at this time in case you do come across bad weather but seeing as it was uni holidays and it was the only time we could go I was happy to take the risk!
As I mentioned before make sure you bring a substantial amount of cash with you as there are no ATM machines in El Nido and nowhere accepts card. There is an ATM machine at the airport which (like the rest of the country)  has a $6 charge fee every time you withdraw money.
After arriving back in Manila (from Banaue) at 4am we got a taxi for $6 (200 pesos) to the domestic airport and waited for a few hours before our flight at 9. We flew from Manila to Palawan with AirAsia for $60 (a flight that I booked about 7 weeks in advance). The flight takes just over an hour. The best time to fly is early-ish in the morning to make sure you arrive in Puerto Princesa (Palawan airport) with enough time to get to El Nido before the sun sets.
Upon arriving in Peurto Princesa Ebbs ran outside to begin bartering with the van drivers to find the best price to get us to El Nido while I waited for our bag.
There are several options for getting from Puerto Princessa to El Nido, the cheapest being the Roro or Cherry bus that leaves from the main bus terminal a few times a day and costs between 300-450 pesos a ticket depending on whether your bus is air conditioned or not. This price is compounded by the price of the tuk tuk you have to get to the bus station from the airport which is another 100-150 pesos depending on how good your bartering skills are.
We decided to go with the second cheapest option and get a van transfer to El Nido for several reasons; the main being it was the easiest option, but also, it was only going to cost us 50 or so more pesos than the bus would have and it only took 4 hours as apposed to the 7-8 hours that the bus takes because it stops many times on the way and can't drive as fast.
We both paid 500 pesos ($12 each) for our seat in the van that took 13  of us (in a 8 seater van) to El Nido and dropped us at our hotels. Be weary, they wont leave the airport until the van is full... Ours waited for almost an hour before we left because they still needed one more person and they ended up putting us all in another van that was already almost full in order to save space.
The drive is insane in every way possible, the roads are windy and cross heaps of bridges and our driver was doing an average of 120 km an hour the entire way. We all literally had to hold on to the door frames to stop ourselves from flying around the van as there weren't enough seat belts for all of us. The scenery you drive through is spectacular; completely untouched landscapes stretching as far as the eye can see, with water buffalo plowing through fields and shacks made out of branches and tree trunks littering the vibrant green. I really felt like we had landed on a proper tropical island. It rained several times during the drive up making the drive even more precarious but we arrived safely just over 4 hours after we had left the airport. The driver made us pay 50 pesos extra to be dropped directly at our hotel 'because it was inside the busy streets' and we weren't bothered to argue however if money had been tight I'm sure the situation could have been bypassed. 
To get back to the airport on our last day we booked the same service through our hotel manager Rudi. If we had gone out to the streets and gone from one tour company to the next we definitely could have got the same service for a lower price (350-400 pesos) but the 500 each we were paying was still only $12 and we weren't bothered enough by the $3 we could save by bartering to do anything about it. We were picked up at 9 from our hotel and this driver was a little less insane than our last and drove at a normal pace (80km) so it took 5 hours to get back (including a stop for lunch). We had 2 flights that afternoon, the first to Manila and then a change to Cebu. There is an airport tax in Peurto Princessa of 200 pesos per person ($6 each) so make sure you have the cash with you when you enter the airport. There was a jam at manila airport so our first plane was delayed by 2 hours which should have meant we missed our second flight but luckily that was delayed also and we ended up making it by 25 minutes. We arrived in Cebu at around 10pm (it was a long day). Both flights cost around $120 (together) and were with Air Asia.
We stayed at the Viewdeck Cottages which were situated off the main road at the back of the town. The location was great because we had an elevated view over the town and the ocean but we were still only a 5 minute walk from the beach and all the restaurants and shops. I booked our accommodation here a month or so before we arrived because the prices seemed to increase and all the best places were filling up. The room cost us $18 each a night (which isn't at all cheap by Asian standards but El Nido's prices are inflated because of their recent tourist boom). I definitely could have found somewhere far cheaper to stay but $18 a night wasn't a big problem for us (because we weren't travelling for ages) and I was happy to pay a little more for somewhere that was really cool (and this was).
The electricity in El Nido comes and goes and you'll be incredibly lucky if you have hot water. In the 18 days we were in the Philippines I only had 1 'warm' shower and the rest were cold (despite that fact that most of the websites of the places we were staying claimed they had hot showers). This really isn't an issue as the weather is pretty much hot all year round so its unlikely you'll ever be craving a hot shower anyway.
Our accommodation had internet but only in the restaurant/common area so we had to walk down there if we wanted to look anything up or use the internet. Our room was basic but beautiful, in a wooden hut perched at the top of a hill (we had to climb a lot of stairs which was the only downside). We had our own balcony and en-suite bathroom and a fan. The price of our room also included breakfast (pancakes were on the menu so I was happy) so we didn't have the expense of breakfast or the need for a big lunch. As far as other accommodation and location go, I would recommend staying in the main section of El Nido rather than Las Cabanas beach or Coron Coron beach. Although they are still all quite close to each other the convenience of the shorter walk and far more food options in the main town trumps the other locations. Also, Coron Coron beach isn't very nice when the tide it out, exposing lots of rock and smelly seaweed for about 400 meters. There are hostels in El Nido also, however the prices that we saw advertised were around $12 each a night for a dorm bed so we were happy to pay $6 more and have our own room.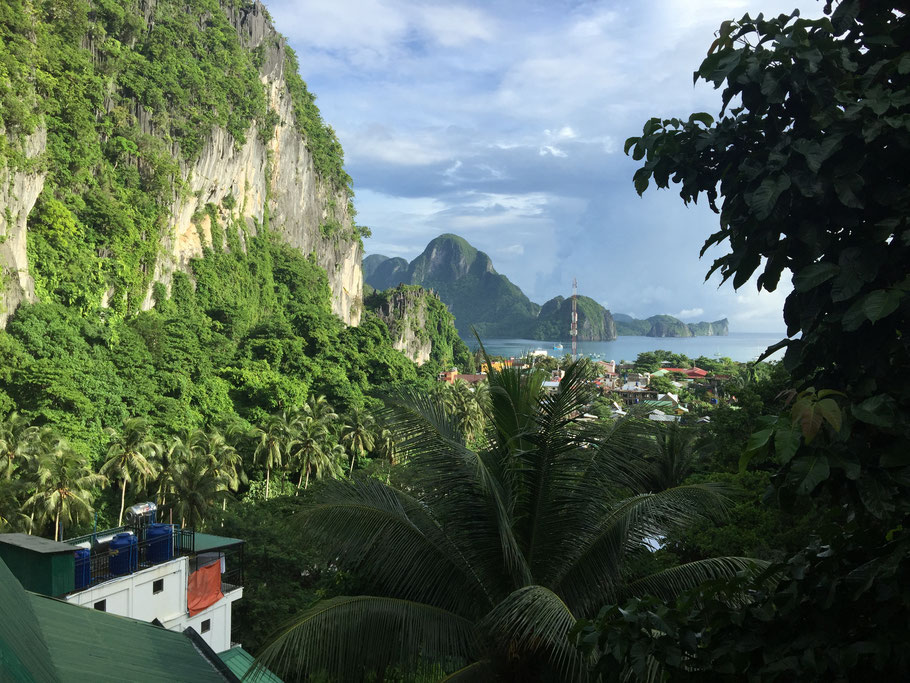 Once we unpacked and showered we clambered down the stairs of our tree house and went on the search for food. We settled with a restaurant on the sand on the main beach and sat down just in time for sunset with the tide lapping our toes. It was a beautiful place to have dinner although the serenity was interrupted relentlessly by people trying to sell us jewelry and 'pearls'. I had a vegetable curry and Ebbs had a pork curry and drinks which cost us $8 each (which is quite expensive for Asia). After dinner we walked up and down the beach dipping our toes in the water and people watching before making our way back to bed. Because we had been on an overnight bus the night before and had been awake since 4am we feel asleep straight away even though it was only 8 30 (: (:
We booked the tour c island hopping tour through our hotel for the next morning and it cost 1000 pesos each ($24 each) (Plus a 200 peso environmental fee which you only have to pay once, no matter how many tours you do). We did tour C first because they only run the tour in good weather and the man at our hotel said it was wise to go while the weather was good because it can be unpredictable in July. 
We got picked up by a tuk tuk from our hotel and were driven down to the beach where we waited to board our boat. All tours pick you up at 9 and leave the bay at around 9:30. Our boat was one of the last to leave the bay which wasn't really an issue because it meant we were the last to arrive in several of the island locations which gave us a little bit of time to ourselves as the other boats full of fluro-life-jacket-wearing-tourists had moved on to the next destination. A question Ebbs and I both pondered the entire trip was why they didn't just alternate the departures of each boat so that everyone wasn't in the same place at the same time??
The boats usually take about 10 passengers... try to sit at the front of the boat for the most space and the best views. Make sure you wear waterproof shoes/ thongs and bring a towel or a sarong. I spent all day just in my swimmers because you are in and out of the water the whole time. Ask them for a garbage bag to put all your things in because water will splash up onto the deck of the boat and all your stuff will get wet, especially when you sail to the Secret Beach after lunch. You have to swim to many of the locations from the boat so you'll need a waterproof camera if you want to photograph anything. They should provide you with a snorkel and mask which you'll need for most of the day because the snorkeling is incredible!!! We sailed in and out of hidden coves and rocky outcrops covered in trees. The water is super warm so you wont have trouble getting in and out all day.
The tour includes an amazing lunch that they seem to pull out of thin air and present in such a beautiful way off this tiny boat on an uninhabited beach?? 
When we got home we were wet and cold because it rained in the afternoon. We headed back to our room and had a shower and a nap. We then went for a walk round to Corong Corong beach via the markets where I bought bananas and mangoes for a few $$. It was extremely low tide at the beach so it was a little unpleasant and smelly with the sea bed exposed for hundreds of meters. We walked all the way to the end and back and then decided to buy some 2 minute noodles for dinner in an attempt to save money (because we didn't bring enough cash with us) We ended up getting 4 packets for $1 and the lovely people at our hotel cooked them for us. Dessert was fresh mango and banana and a beer (for Ebbs not me) sitting on our balcony watching the sun set over the town and the ocean beyond. We planned on going to sleep early but ended up talking on the balcony for a few hours before we literally collapsed into bed.
On our second day we got up at 7:30am and made out way slowly down to breakfast which for me was pancakes again because THEY ARE MY FAVORITE. At around 9:30 we walked down the main street looking for somewhere to hire a motorbike from. We ended up finding a place that would rent us a bike for the day for 300 pesos which would be $4 each. We filmed the bike in front of the guy we hired it off so he couldn't claim we had damaged it when we returned it (This is something you must do when hiring a bike throughout all of Asia (and in other countries too) as it is a common scam). Petrol cost us 110 peso for a full tank. We then set off on the main road out of El Nido to Nacpan beach which was hands down the most beautiful beach I have ever seen (the locals will tell you this also). The water was clearer than you could possibly imagine and the sand was lined with palm trees and fallen coconuts. There were green islands that dotted around the beaches edge almost enclosing it from the open ocean. The ride was about 35 minutes because the second half of the trip was on a dirt road. The route to get there is incredibly simple; you just follow the main road the whole way until you come to a sign to your left that is labeled 'Napcan Beach'.  Once we arrived, we parked our bike under a palm tree and wandered down the beach to find a secluded place to sit. This wasn't hard as there were only a few people on the beach even though it was huge. The water was so warm it almost wasn't refreshing to swim in but meant we could stay in for hours without getting cold. We lay in the shallow parts and let the tide drift over us until our skin was wrinkly and gross. We then lay naked on the beach and read for a few hours before heading back to the bike.
On the way back we stopped at Nagkalit-Katlit waterfalls which was on the same road back into El Nido and was a 30 minute walk each way from the road to the falls. Most people walk with a guide but we found it easy enough to do by ourselves and we saved a few $$$ this way. The waterfall was really pretty and we were lucky there was no-one there while we were there because on our way back we passed 3 massive groups of people all headed to the falls (which weren't that big to start with). We rode back into town and had noodles and bananas for a late lunch/early dinner before riding to Las Cabanas for sunset. The tide was really far out exposing a not so nice rocky sea bottom (much like Corong Corong the day before) instead of sand which drew away from the beauty of the view and sunset. Next time I come to El Nido i'd love to stay in Las Cabanas because the view was incredible over the bay of islands and with a  motorbike you can get just about anywhere anyway despite its seclusion. We then went home and got dinner for 70 cents each (it was pretty small) from a restaurant underneath our hotel and clambered up the stairs to bed. 
On our final day in El Nido we went on tour A. The weather, once again was sublime and we woke up to clear blue skies and sunshine. We had breakfast on the balcony and I booked our Cebu accommodation and then we got a tuk tuk to the beach where we waited to board our boat. As I mentioned before, try and arrive a little late for your tour (around 10 minutes) because heaps of boats leave so you wont get left behind and as a result we had far less people on our boat (both times) and we had time to ourselves in each location because all the other boats had left.  The first stop on the trip was 7 Commandos beach which was probably my favorite. I have never seen water so clear or sand so white and there were coconuts for sale for 50 cents each and a rope swing that swung out over the water. We spent about an hour here, lying on hammocks, snorkeling and drinking coconuts before heading to the big lagoon across the bay. This was also incredibly spectacular but we only drove through it and took photos. In the middle of the lagoon our boat's engine stalled and we had to be towed by another boat to our lunch location. Because the beach here was so crowded and we couldn't get ourselves to where we were actually meant to have lunch (because our boat was broked!!) we had to eat on the boat instead of on the beach which was a little crowded but actually heaps more fun. We went snorkeling and I tanned on the front of the boat while we waited for our replacement boat to arrive.
It didn't take too long before we were away again which was kind of sad because the lunch location was so beautiful. I could have spent the entire day just there. The 'small' and 'secret lagoons' were the last stop on the trip. The secret lagoon was super cool but full of tourists in fluro life-vests (my fav kind) which drew away from the magic a little.
The small lagoon was also a bit of a joke, we arrived and parked 200 meters away from it and were told we had to pay to hire canoes if we wanted to go inside. Ebbs and I HATE being tricked into spending money (and I assume so do most people) so despite the 'dangerous rock fish' that our crew warned us of, we swam into the lagoon with our snorkels (AND NO CANOE!!). The lagoon was on the edge of a reef which fell to over 10 meters deep on the other side (i will not lie this freaked me out a lot!!). We saw lots of beautiful colored fish and coral which we wouldn't have if we had hired the canoes.  The lagoon itself was nothing special but only because it was full of fluro orange canoes and life-jackets which made it was hard to appreciate its natural splendor.
We were both super tired and very sunburnt as we headed back to our room that afternoon. We had a cold shower and a nap and went for one last walk around the town before going to dinner at 7 30. We went to the restaurant below our hotel again, this time spending $3 each instead of 70 cents and got lots of dishes to share. One of the dishes we ordered was a seafood noodle and was incredibly touch and go (i.e inedible and definitely off). We both felt very lucky that we didn't get sick that night. It poured with rain while we lay in bed causing the power to cut out and I didn't sleep very well because we had a tin roof and the rain rattled our little cottage. 
Given that this was the our most expensive location on the trip and that we really weren't trying hard to save money we still found it easy to not spend much in El Nido. The main expense for us were the island hopping tours that were around $30 each a day. Although this did seem pretty over priced, the tours were beautiful and fairly extensive plus your crew made you an amazing lunch on the boat or a private island so we could hardly complain.
accommodation

 $136 for 4 nights ($17 each a night)

food $60 (2150 pesos) ($30 each)
transport $70 (2500 pesos) ($35 each) including van transfers too and from the airport and motorbike hire for 24 hours and petrol. 
activities

 $123 (4400 pesos) for 2 full day island hopping tours including lunch and 

snorkeling

 gear. (once again we could have bargained with this price further, but we would have only been saving a few dollars and the 

convenience

 of booking it through our hotel 

outweighed our desire to save).
Total cost: $389 ($194 each) for 4 days.