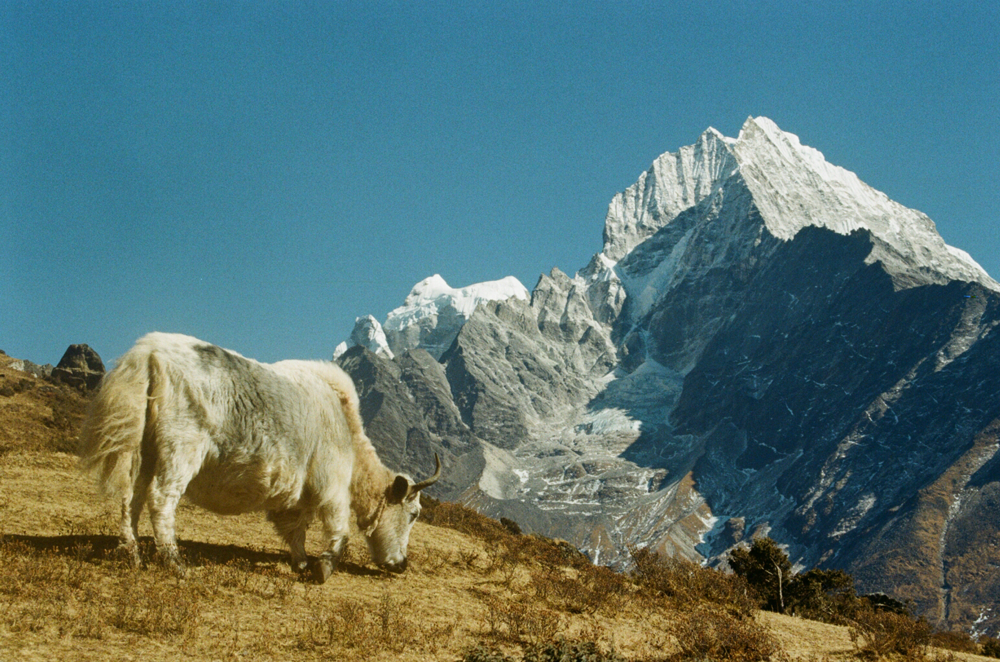 As a certified mountain enthusiast, nothing excited me more than the prospect of hiking to the highest point in the world. In 1984 my dad trekked for 56 days in the Everest region and his stories and dusty film pictures had me obsessed with the idea for over a decade.
Finally, in December, 2018, I took myself there. This hike was undeniably the most invigorating and extravagant thing I have ever done. Thinking about the way I felt, the things I saw and the weather I endured sends intense goosebumps across my body... IT WAS RIDICULOUS.
So now, as I hope to inspire others to do the same, I will attempt to detail my exact process in trekking solo to Everest Base Camp. ENJOY
My adventure began in dusty Kathmandu where I spent two days preparing and gathering my gear. I was nervous, like, REALLY nervous. I can distinctly remember the night before I left, sitting on the rooftop of my hostel and talking to my dad on the phone. Shivering intensely even though it was only 7 degrees and thinking "fuck its going to be -35 how on earth am I meant to survive this". In hindsight, I think I can attribute most of the shivering to nerves, because the next day, rugged up in all my gear, I was definitely not cold but I was still shivering!!
I had done plenty of long hikes before, but never completely alone, and never for 12 days, also never in -20 (and below). So, I was preparing for a lot of firsts and I was scared.  I was so anxious I could barely sleep, worried I'd forgotten something integral or that my leg (which I had significantly injured a few months beforehand) would get bad again and mean I'd have to be airlifted out. 
Before I left, I read a million blog posts, specifically about doing the hike without a guide or group. In doing so, I was able to read over 10 personal and detailed accounts (hopefully such as this one) from other people who had done it in the past few years, alongside all their tips and tricks and this made all the difference.  (When searching for blogs, ensure you use the key words; blog, solo, without a guide etc to avoid all the tour companies and paid travel pieces.)
Looking back, the nerves were what made the whole experience so rewarding. It was a genuine challenge, I was completely terrified and I pulled it off flawlessly. I glowed for weeks afterwards (maybe I still am). 
WHEN TO TREK
When high altitude is involved nothing is more important than the weather and given the extreme terrain of the Himalayas, choosing the right time can take a bit of planning. It is integral you time your trek to best suit the terrain and the season so there are a couple of factors that need to be considered. 
Firstly you want to avoid monsoon season at all costs; June, July, August and early September. This is both a dangerous and incredibly uncomfortable time of year to trek in this region as it rains a lot and low, dark clouds cover the views. Not ideal. The danger comes in landslides and rockfalls that are caused by the wet, softened earth.
The peak season is March - May and typically the weather is decent, but more importantly its less cold than the winter season. Despite this, rain and clouds aren't uncommon and there's no guarantee you'll have perfect weather the entire time. 
I did my trek in late December/early January which is typically the height of off-season due to the bitter cold weather, HOWEVER while the winter months may be cold, the skies are usually completely clear (meaning amazing, crisp views) and as it is off-season there are hardly any other people on the trail. (I need to re-iterate that there were still plenty of people on the trail, but I was usually alone or accompanied by only a few other people in my tea-house and during the day I would hike in complete solitude WHICH IS WHAT I'M ALL ABOUT!!!)
For a clearer comparison, in peak season there are usually 45 000 to 50 000 people who do the trek per month and in low season there are 4 000. I heard horror stories of traffic jams on the trails, groups of loud people whining about pit toilets (you're at 5000m for fucks sake what do you expect?????), rubbish, groups of people with speakers and poor taste in music (a nightmare) etc. There are also times during the high season when there's a rush to get to the tea-houses everyday in order to get a bed and often people have to walk to the next town or sleep on the floor of the common room. Basically, while it did get to -34 and I cried out of sheer discomfort once or twice, I found the cold was a more than fair compromise for guaranteed clear skies and no crowds.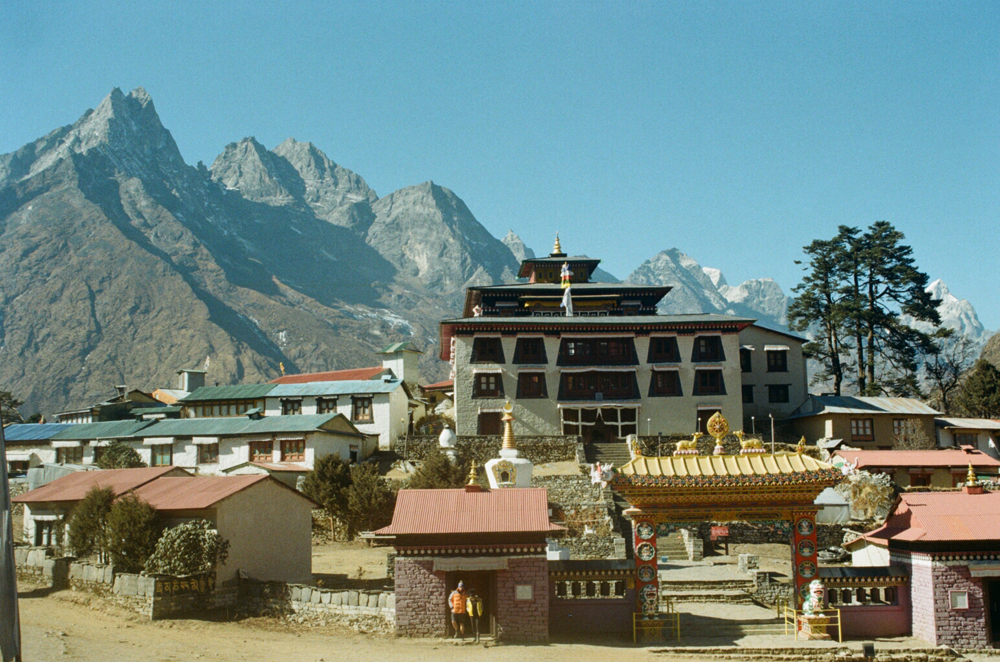 FLYING INTO LUKLA AIRPORT
Undeniably, half my anxiety and half my excitement pre-trek surrounded the flights in and out of Lukla airport. (Ironically) I'm not a massive fan of flying to begin with and while I don't usually suffer too hard on a big commercial flight, the flight from Kathmandu to Lukla is aboard a TINY 12 person plane with an open cockpit and propellers… and its regional Nepal, these airlines don't have a fabulous track record.
Compounding this, Lukla is known as the most dangerous airport in the world due to its precarious location, cut into the side of a mountain. The landing, which must be meticulously timed by the pilot (whom I SHIT YOU NOT was reading a newspaper during this LIFE THREATENING FLIGHT) takes place on a tiny, sloped runway, giving the plane only seconds to stop completely before it ends in sheer cliff face. There have also been several incidences in the past where the pilot has taken the landing too low and slammed into the cliff-face of the mountain that continues below the runway. All round, far too many opportunities for something to go wrong for my liking. Luckily the pilot was paying attention when it mattered and landed our tiny death box with extreme precision.  
Despite all this DRAMA I actually really enjoyed the flight, the views were indescribable (overlooking rural Nepal and a major stretch of the Himalayas, including Everest) and it was certainly an experience unlike anything I'd had before. Make sure you sit on the left side of the plane for the best views (flying Kathmandu - Lukla) and the right side on the way back! 
The flight back to Kathmandu was even better as without the terrifying landing proposition (and with the experience of the previous flight under my belt) I was hardly nervous at all. There is only a short window each morning during which the weather is safe enough to fly so there are often delays (that can be as long as a week) if the conditions don't present themselves. I was lucky, while all the flights were delayed by an hour or so, every flight did take off that morning, so I didn't have to spend any extra days in Lukla.
As the runway is so short there's no room for the plane to 'take off' so instead it just bolts down the tilted runway and falls of the side of the mountain (in a very smooth and purposeful manner). Kind of like a short and swift roller-coaster ride.  I was siting next to a Sherpa woman who was holding a new born baby in her arms (either to visit family in the city or to go to a hospital) she didn't speak any English but she clutched onto me without hesitation the entire flight, this didn't help my nerves but at least I got to coo at the tiny baby. The other Sherpa woman (who's check-in luggage was a sack of potatoes) in the seat behind me was throwing up into a plastic bag which was far less serene.
STARTING YOUR TREK 
There are several options for getting to EBC. I had limited time as I was flying to Tokyo on the 14th of January, giving me just under 3 weeks in Nepal. The trek takes 12-14 days depending on your speed and location choices. I did it comfortably in 12 days (flying back to Kathmandu at 8am on the 12th day).
I flew to and from Lukla airport to start and end my trek. I booked my flights online through TARA/YETI air and the flights were $500 return. The flights are totally flexible and refundable in case something happens to you during the trek and your schedule changes however I recommend booking the flight to Lukla from Kathmandu in advance (how in advance depends on what time of year you're flying cause in peak season it'll need to be early) but wait until you get back to Namche Bazaar on your second last day of the trek to book your flight back to Kathmandu. This way there'll be no risk of you missing your flight while you are still out of wifi range (in case you get held up) and there should still be plenty of seats left as there are a number of flights each morning. Make sure you book the earliest flight available for the day you wish to fly as that's the one that's most likely to actually arrive/depart as the weather is better early on. As the landing is so precarious the flights will only take off if the conditions are perfect so there are often massive delays (sometimes for days a time). For this reason it is not recommended to plan your hike to finish the day before or even 2 days before an international flight as people have been known to be caught in Lukla for up to a week! I was incredibly lucky and while both my flights were delayed it was only by a few hours not a few days! I had 4 days in between my planned flight from Lukla and my international flight to Japan.
Alternatively to flying, you can walk to/from Jiri and get a jeep back to Kathmandu. This is by far the cheaper option but the hike is an extra 5/6 days on either end of the trek so its only for people with time! There are apparently a couple of different routes/new locations that jeeps will pick you up from but as I didn't do this myself I recommend you do some research elsewhere for this part of your trek!
If you have time then I thoroughly recommend walking one way (preferably up) and then flying back as it really helps you acclimatize and the trails are far less traveled on (plus you're saving lots of money and you get extra time in the mountains!!!)  
AN OBSERVATION
I'm going to succumb to a small rant as a side entry to this post as I think its important to highlight what this trek is actually about and the kind of person it should appeal to. In order to enjoy this trek you must be fit, at least to an extent. And… YOU MUST ACTUALLY ENJOY HIKING. Its pretty fucking simple. As it was off-season there were only a few other groups of people hiking the trail at the same time as me and most of them were groups of people who had paid to do the hike with a western tour company. I'm not exaggerating when I say that of the 3 groups of people I spoke to, the number of people from their groups that made it to Base Camp were 6/11, 3/7 and 4/12… Pretty shocking numbers… and worse still, every single one of the groups had at least one member airlifted out and one of them had 2!! Obviously, I have nothing against those whom are incredibly sick being taken to safety, but the sheer number of casualties just shows how unaware and unprepared these individuals were.  Altitude sickness is usually something that progresses slowly and in all these cases the people were feeling sick at 3000 meters but they kept going anyway!!! It is such a serious danger and is ridiculous to toy with.
What I'm trying to express here is PLEASE don't do this trek unless you actually enjoy hiking… If you require some expensive western tour group to get you up there then its probably not for you… its an adventure and 95% of the fun is finding your own way. Its not the Eiffel tower (as some eager Japanese tour groups definitely seemed to think), it's the highest mountain on earth. Conditions are tough and this should not come as a surprise!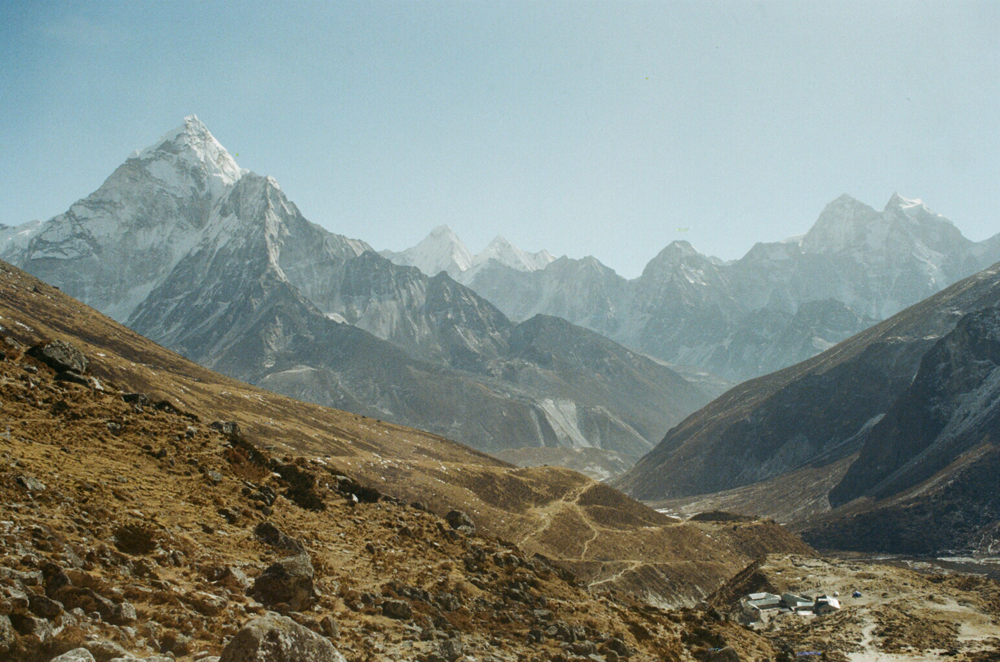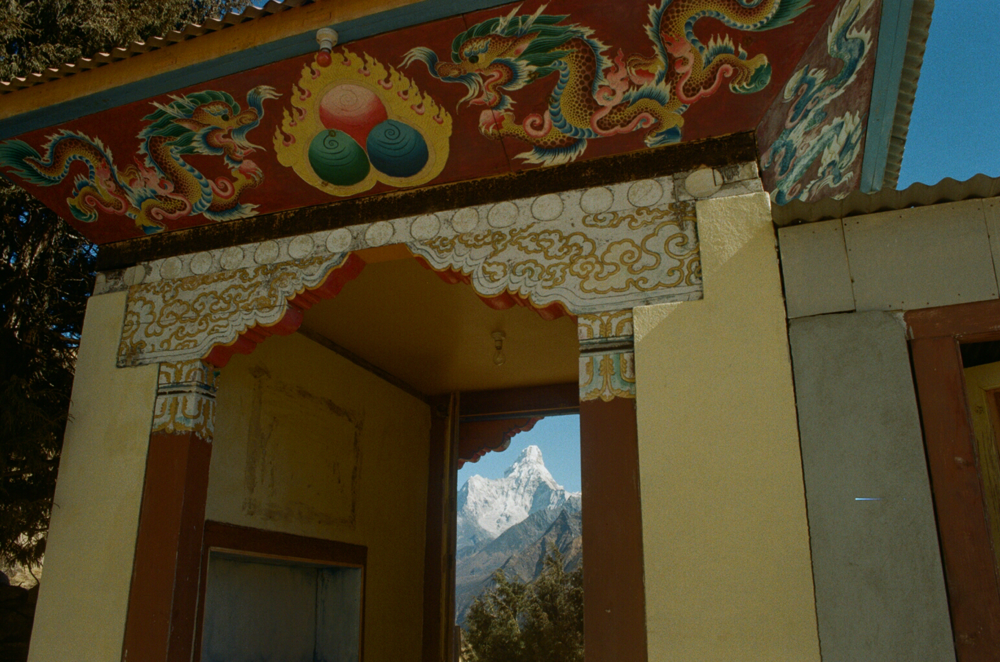 HIKING ROUTE
Kathmandu to Lukla (flight) Lukla to Monjo (day 1)
Monjo to Namche Bazaar (day 2)
Namche Bazaar - Acclimatization day (day 3)
Namche bazaar to Tengboche (day 4)
Tengboche to Dingboche (day 5)
Dingboche -Acclimatization day (day 6)
Dingboche to Lobuche (day 7)
lobuche to Gorak Shep to EBC (day 8)
Gorak shep to Kala Patthar to Gorak Shep to Tengboche (BIG day 9)
Tengboche to Namche Bazaar (day 10)
Namche Bazaar to Lukla (day 11)
Lukla to Kathmandu flight (day 12)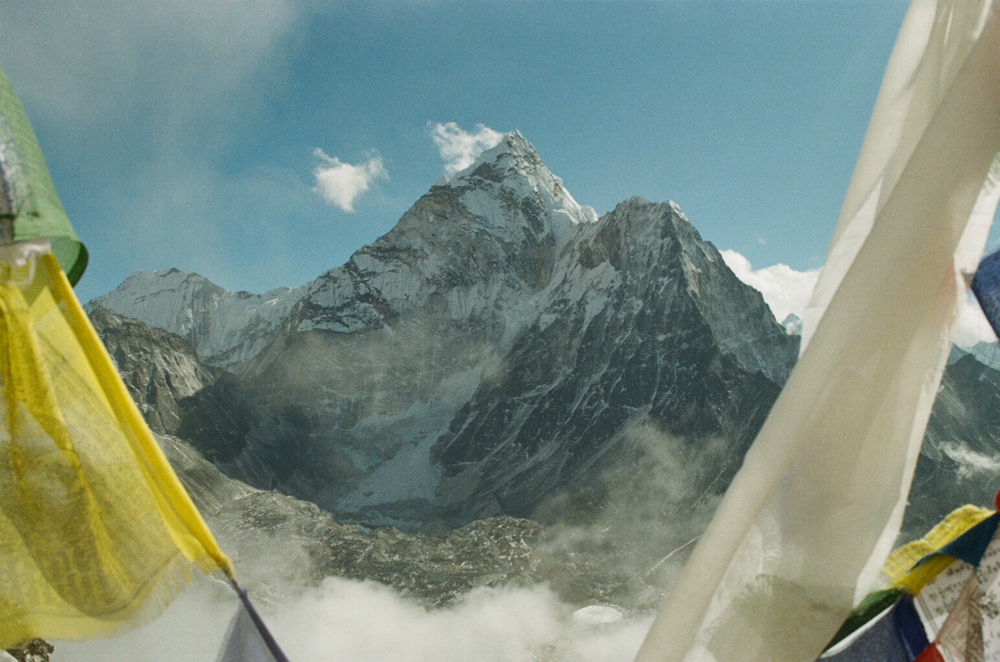 ACCOMMODATION 
One of the best parts about hiking in the Himalayas (apart from the mountains themselves) is the convenience of staying in a Nepalese tea-house every night, rather than in a tent. Not only does this mean you don't have to carry your camping gear but you're also guaranteed and 'warm' bed every night and usually a hot cooked meal. The routes for Everest Base Camp are the only way for the people who live in the Khumbu region to get from A to B meaning the trails are well populated by these locals and there is usually plenty of space to stay.
Most tea-houses offer basic double occupancy rooms for 200 Rupees ($2) per night although it gets more expensive the higher you get. In Lobuche I was paying 500 rupees a night (which is still only $5).  You are expected to eat all your meals at the tea-house you're staying in as the food is a little pricier than the bed and that's how they make their money. Toilets and bathroom facilities are communal and basic. There is always a common room where meals are served and the fire is located. For me, trekking at such a cold time of year, the small nightly fire in the common area was the only thing keeping me alive (literally). We'd sit around trying to warm our toes after dinner, hoping we'd be able to stop them freezing before we got in our sleeping bags. The rooms you sleep in are just as cold as outside as the windows have cracks and doors aren't fitted correctly. So most nights I was sleeping in -25...
There's no wifi in the tea-houses once you pass Namche Bazaar however I did hear from some other hikers about a place called Pyramid (about a 20 minute walk further than Lobuche) where people stayed for $45 USD a night and it included a hot shower, charging, wifi, accommodation and all meals. After having to pay to charge my phone, for hot water for tea, two meals and my bed I'd spent only $15 less than that during my night in Lobuche, so it could be nice to have a night of luxury just before the final trek to base camp.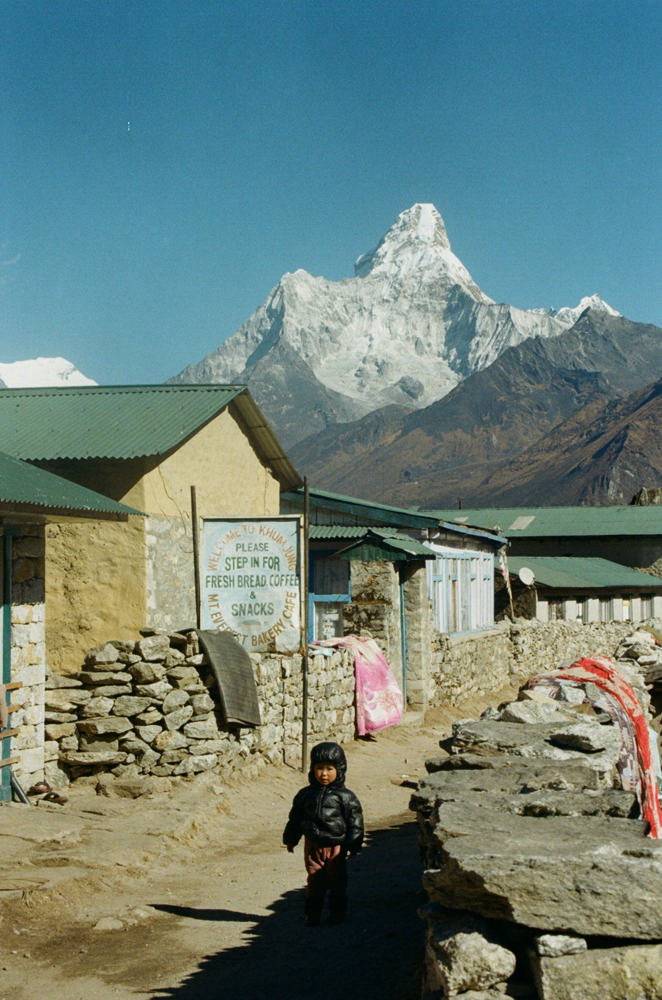 ALTITUDE SICKNESS
An integral ingredient to Himalayan success is taking altitude sickness seriously. The first time I trekked in altitude I barely gave it any thought, assuming my fitness and general determination to do stuff would leave me outside the casting net of victims. It didn't. Luckily I was on a much lower altitude trek and the dangers were less imminent but had I applied this same flippant attitude to altitude on the Everest Trek its unlikely I would have made it.
Ensure you take at least two acclimatization days (I did one on day 3 in Namche and day 6 in Dingboche) and know the signs and symptoms of sickness. The most common is a headache but people also experience loss of appetite, vomiting, memory loss, breathlessness and difficulty sleeping. Its important that if you feel yourself experiencing any of the above symptoms for longer than a few hours and you are past 3000m you should descend until the symptoms cease. As a general rule its not safe to climb higher than 600m in a day and the best thing you can do to acclimatize is to hike higher than the altitude you sleep at (which is why the day climbs on acclimatization days are important). The deaths from altitude sickness on EBC are usually from those who have flown in to Lukla rather than hiked from Jiri as their bodies have had less time to acclimatize. During my trek I saw a couple of helicopters each day flying people off the mountain... don't be this person!! listen to your body and slow your pace... its so much better than having to be hospitalized and not making it at all!!!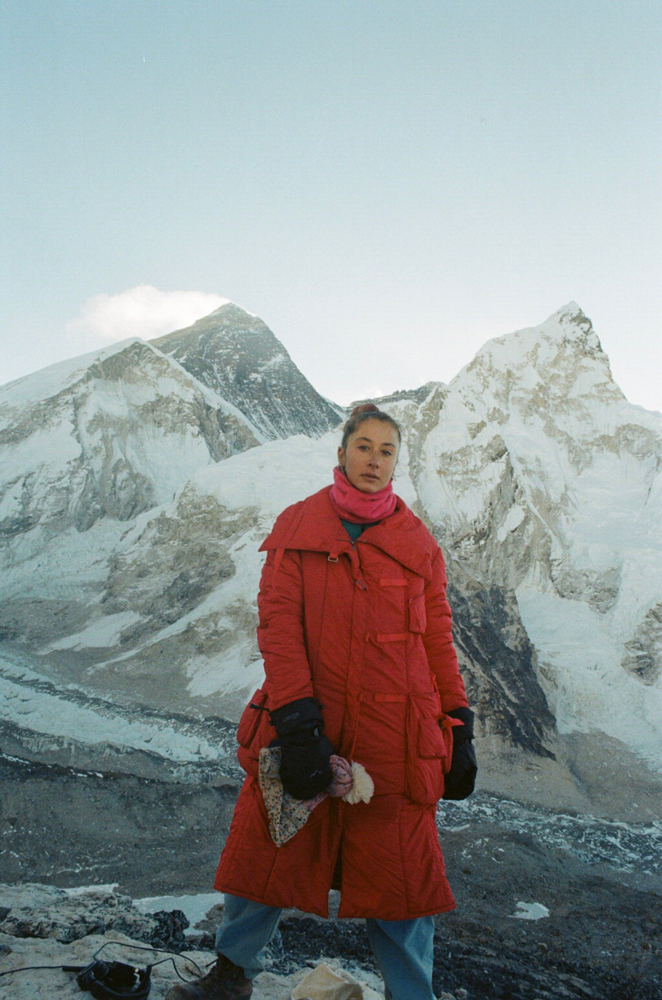 BUDGET
Trekking in Nepal is rarely an expensive activity especially in the context of convenience that prevails at such high altitude. Obviously if you google 'trek to Everest Base Camp' you'll be hit with a million tour companies listing outrageous prices that are completely irrelevant to what you'll spend on the ground yourself.
Return flights to Lukla $500
Accommodation and food for 12 days $315
Fees and permits $50
Sleeping bag hire $12
Snacks (purchased in Kathmandu) $30 
Total $907
Obviously my biggest expense here was the flights to and from Lukla that cost me $500 return... These flights are consistently priced (basically the same everyday) so there's no way to shop around for them or get a better price. The only way to avoid this cost is to hike in, which as I've mentioned before is both a great way to acclimatize and a beautiful alternative to flying... you just need to have the time !!!
While I did my trek solo and without a porter, if I had chosen to find a guide or porter to accompany me its still would have only set me back $15 a day (roughly), which on top of what I spent on everything else is still a lot cheaper than doing it with a company. Money aside, I am so grateful that I trekked this on my own. As long as you're confident there really is no need to be accompanied and the sense of freedom and isolation you attain from doing it on your own just makes it that much better. If you are going to hire a guide its best to wait until you're already in Lukla because if you hire a guide or a porter from Kathmandu you'll have to pay for their flight to Lukla as well.
FINDING THE GEAR
Packing for a trip like this is always hard. You need to find the perfect balance between having everything you need and carrying the minimal amount possible. I found hiring gear in Kathmandu less convenient than in Pokhara where most of the hiking stores can be found on the main street. Kathmandu is far more spread out, there's more variety, choice and STRESS. I struggled to find somewhere to hire a backpack (which I thought was strange) but given I was there on the back end of the season I feel like a lot of places were re-aligning their stock and weren't offering everything they usually do. I ended up finding somewhere to hire a backpack the night before the trek (a great hiking store called Polador) but realized that the price of buying one was less than hiring it so I ended up buying one for $20. This was my only real mistake on the trek as (in panic) I bought the backpack without really thinking about size or fit... and it was WAY too big for me. The hip straps just hung loose on me and the shoulder straps just wouldn't get tight... so I had the whole 22kg monstrosity hanging off my poor bruised shoulders the entire time... Don't be this person. Get a bag that fits you!!!!
Almost everywhere will hire you a -20 sleeping bag and a down jacket. Don't pay any more than 100 rupees a day (fight for the price!!!) for either item as this is the going rate.
I don't recommend buying or hiring hiking boots in Nepal. While the quality is usually pretty reliable, your boots have to fit immaculately and be worn in enough for them to support you the entire trek. I can't imagine what it would be like to hike for so long in bad shoes... If you're not wanting to spend hundreds of dollars on boots I recommend looking on Ebay. My beautiful Berghaus boots retail for $400 and I got them for $45 off a woman who had worn them once on a trip to Iceland!!!! 
Just about everything else you need you can find in Kathmandu. While its good to be prepared its almost half the fun trawling through all the hiking stores beforehand and collecting your gear... If you've got professional wears from home obviously stick to them, but if you're new to the game be re-assured that you'll find everything you need in Kathmandu.
Presumably you'll also have extra luggage in Nepal that you don't want to take on the trek. Almost every hotel/hostel will store your luggage for you for free for the duration of your trek!!!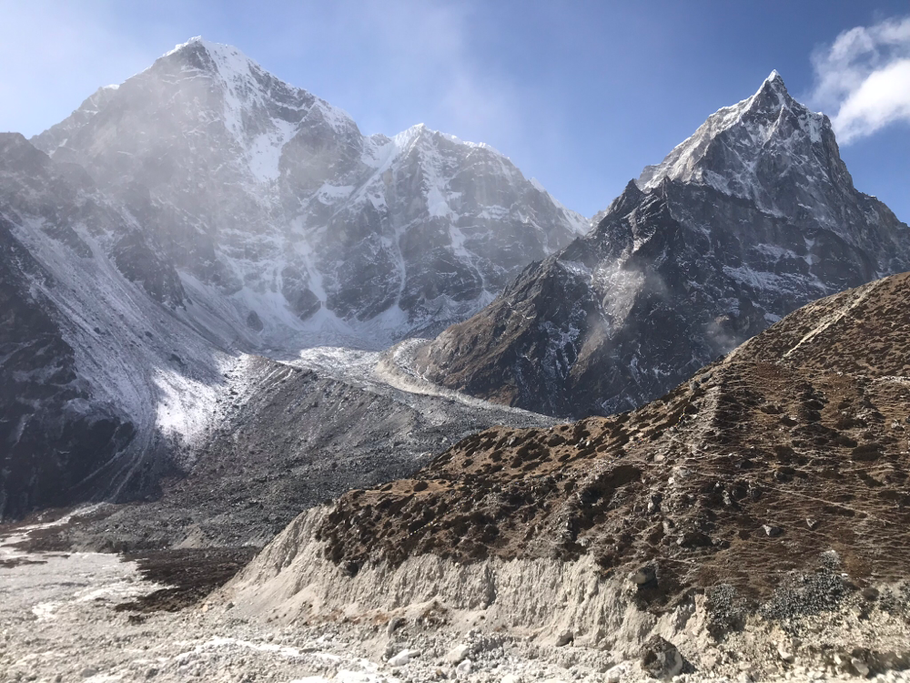 WHAT TO PACK
A hiking backpack (probably 60-70 liters) that fits you
Worn in hiking boots (with ankle support)
A -20 sleeping bag (this depends on season, if you're there in the winter like I was a -20 bag is A MUST but in the summer -5 and -10 could suffice) 
THERMALS - I took 4 sets with me. I kept one for sleeping in (until the last few days when it was too cold to change my clothes at all) I found myself wearing two or three thermal layers at a time when I was at camp. You can find them in abundance in Kathmandu 
Water purification tablets - you can find these everywhere in Kathmandu, you'll need a lot (enough for 6-8 liters of water a day) Please use these tablets rather than buying water... its so much cheaper and god damn better for the environment. You can buy a pretty pastel drink bottle in Kathmandu and sterilizing your own water will save you up to $100 on the trek!!
 Wet wipes - sleep with them in your sleeping bag because they'll freeze overnight if you leave them in your pack
Some people took Diamox as a precaution for altitude sickness... I didn't use it but if you're worried about getting sick it could be a good idea!!
A book (I read Into Thin Air obviously)
Something to keep your feet warm (IDK what I meant by this exactly by I wrote it in my notes during the trek, presumably whilst suffering from VERY cold feet). 
A solar powered battery charger
portable chargers (there is very little access to electricity, you usually have to pay to use a power source) I had portable chargers with me that I used stringently... I only had to pay to use power once!
A rain cover for your pack 
a fleece, preferably a microfleece to save space.
a windbreaker or rain jacket.
a pair of windbreaker or rain pants.
a good pair of polarised sunglasses (I wore a pair of speed dealers I bought on Ebay for $3... I don't think they were particularly good for my eyes but I felt pretty fast)
two pairs of gloves - I had fleece gloves and then a pair of down mittens that I wore over the top
A hat 
SUNSCREEN - 50+ for your face !!!!
Hiking socks
Toilet paper - you'll need at least 2 rolls, there isn't any provided and you'll blow your nose a lot too
Moisturizer (also good to sleep with this in your sleeping bag or it will freeze)
a neck warmer
down jacket - mine was knee length so it kept my legs warm too 
A sports towel or sheet 
Thongs or sandals would be great to change into at the end of a long day in the summer!!! I brought mine but it was way too cold to take my socks off. 
MONEY - you will pay in cash for everything so make sure you have enough to cover everything (plus a little more)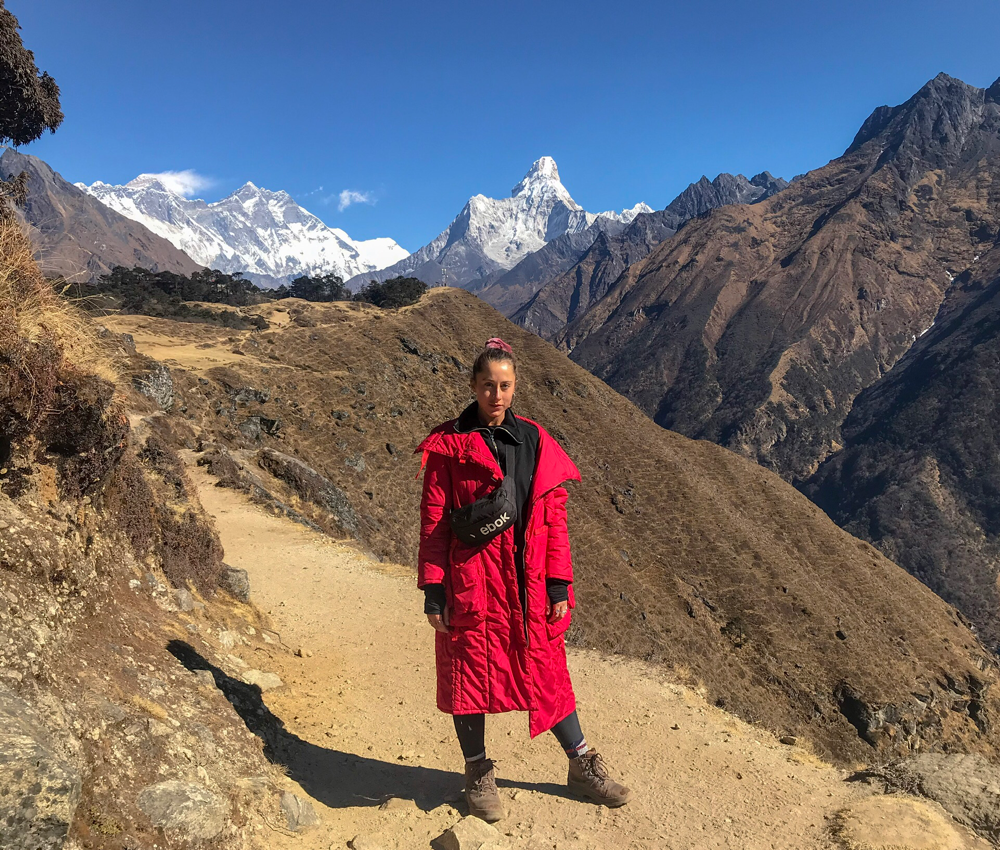 FOOD
One of the major luxuries of a tea-house is that you have access to cheap, hot cooked meals for the entirety of your trek, a great feat given the altitude and isolation. I always ordered breakfast and dinner, skipping lunch, but snacking on the food I brought from Kathmandu to keep me going through the day. Breakfast was either porridge with apple or an apple pancake (depending on how naughty I was feeling) and dinner was Dal Baht or fried rice (which I developed a dangerous attachment to).  In an attempt to eat fresh food I brought 6kgs of apples and oranges with me which, while tasty, was not an intelligent decision as obviously I had to carry them all (something I didn't think about until I had started walking?? brain??). I made my own trail mix with granola, almonds and raisins which served as sustenance between meals. I also bought a 12 pack of mini snickers bars (1 a day) I had a few mini packets of biscuits that went well with tea. A great tip I read on another blog was to bring my own tea and coffee as you can purchase a liter of boiling water at the tea house for 150-300 rupees which is 4-5 cups of tea of coffee. This meant that at the end of the day I could sit with a thermos of tea to keep me warm for a fraction of what it would cost to just order one cup of tea. It was also a great way to drink an extra liter of water which does get difficult when its cold! I found I didn't have a massive appetite at the high altitude so this was the perfect amount of food. 
 All the food and resources available beyond Namche Bazaar are carried there by porters or yaks. You'll see men and women carrying heinous loads of food and building materials along the trail. They carry the loads on their backs, with a strap that crosses over their forehead to help distribute the weight. The intricacies of living in such an extreme climate and isolated location must be fully appreciated!!. I still don't understand how civilization ever manifested itself in some of these places. Its truly fascinating. All the electricity further than Namche is generated either by water, wind or sun and thus access is incredibly limited. There was no internet/wifi past Namche (although there was a sim-card you could purchase that had coverage in the mountains) I enjoyed being totally disconnected from everything and think that being contactable would have taken away from my experience. It costs several dollars to charge your phone or camera, and this can only be done while the tea-house has enough power. Instead of wood (a less available resource), the tea-house burned yak dung patties in the fire.  Discs of yak dung that were shaped by hand and allowed to dry on the stone walls.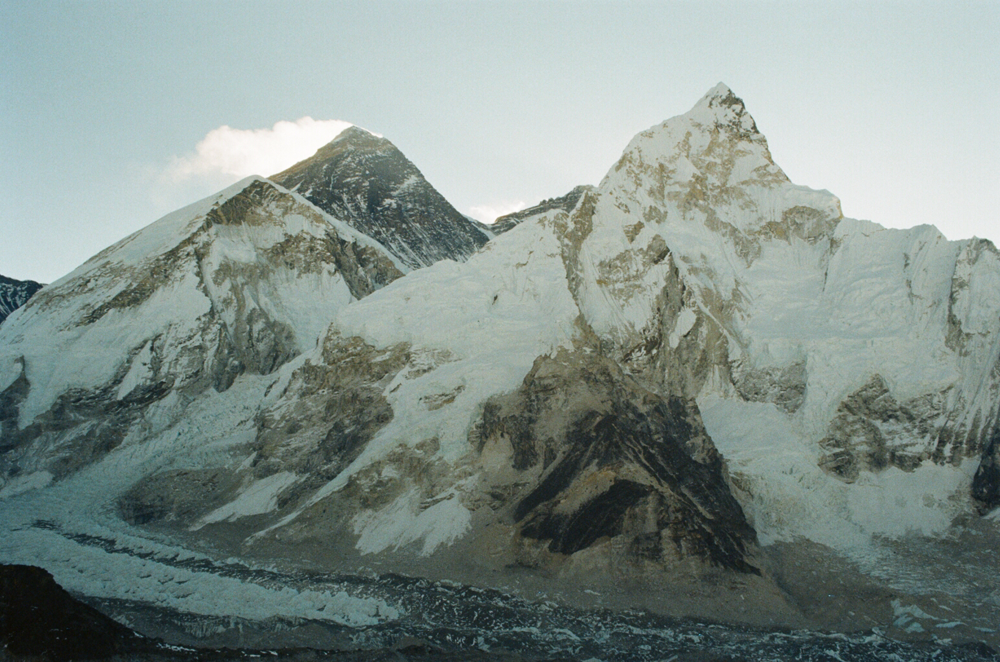 Below are the scattered journal entries I wrote in my phone's notes during the trek. They aren't consistent/very interesting but I figured I might as well include them as someone might benefit from hearing the voice inside my head. 
DAY ONE 
 I hiked from Lukla to Monjo in 3.5 hours which was 2 hours faster than I anticipated and my leg is pain free ! 
It's cold. Right now it's -7 and this is the first and lowest altitude night. The higher I climb the colder it's going to get. 
Because it's low season there's nobody else around. I'm the only person in my tea house and I've only seen a couple of others in the same town. The solitude is amazing but kind of eerie. I know how busy this place can get and it's making me question whether I'm actually prepared for how cold it's going to be. 
Im staying in Monjo in the Namaste lodge. My room is 200 a night, there's no shower (it's broken) dal baht was 450, 300 for Internet, 150 for a jug of boiled water and she let me charge my phone for free. The views here are amazing.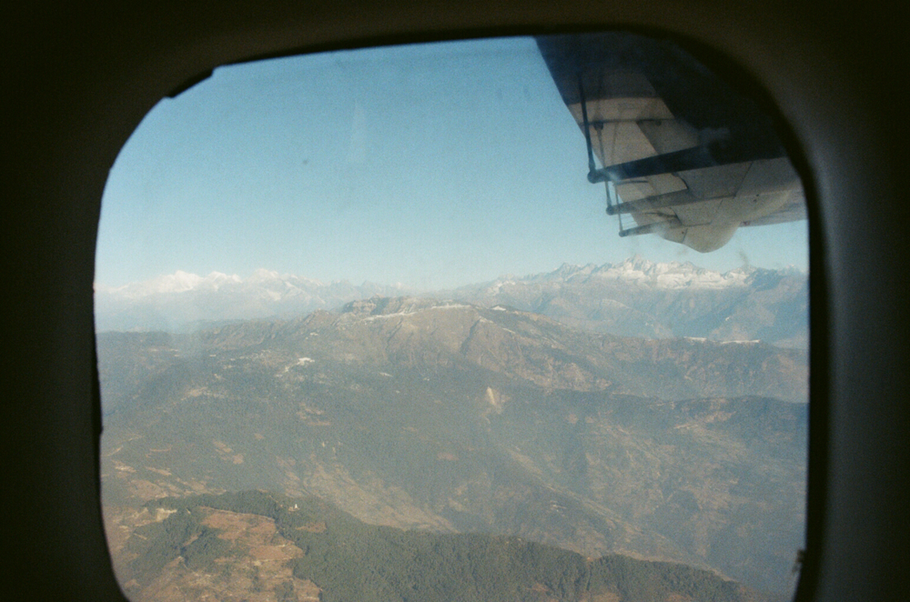 DAY TWO
Monjo - Namche Bazaar  
I'd read this was one of the most difficult days of hiking and I understand why but luckily I happen to enjoy climbing steep hills!! The first 40 minutes of the hike is downhill and then relatively flat, following the river but then the next 2 hours are all uphill. It took me just under 2.5 hours to reach Namche meaning (as I started walking at 9:30) I reached my destination for the day before 12!! I had an apple and looked at the view (which was amazing). I happened to stop next to a lodge with a few people sitting in the sun on the balcony. It looked pretty nice (and Namche is quite big, so I had no idea where to stay, plus as it was off season most of the lodges were shut) so I went in and asked to see their rooms/menu. Observing their property jutted out with a view of the mountains and valley I asked if I could have one of the end rooms. I drew back the curtains to reveal the most incredible view. I had a spacious room with two massive windows overlooking the mountains. It was 200 a night with free WiFi and free charging. Showers were 450 and Dal baht was 600, a bit pricier than normal but as I wasn't paying for WiFi or charging AND I had the best view in the world!!! I didn't care. This place was called the Footrest lodge. As I have an acclimatization day in Namche I'm staying here for 2 nights and I will stay here again on my second last night on the way back. 
I spent a few hours basking in the delicious sunlight on the balcony with a liter of green tea and then at 3:30 pm decided to hike up to one of the Everest view points located on the map. As I was able to leave my pack in my room I took only my phone and headphones which was AMAZING. I basically ran up the trail (which was steeeep steep steps) pausing every now and then to gather my altitude ruined breathing. As I got further and further up the views became incomprehensible, I'd never been in such a location of sheer mass. Everywhere I turned were massive 6000-8000m peaks looming over me. I could see directly down the valley I had climbed up, with the entrance and Lukla, looking worlds away. Given this was only day 2 I could hardly imagine where I'd find myself in another 5 days. 
I stayed up there, spinning in circles and on the verge of excited tears until the sun started to set and my hands went numb. I then ran back down to my lodge for dinner.  I will never forget this afternoon. !!!! wow wow wow  
Instead of having a shower, while I was still hot from the hike, I soaked my towel in water from the tap, took off all my clothes and rubbed myself with the wet towel to remove as much sweat as possible. This was surprisingly effective and I felt pretty clean even though I hadn't showered in 3 days.  
I had a pair of thermals and socks that I kept for bed time, so I changed into them afterwoods and then ate my dal baht :)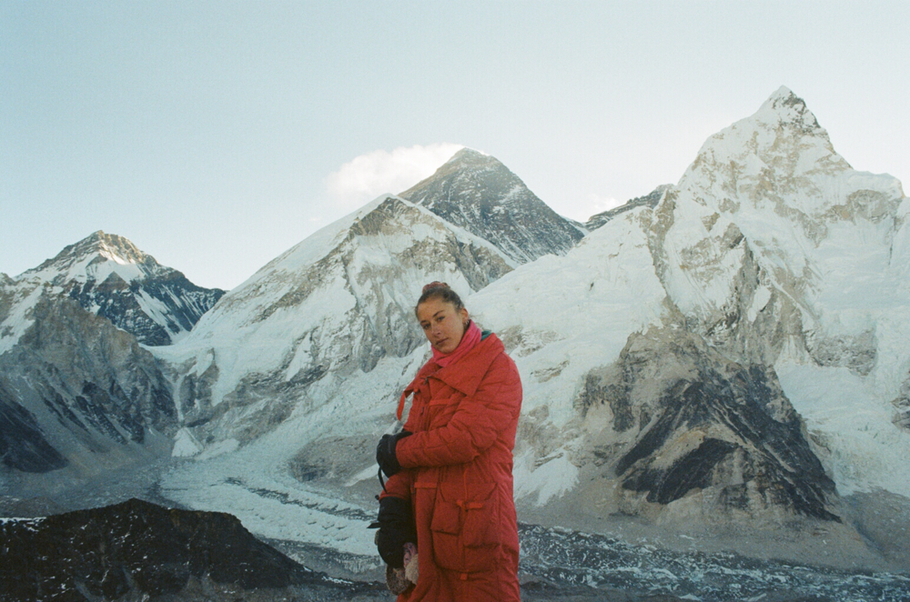 DAY THREE 
Namche Bazaar - acclimatization day 
Breakfast was coffee and porridge with apple. Sat outside in the -10 to watch sunrise and washed my socks to dry them in the sun. Got back into bed after breakfast and looked at the view and read my book for a few hours.  
At around 11 I left for Khumjung which was a town about 400m above Namche. I brought a snickers bar and an apple with me and left everything else in my room. I basically flew up the mountain without my backpack... I went back up the same trail i'd followed to get to the Everest view point the day before. This place was 100% one of the best views I've ever seen, I wish I had the right words. I then slowly rambled around the the top of the hill, taking in the views from all angles. I sat on a rock and ate my snickers bar, rounded a corner and came into Khumjung, a spectacularly isolated town at the base of Mt Kyajori, a massive looming rock face. I walked down into the town and came across some small Sherpa children in ski suits and fluffy yaks and thickset horses walking around on their own accord. I took my headphones off as I walked through the town, so I could hear the silence and the murmurs of conversation. I then used the trail on the other side of the town to walk out and over the mountain back into Namche. I walked about 15km but it was slow and leisurely without my pack. It was a truly glorious day of exploring. 
I got back to the tea-house at about 4pm and immediately wet my sheet and wiped myself down and changed into my pink thermals. I then sat outside with a thermos of tea and watched the sun set. Its New Year's Eve tonight... something I felt a little weird about, spending it completely alone...I had a feeling a lot of other hikers in the town were going to go to one of the "bars" but I was alone and didn't feel like it. I had dal baht for dinner at 6 and then watched a bit of Gossip Girl on my phone to try and stay awake. As a treat I also ordered a chocolate pudding that I'd seen someone eating the night before. It was thick and gooey and delicious and I enjoyed every sickly sweet bite. Despite my efforts I was in bed by 8pm. I spent an hour looking out at the impressive and expansive night sky full of stars and attempting to grasp my gratitude for the year that had just past. I'M SO LUCKY.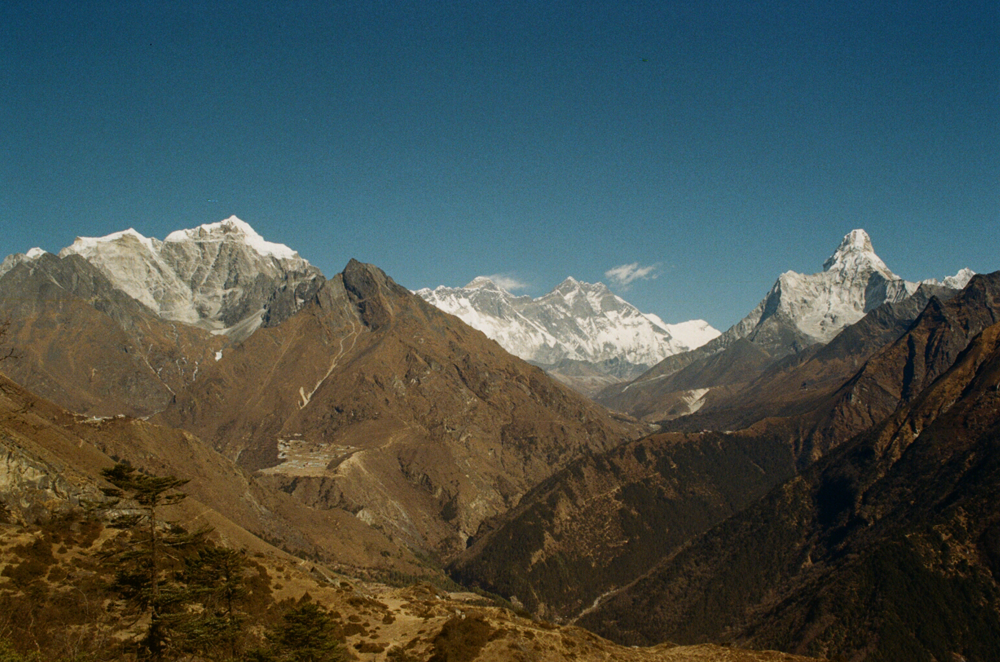 DAY FOUR
Namche - Tengboche
I woke up feeling moderately disoriented. It was always a crazy sensation waking up and forgetting for the first few seconds and then looking out the window and being like oh yeah, I'm in the Himalayas (how has this happened). I changed straight into my hiking clothes after putting them in my sleeping back to warm them up a little bit (good tip, to sleep on top of them, especially as the altitude gets higher cause they will be frozen) breakfast was porridge and coffee outside, watching the first sunrise of 2019 drift over the mountains. I then packed my bag to my best ability and was on the trail by 8:15. I had a little deliberation over which way would be the best to go to get to Tengboche. Maps.me doesn't always highlight the best route and as there were 3 options I was unsure. Based on the blogs I'd read, people (who had guides) had used the far right path, that stayed low and meandered along the mountains edge. Having hiked the other two paths and knowing it was a massive climb (and that I'd also seen no one with their packs on) I decided to go with the far left trail. THANK GOD as well because that trail was both beautiful and easy, avoiding the massive climb that the other two would have entailed. Beware though, the trail drops and after a 40 minute decline all the way down to the river you have to climb all the way up again. I think physically (without including altitude) this day was the most strenuous, however I arrived just before 12 meaning the whole hike only took me 3.45 hours including a few breaks. Tengboche is beautiful but quite bare. It's home to a massive monastery that is the center of the town. There's only a couple of guest houses and some of them were shut. I ended up staying at the biggest one which was 500 a night as they 'didn't have any single rooms'. It was called the Tashi Deleck lodge. There was no internet here and it cost 300 to charge stuff. I had a pot of hot water for tea and spent the afternoon sitting in my window sill (which had a massive ledge) that I lined with pillows and lay in the sun reading Into Thin Air. It was incredibly pleasant and I was warm the whole time (which was a big feat). I went for a walk to the top of the hill above the town for sunset. Everest is looking MIGHTY FINE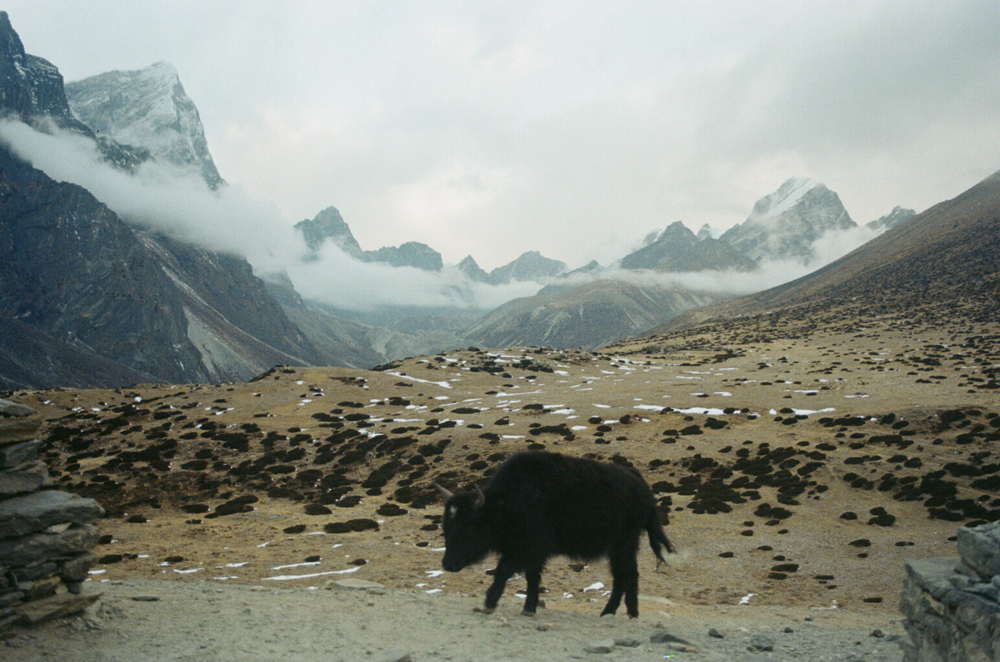 DAY FIVE 
Tengboche - Dingboche 
Today's walk was very easy however the altitude made it a lot harder especially towards the end. I was wrecked. It was a bit cloudy too so the views weren't as good as they have been.  
Stayed at the "Peaceful Lodge". 300 for a room. They are really nice rooms with lovely bedding but they are poorly built and my room smells like an atrocious toilet as the adjoining en-suite (which is locked shut) has some serious plumbing issues. I couldn't be bothered to change rooms so I'll put up with sleeping in strong sewage for 2 nights... it was -29 today !!
I got fried rice for lunch when I arrived, was the first lunch that I had (and hopefully the last) dinner I had vegetable soup. 
Even though it was snowing I went for a small walk just before it got dark. This place is scary and bazaar and i'm trying really hard to wrap my head around where I am but I'm not really getting it...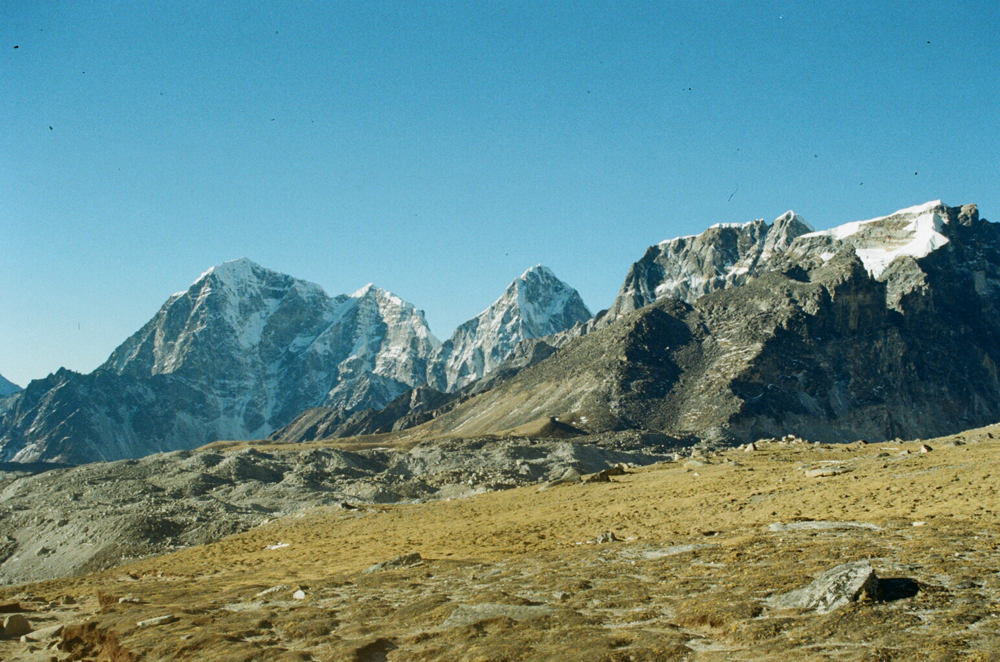 DAY SIX 
Acclimatization in Dingboche 
Slept very well through the night and woke up at 6:30. When I woke up I was panting like I was trying to catch my breath which was moderately alarming but a true sign I was in high altitude. No head-ache which was good. Drink bottle frozen and ripped apart, moisturizer frozen because room has gaps in window panels. Had apple pancake for breakfast with coffee and sat around the fire. Trying to prolong the comfort for as long as possible. Its going to be a long, cold day. its snowing a lot. 
DAY SEVEN 
Dingboche - Lobuche 
Left at 10am arrived at around 2pm
Was a hard walk went the wrong way vía Pheriche which didn't matter in the end and I had the entire valley to myself !!! Was extremely windy and got caught in a sand storm a few times. This wasn't ideal but added an extra dimension to the day. Had an extreme high altitude dance party at sunset, cried a few times but mainly laughed a lot. Washed my feet and socks in the river which hurt but now I have clean feet (yay). Met two really nice American guys in the lodge and chatted to them by the fire.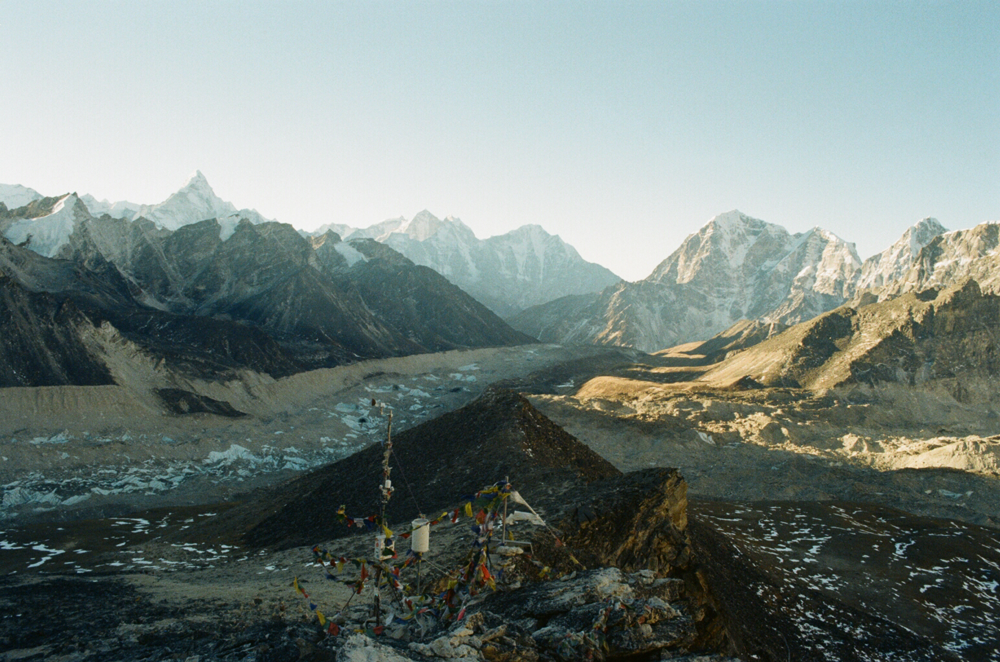 DAY EIGHT
Lobuche - Gorak Shep - EBC 
Left at 8am, arrived at 10am - walked to EBC at 11am 
500 for room, free charging, 400 (!!) for a bottle of water and no tap water (so make sure you fill up as many bottles as possible in Loboche) Walk to Gorak Shep completely insane, lots of scrambling over boulders but otherwise a very easy steady pace. Was the first of the day to leave for Everest Base Camp. Walk from GS - EBC about 45 minutes. I was the only person at Everest base camp when I first arrived and had the whole place to myself for over 20 minutes. I'm permanently hungry at the moment but have next to no edible food left and don't want to order anything extra because then I lose the game. 
Haven't written anything constructive in days because it was honestly too cold and too hard to have my phone out with no gloves on and I didn't really have the energy to attend to technology when there was so much to devote myself to outside !!!  
I feel awesome right now, this has completely reset me. 
DAY NINE 
Kala Patthar - Gorak Shep - Tengboche 
Today was total madness !!!! I started walking at 6am and didn't reach my final destination until 5:15pm and I only braked twice for 15 minutes !!! Day started climbing to Kala Patthar. It was -27 and everything hurt. My phone died immediately after stepping outside even though it was on 97% because of the cold ): so I had no music to accompany on my climb. Couldn't see anyone ahead or behind me so the entire walk was in total isolation. Everest was right IN FRONT OF ME !!!!! and there were no clouds and a perfect sunrise. The climb was second to Mt Potosi on the list of hardest things I've ever done. Combination of pain from cold and complete lack of oxygen. Took me 50 minutes and arrived at the top perfectly in time for sunrise. Couldn't stay up there for long as pain in face and hands and feet was too much. I then descended, grabbed my pack from the lodge and started the major decent. I could have stopped earlier in the day and not had any issues with timing but I was determined to get to Tengboche before sunset.   I was completely ruined, the last hour was a delirious combination of skipping, groaning and falling over. I sang nonsense songs to myself and sucked on orange peels because the taste of my trail mix was making me feel sick.  I made it!!! just as it was getting dark. I ordered fried rice which I inhaled and then for desert I ate 6 spoonfuls of tomato ketchup because it was on the table and I'd already made it through 4 spoons before I realized what I was doing the last 2 I ate on purpose (: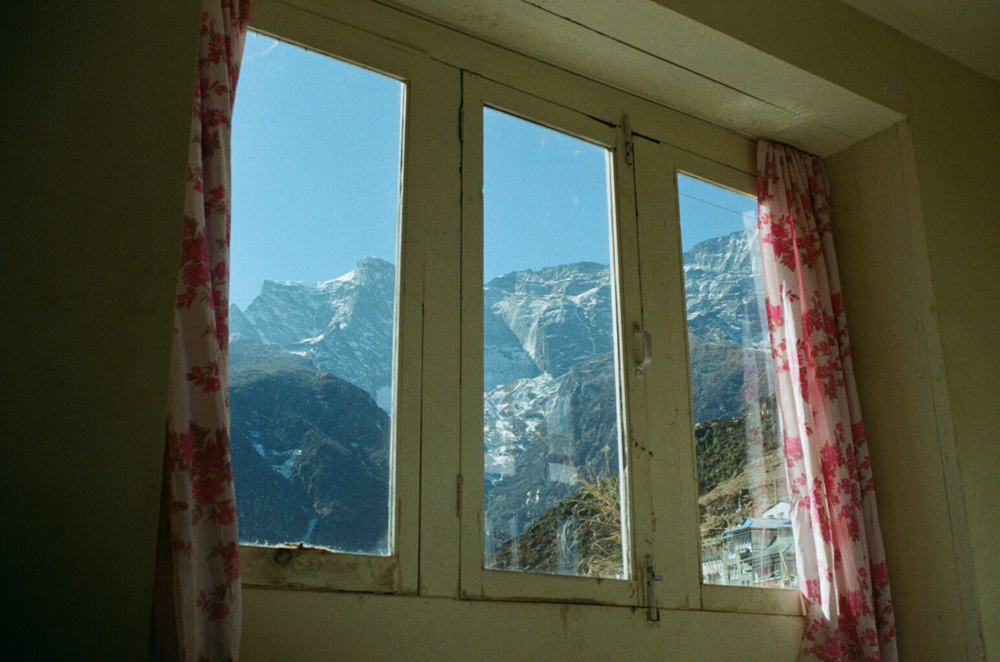 DAY TEN
Tengboche - Namche Bazaar
Today was magic. I started my morning with an apple pancake watching the heavy snow furl around outside. Because I had walked so far yesterday I only had a 2 hour hike ahead of me. Today was the first day of the trek it was properly snowing and visibility  was non-existent. I loved returning on the same path knowing the locations of all the massive mountains that surrounded me that were now just completely whited out. It wasn't the coldest its been, the walk was calm and peaceful. Returned to the Footrest lodge in Namche. Hadn't had internet in over a week. Called Dad first, then Ebbs, then Lucy. Spent about 5 hours on the phone and was so excited that forgot about cold and then had to do star jumps for 20 minutes to regain feeling in my feet. Treated myself to another chocolate pudding after dinner. I'M SO HAPPY AHH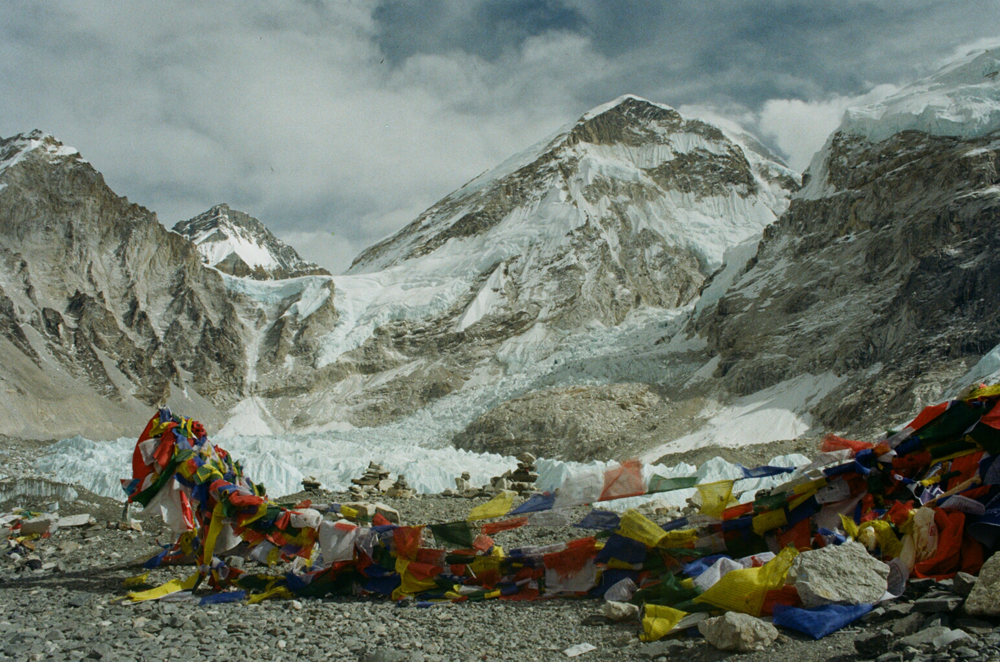 DAY ELEVEN
Namche Bazaar  - Lukla
Woke up to a completely clear sky with a heavy layer of snow over everything. The mountains are back !!! Set off around 8 and had a really slow start as the snow covered ground was really slippery and the trail is quite steep. Fell and slid across ice patches a few times and a nice man with crampons helped me across a particularly nasty patch that I was stuck behind for 15 minutes. Suddenly I was below the snowline and surrounded by green jungle. Cried when I realized this. I was descending, I had done it and it was about to be over. Scenery was spectacular the entire way, stopped for a baked good for lunch. Arrived in Lukla at about 2pm. Stumbled across the Khumbu Lodge which I picked for no reason in particular and it was a fairyland... Never been in such an authentically beautiful, colourful space. I was the only occupant. Spent evening drinking hot chocolate and looking at the mountains and the village out my window. I wish I had words for how I feel... I'm so moved
DAY TWELVE
Lukla - Kathmandu
Woke up at 5am for my 7am flight from the airport which was around the corner. Airport is a loose word to describe this place. Saw a lot of familiar faces from the trail which was cool, also strange to see a few people I didn't recognize at all (wonder where they were??) Flight was delayed by 2 hours but everyone ended up back in Kathmandu. ... WHERE ARE MY WORDS. HOW CAN I DESCRIBE.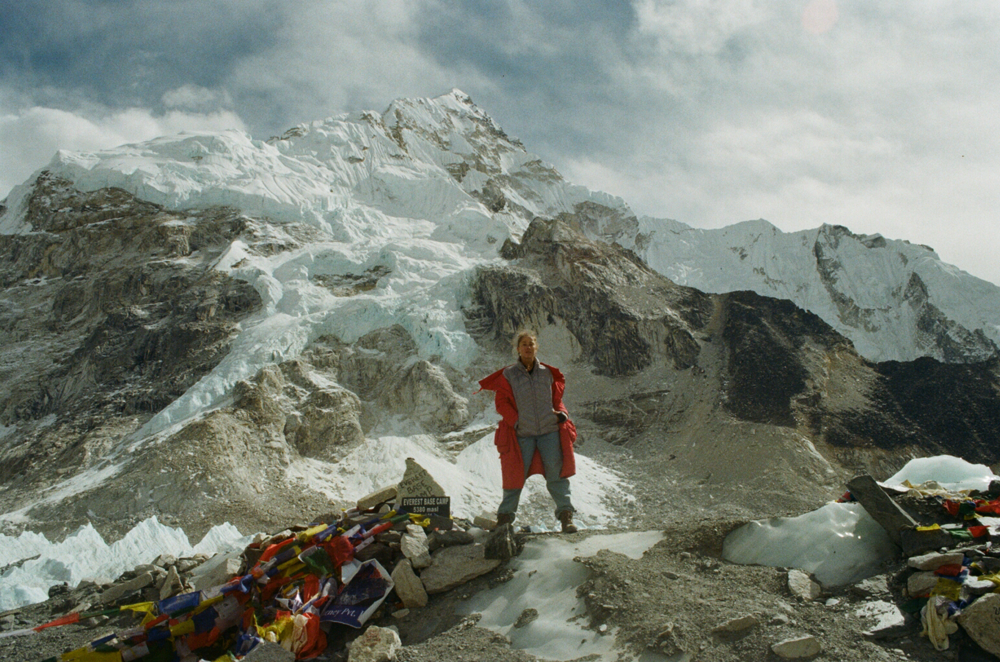 If you're planning a trek to EBC and have any further questions please just message me and I'll be more than happy to help !!!!!