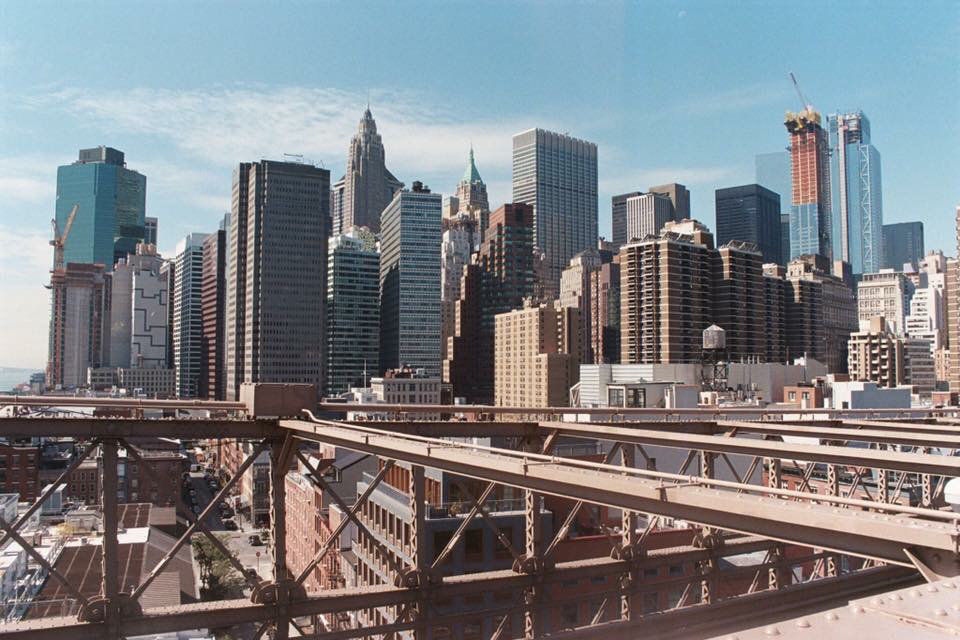 In September 2017, I spent 12 nights in New York City with my Mum on a month long trip through America. We stayed on 126th street in Harlem in a brownstone Airbnb that was exactly what we needed for our adventures. We found ourselves getting up at 6am and not getting home till 10pm every night because there was just SO MUCH TO DO.
New York is incontestably one of the most famous destinations in the world and given all the hype I was unsure whether it would live up to expectations. But Mum and I had a ball, flitting between districts, sifting through flea markets, trying the 'local' cuisine, grazing through galleries full of the world's greatest art and craning our necks whilst staring up at some of the most recognizable buildings in the world.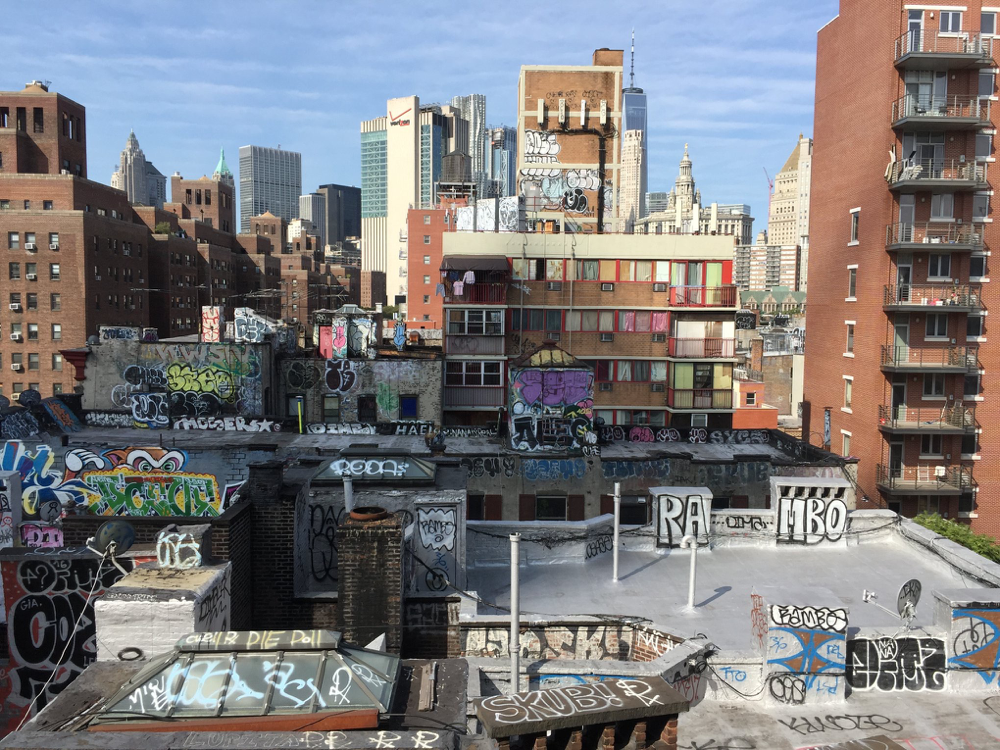 Where to stay 
While Mum and I stayed in Harlem, you can't really go wrong with staying anywhere on Manhattan Island as long as you're close enough to a Subway station.  Places just out of the city such as Brooklyn, Williamsburg and Staten Island would be fine as well due to their easy connectivity to the city.
Our Airbnb wasn't cheap. I think it was $150 a night (which is well over my budget) however given we were in NY and I was with my mum (who wasn't 'comfortable' staying somewhere a little dodgy/noisy) we settled with our Airbnb find in Harlem. We made sure we had a kitchen because we knew buying food in NY was going to be expensive (plus I prefer to cook my own meals anyway).  Some lame new laws have been introduced in New York to do with renting out full apartments in the city on Airbnb. While I don't know much about this, I'm fairly sure its lead to a massive decrease in the available properties so take this into consideration when making your booking!
The hostels in NY are notoriously bad (not that I have any personal experience) but based on my research they were upwards of $45 a night for a dorm bed and people I've met said they lack any atmosphere as people are there to get shit done rather than socialise and hang out and there is nothing worse than a sterile hostel. 
Accommodation in NY is hard and if I was to go back alone I genuinely don't know where I'd stay because my budget would never reach an Airbnb or a hotel and I could never bring myself to pay $40 a night for a hostel. If anyone has any good NY accommodation tips hit me up!!!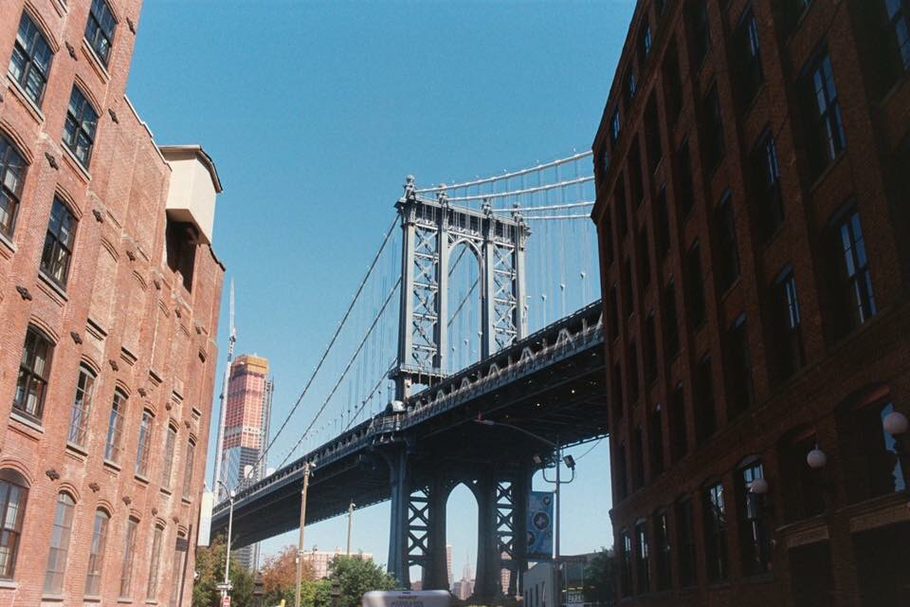 How to get around 
New York is a great city to walk around, but it's big, so if you're covering lots of ground the best way to get around is on the subway. It runs 24 hours a day, seven days a week and costs $2.75 for a single journey or $31 for a seven-day MetroCard, which gives you unlimited subway and bus journeys (this is what I did). You can also use it on the Roosevelt Island Tram – a cable car with fantastic views across East Manhattan and the East River. It leaves from the station at 59th Street and Second Avenue. 
You can use the MetroCard to get to and from JFK as well– take the A train to Far Rockaway to the Howard Beach/JFK Airport stop (about an hour) then the AirTrain to the airport (15 minutes).
Mum and I walked A LOT while we were in NY so make sure you've got comfortable shoes!!
We only caught a taxi once when we got caught out late at night and the trains weren't running due to track work. While obviously convenient, it cost us about $30 USD for a 15 minute drive which is just throwing away money!! Don't do it!!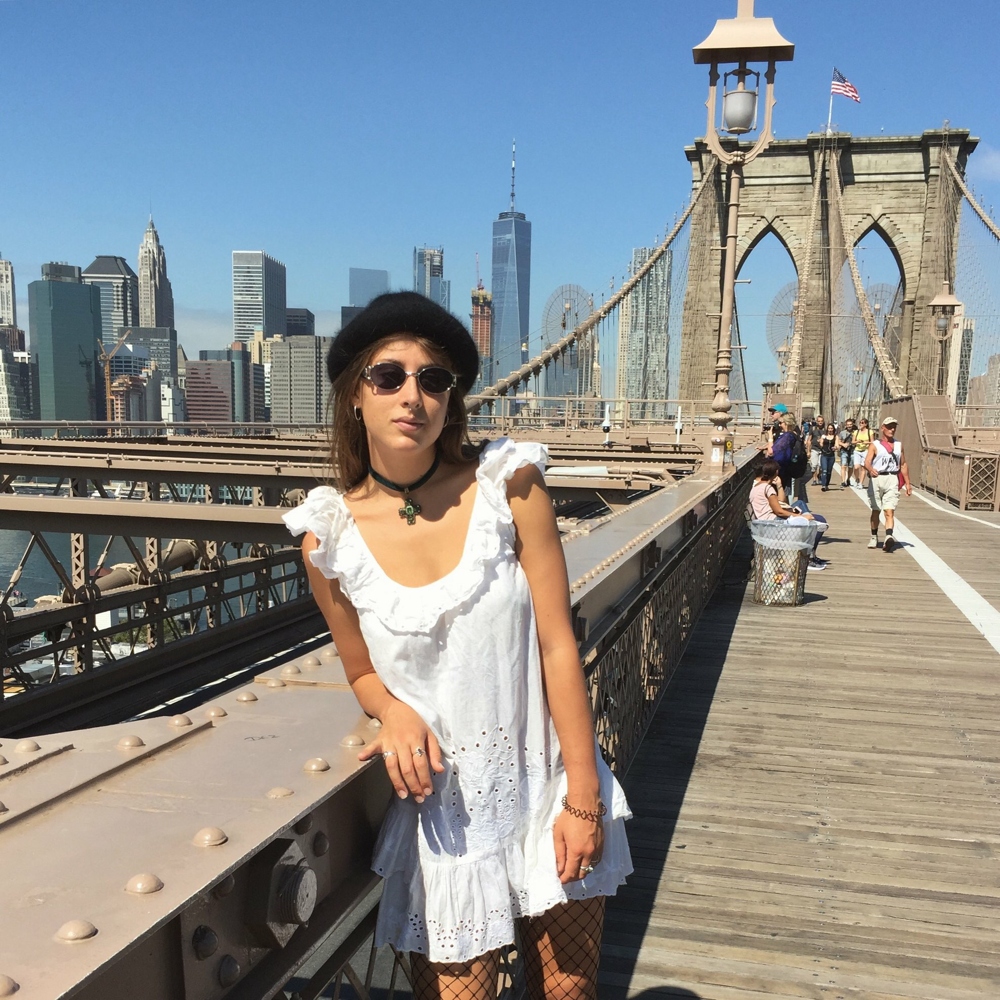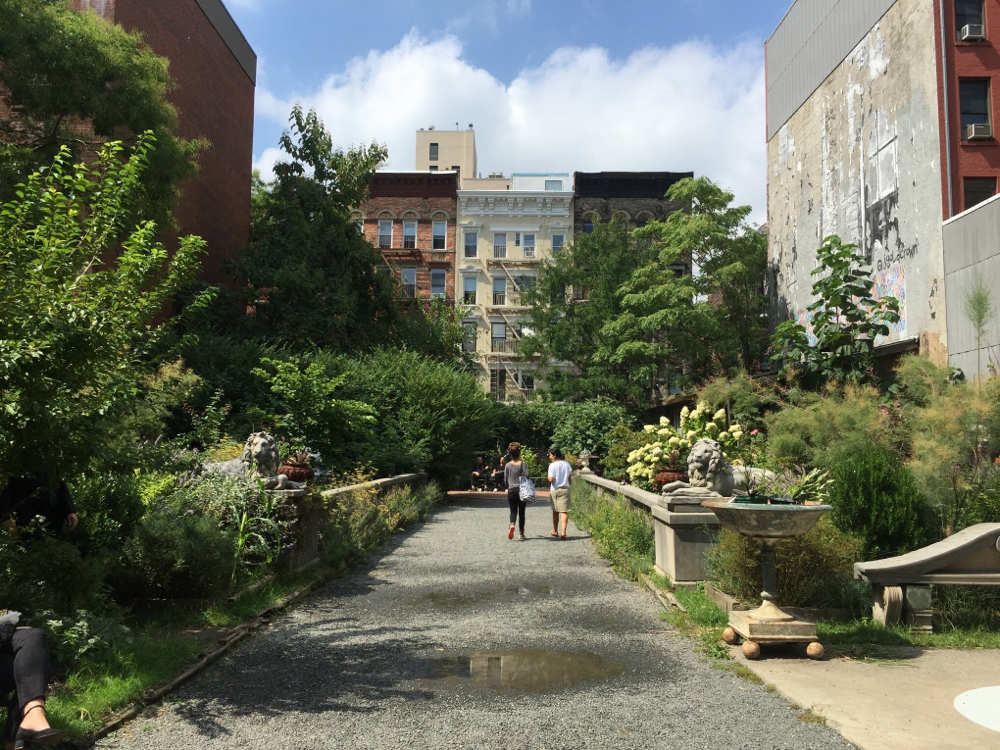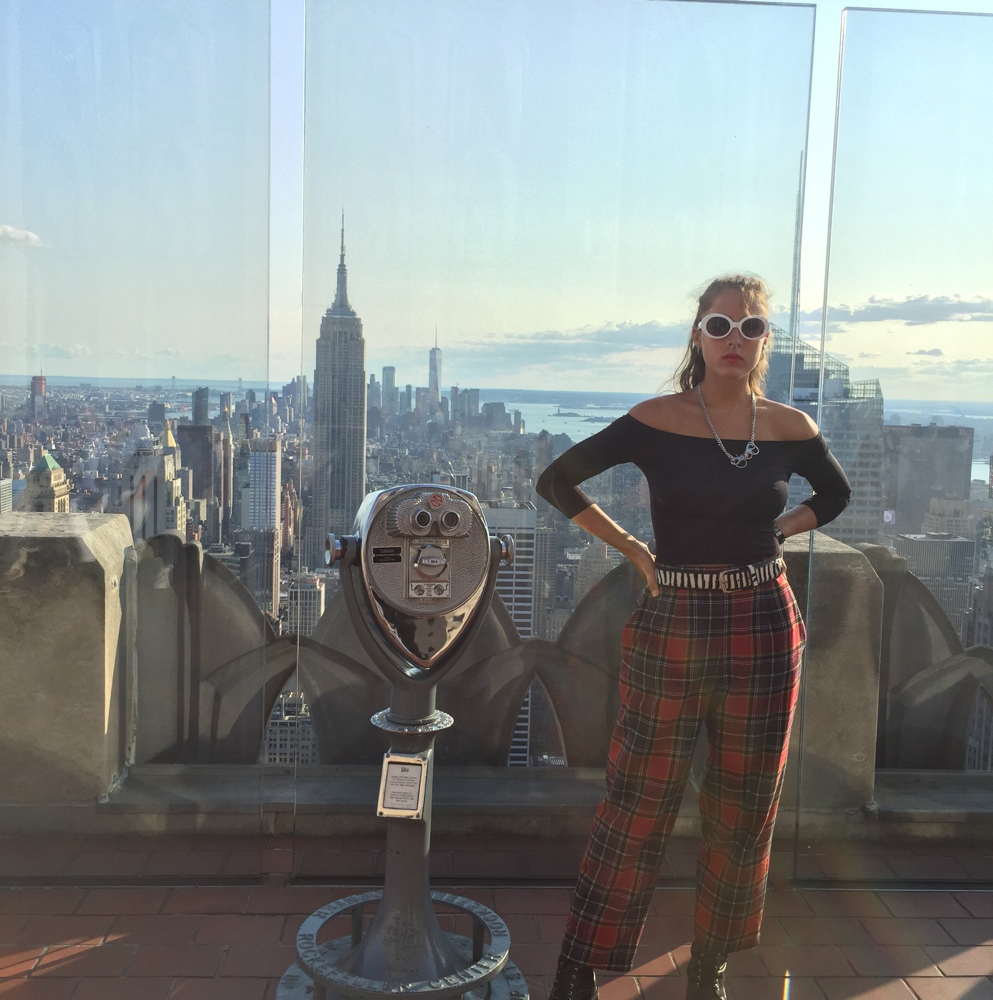 Food in NYC 
You'll read on many blogs and hear many opinions that food in New York is plentiful and affordable however, from a backpackers perspective there aren't a hell of a lot of options. Obviously there is no point comparing it to second or third world destinations but even in comparison to some of the bigger European cites it lacks fresh food options and the supermarkets are OUTRAGEOUSLY expensive. 
As mum and I had a kitchen I was so excited to supermarket shop and cook some yummy meals but the cost of groceries meant I was pushing my budget just buying the basics. We ended up tracking down Trader Joes which was the most affordable of all the supermarkets however its also verging on 'trendy' so we found it didn't have everything we needed… We did love buying their pre-made salads for $4 USD for lunch!!!
The cheaper, more wholesale supermarkets are all outside of the city and so your only real options are smaller independent supermarkets, Trader Joes or Wholefoods. Mum and I went to Wholefoods to grab a few basics on our first day and spent $100!!! (a shop that in Europe I could have easily done for $30)…
If you want fresh produce I highly recommend some of the farmers markets which usually pop up weekly or biweekly in most neighborhoods and also make for a lovely morning outing.
There are a million beautiful places to eat take-away/home made food in NY. Mum and I ate in numerous parks, especially in the Financial district, the villages and also in front of the Flat Iron building. There are well maintained tables and chairs all over the place, so keep your eye out! Plus its so much fun sitting and people watching as you eat.
Eating out
I arrived with a very in-depth list of funky cafes and restaurants that I wanted to try and so we did usually eat out once a day. If you're wanting to eat out and you're on a budget you can get $1 pizza slices just about anywhere and they are pretty tasty (plus they are huge and fun to eat and v 'NEW YORK') but this is hardly something you want to be eating everyday…
Below is a list of all the places we did and didn't eat in NY that were on my list ! (and some we just stumbled upon) 
The Sosta - Nolita (makes a killer antipasto board)
Russ and Daughters - These are in several locations across the city and are famous for their Lox bagel
Its not a trip to NY without breakfast in a Diner (Champs is a favorite)
For Chinese food head to Flushing to experience the REAL Chinatown
Mamoun's Falafel - Greenwich Village. Sandwiches here range from about $3-$6. 
Jacks wife Frieda - if you want something trendy, this place is for you, we never actually went here because whenever we walked past there was a huge line out the door
Get  a bagel and a coffee and have breakfast OUTSIDE TIFFANYS
Magnolia bakery - another NY classic, make sure you try the Banana pudding and the red velvet cupcakes
Epistrophy - I think there are a few locations for this one, just another overpriced and v trendy café
Cafe Habana - This place does THE Cuban sandwich. Located in Soho we went here after a long morning exploring the streets of the fashion district. While this wouldn't usually be my usual choice of meal, Mum insisted and it was fucking delicious. If you're in the area check it out for lunch!
Pause café, Jolie Cantinia, Oval café, The Butchers Daughter, Fort Green (all more overpriced BUT COOL cafes)
Balthazar  - Soho - This one was recommended to me by my grandparents and is good for a fancy night out. Focuses on modern French cuisine.
Babu Ji - This is a seriously fashionable curry restaurant that serves Indian food for $$$ (BUT OMG ITS TASTY)
Mum and I went for dumplings in Korea town multiple times. We always returned to the one affordable and delicious restaurant however I lost all my photos on my phone when it died in Mexico (which included the only picture of the name of this place) so I cant tell you what it was called!! But Korea town in Midtown is a great place for a quick and tasty meal!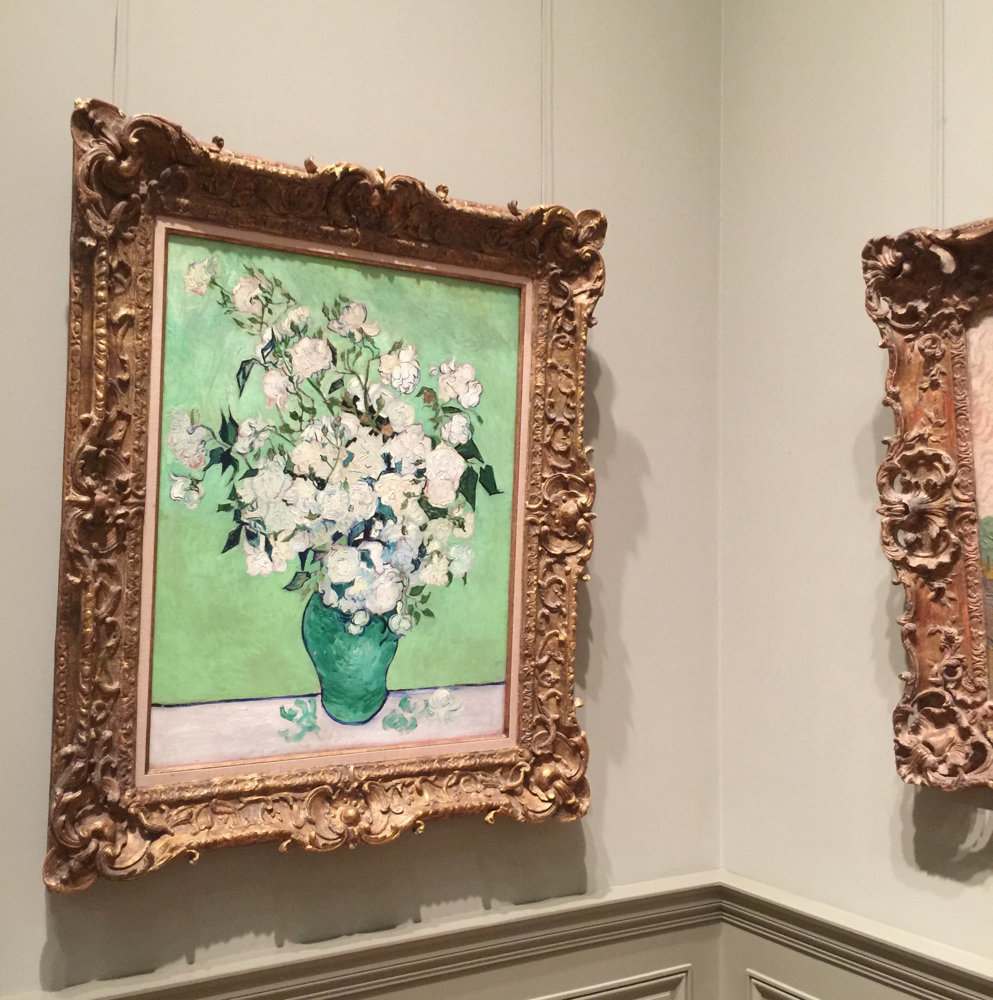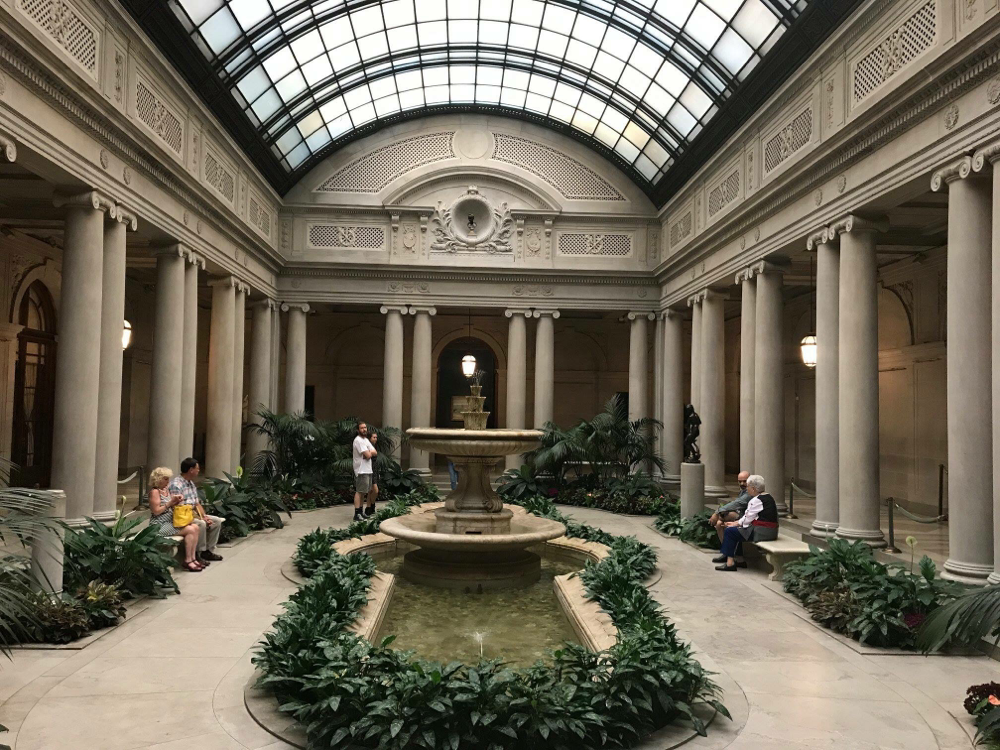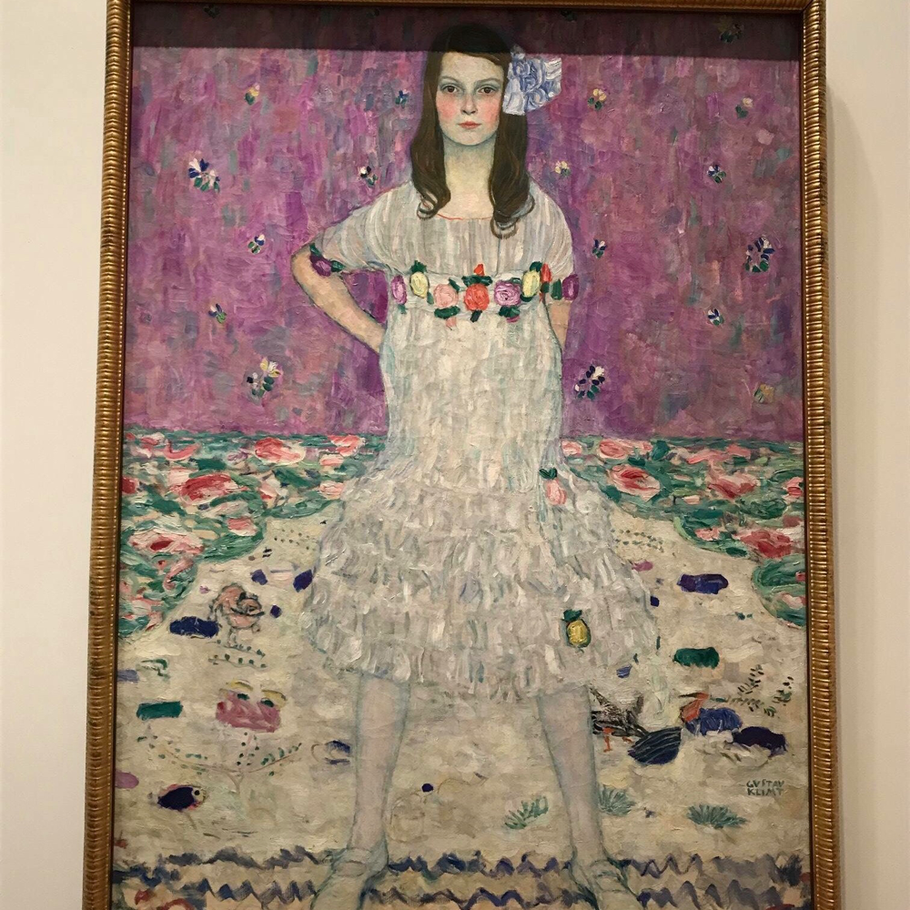 Museums 
NYC is home to some of the greatest galleries and museums in the world. The main deterrent for me was the cost, as most museums and galleries had an entrance fee of about $25 USD which is a lot of money.  There are ways around this though: The Met was fantastic because the cost to enter is merely a donation so mum and I would pay a few dollars, go in for a few hours/until we were too tired to do anymore and then leave and come back again the next day (its that big you could do this for weeks). Unfortunately, the Met has just changed their rules and you now have to pay the full fee of $25 to enter unless you are a resident of NY. The Museum of Natural History also accepts a donation as entry.
For those of you interested in fashion, the Costume Institute features a ridiculously detailed array of clothes and costumes from over seven centuries and the museum at FIT boasts over 50,000 costumes and textiles in their exhibits, ranging from the 18th century to modern day. 
Free times to visit the museums
The Guggenheim is an art gallery with interior architecture almost as famous as the pieces it holds. Entry here is also $25 except on Friday's after 5pm, when a donation is accepted. However the line to get in on this day is SO LONG that it hardly seems worth it, galleries are meant to be a relaxing experience, not one that starts with an hour long cue.  MOMA has the same pricey entrance fee other than after 4pm on a Friday. There is free entry to the 9/11 Memorial Museum after 5pm on Tuesdays. The Whitney Museum of American Art is free on Friday. The Frick museum (which Mum went to while I met Milly in Central Park) is a mansion-come-museum that Mum said was so beautifully curated she wanted to go back the next day. I believe the Frick is free between 11am and 1pm on Sundays. The New York Botanical Gardens are free every Wednesday and from 9am–10am on Saturdays.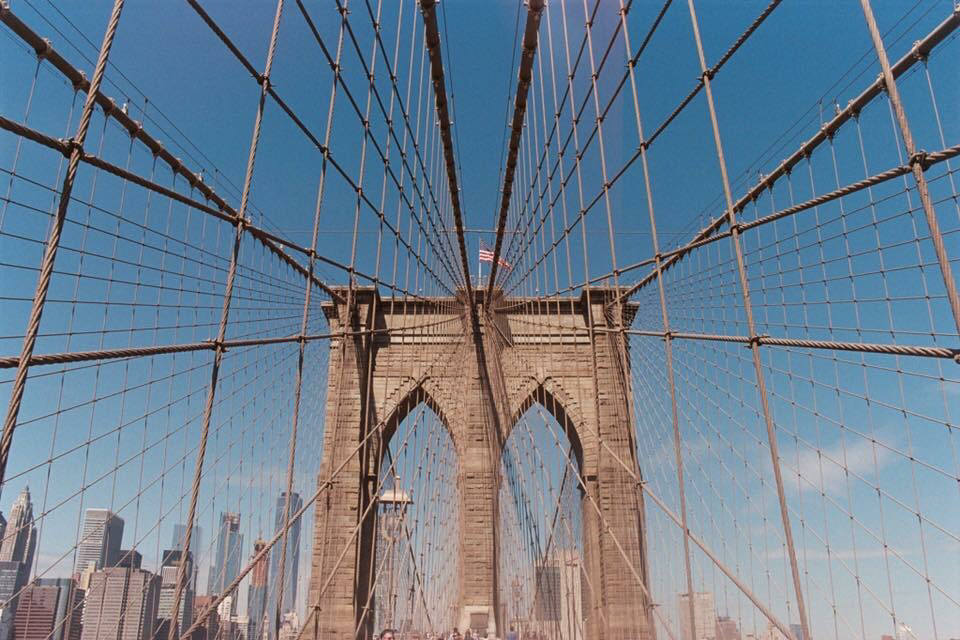 Second hand shopping 
My biggest vice in life is shopping and nothing is more precious to me than my beautiful clothing and jewelry that I have collected from all over the world. Given that I am the stingiest person I know, the only way that this shopping addiction works is that everything I buy is second hand and I'll never buy anything more than a few dollars unless it is LEGIT/WICKED/HECTIC.  Over my 10 month trip I sent home close to 150kg of clothing and shoes… 46kg of which was from the US!! 5 days prior to arriving in New York my naive traveling life was ripped apart when my bag was stolen from a train station in Naples.  Brushing over the fact that I still cry about this occasionally, it was actually great timing because it meant I arrived in NY with a fun new job - REPLACE MY WHOLE WARDROBE!! I basically started throwing money everywhere (which is why I am financially disabled now) to try and make myself feel better… and I got some great stuff, most of it really cheaply (although not at the scale I was buying).
Mum had 80kg included luggage on her flight home which gave me free rein to shop well beyond a backpackers luggage restrictions. Luckily, Mum is also an Op shopping fiend (I had to learn from somewhere) so we usually dedicated at least 2-3 hours a day to trawling through the many amazing charity stores of NY. We had a separate Maps.me map dedicated to pinpointing all the locations of stores around the city so that we never missed one that was nearby. Having a working sim card with internet would make this a lot easier as it actually required a fair bit of work to individually plot the location of every store on the map.
The stores here varied a lot in quality and price but I never walked out of one without at least 3 fabulous new things (whether that be a belt, bikini or a fur coat). There were also some fun flea markets in NY which we explored and we stumbled across a few church yard sales that had some awesome finds for $1 or so. As for which stores to go to below is a list of some of my favorites. Keep in mind these are the charity stores and you'll find a lot more second hand stores that are up market and privately owned such as the Buffalo Exchange where the quality may be consistently higher but so will the prices!
Goodwill
Crossroads
House works
Salvation army
Amsterdam church yard sale
Green flea market
Hells kitchen market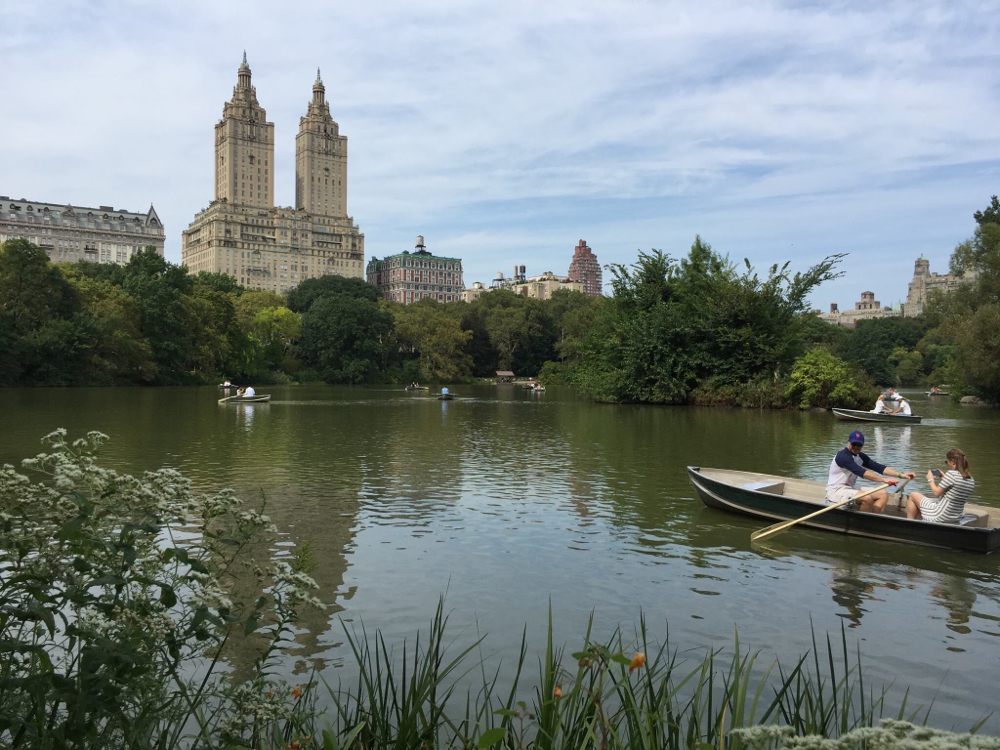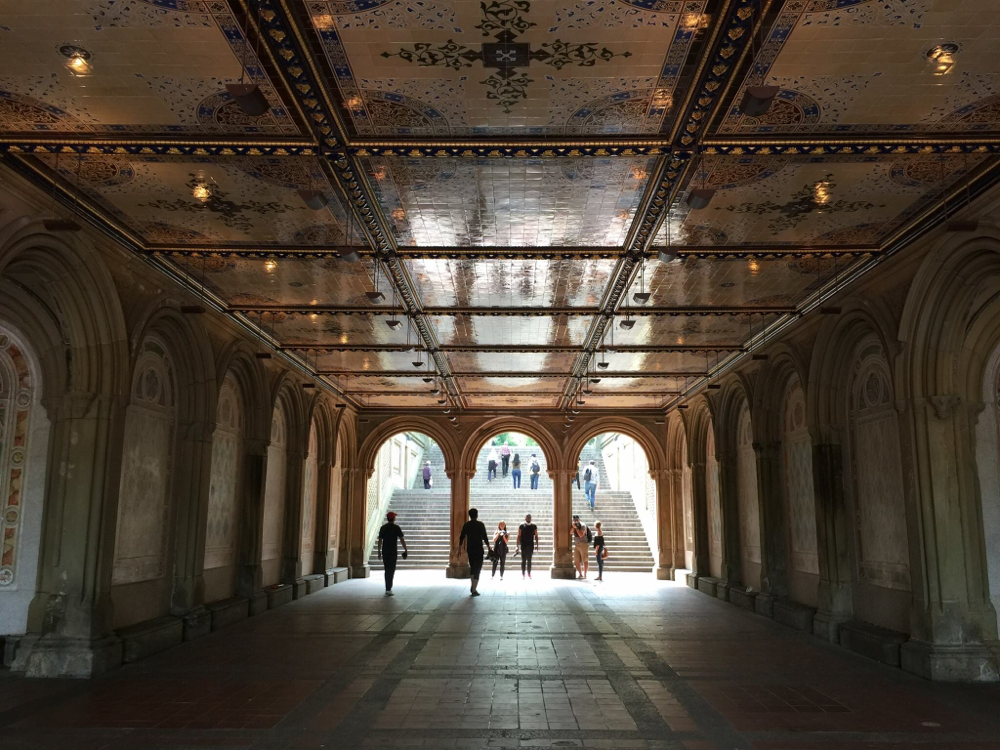 Central park 
Mum and I LOVED Central Park. We made sure to go in there even if only for half an hour everyday and we were constantly discovering new areas and parts to explore.
We hired bikes for an afternoon which we booked using Groupon and only paid $8 for 24 hours of hire (which is really, really cheap). We then rode through the park on our sunny afternoon, jumping off to feed ducks in hidden ponds and finding ridiculous new view points from meadows and rocky outcrops. Its pretty crazy how quiet this place is when you're in the deepest depths of it, considering the craziness of the city surrounding it. The park is so massive that if you do want to see it all, bikes are kind of a necessity.
Given the amazing weather we had, Mum and I often had a picnic lunch in Sheeps Meadow where were brought a rug and sprawled out in the sun, people watching (jugglers, photo shoots, baby showers, LOTS OF DOGS) and gazing up at the city scope that surrounded us.
My favorite part of the park was the Bethesda terrace and fountain and the walkway leading up to it. I must have come here at least 5 times, and it made for a perfect meeting place as if the other was late, you're completely entertained by everything going on around you.
As a runner, I was so excited to run in Central park and was shocked by the sheer number of people jogging together every morning. The park loops around and hundreds of strangers run in unison around the park, coming and going as they please, EVERY DAY. My favorite track was the loop around the Jacqueline Kennedy Onassis Reservoir which had AMAZING views of the city. 
The NYC View 
Undoubtably one of the best things about New York is the view. The contrete jungle is incredbily asthetically pleasing, espeically given its constant evolution in different lights of the day. My persnal favotire was dusk as the last light falls across the city, reflecting soft light off the buildings combined with the splatter of lights that have already been switched on inside.
Getting to the top of the city can be an expensive task with the top of the Empire State Building costing $54 (the 102nd floor) and the Top of the Rock at the Rockefeller Center being $34 (cheaper but still $$$). I personally prefer the Top of the Rock as the view includes the Empire State Building which is one of my favorite additions to the skyline. I got a message from a girl on Instagram while I was in NY who told me that you can go up to the bar at the Rockerfeller Center for free and its only a few floors lower than the Top of the Rock. She said you don't even have to buy a drink its usually busy enough that they don't notice what you're doing. This is awesome cause it means you can head up there at different times of days to experience the different stages of light. 
There are many other rooftop bars in NYC that have lots of unique perspectives of the city. 230 Fifth has a big roof terrace bar on Fifth Avenue that's open to anyone. It overlooks the Empire State Building and has patio heaters and blankets so you can still sit out when it gets cold. The Metropolitan Museum of Art also has a roof terrace sculpture garden and café with great views over Central Park that doubles as a martini bar from Thursdays to Sundays between May and October. Mr Purple and The Press Lounge are other funky NY rooftop bars however I can't tell you too much about them as I was under 21 when I was there and even though I was with my mum (and I don't drink) they wouldn't let me in lol. 
Nearer to the ground there are spectacular views across the water to lower Manhattan from the Brooklyn Bridge and the park at the end of it and we also walked across the Manhattan bridge, which had awesome views over grungy Chinatown and Soho.
Mum and I really enjoyed riding the Staten island ferry at sunset. You get an amazing view of the city as well as the Statue of Liberty and its free!! The journey takes about an hour for the return trip and the ferry runs 24 hours so you can go and do this any time of day!
We also got outrageously lucky as one of Mum's friends from work had recently moved to the city and had a beautiful apartment (with beautiful views) in Midtown and he invited us over for drinks (these are in the above photos mmmm)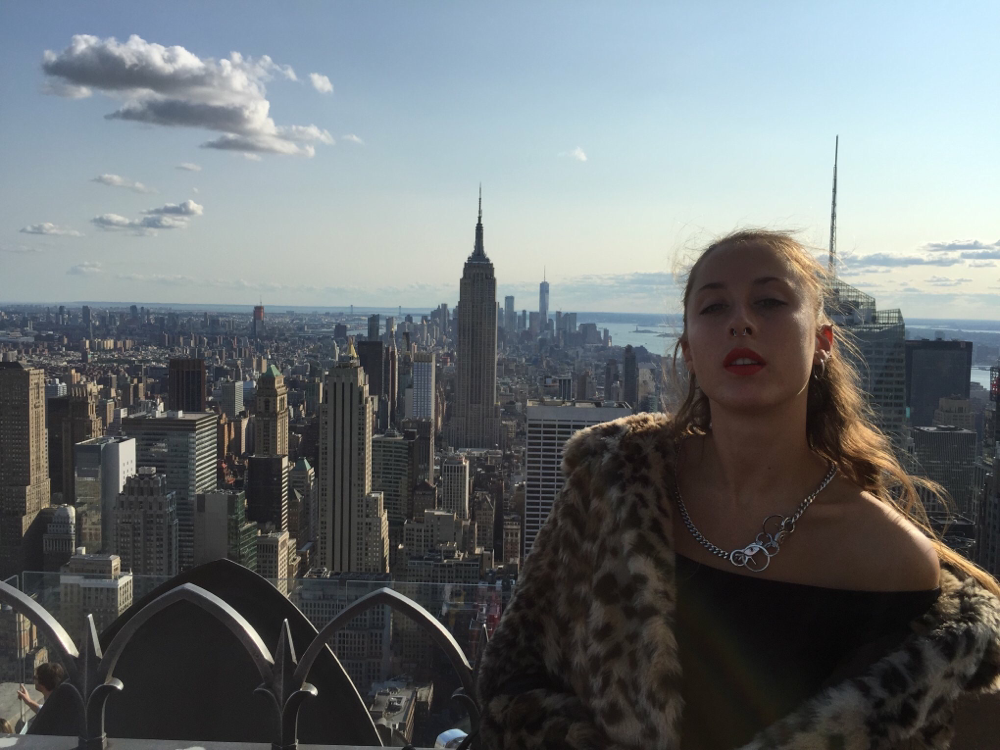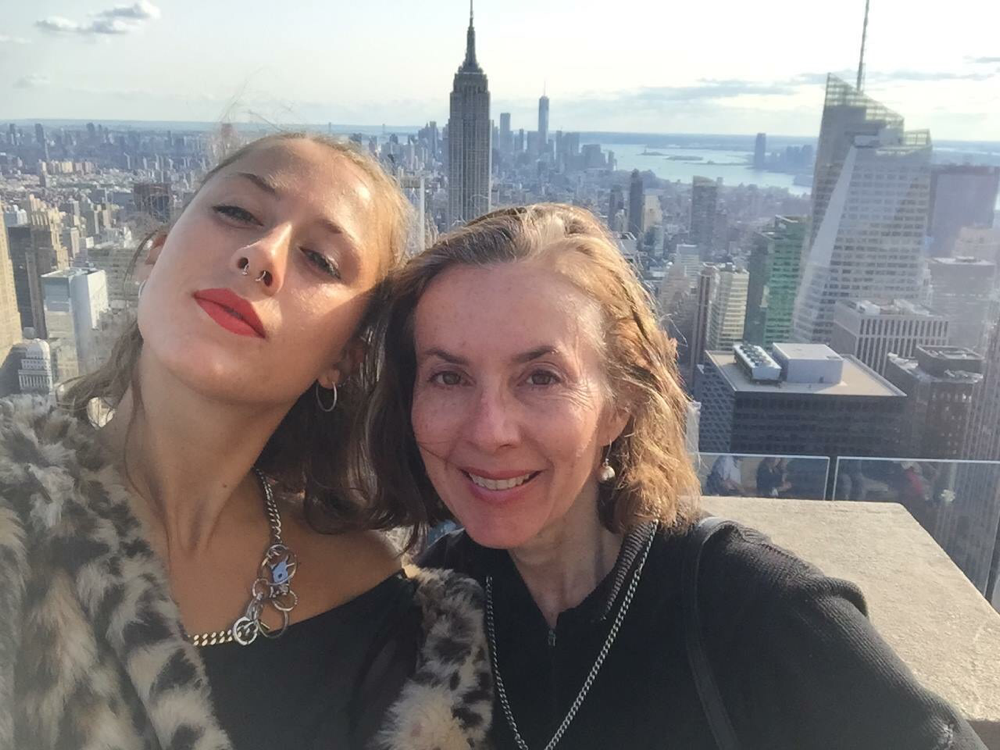 What to do for free
New York is so fantastic because its experience lends to the ever changing neighborhoods that flow one into the other and allow you to be in a million different places at once. As such, walking makes up a big part of New York's fun and its free!! Some of my favorite neighborhoods (given I liked them all) were Soho, the Financial District, Greenwich Village, Hells Kitchen and Chinatown. Whilst stomping around town make sure you check out the following FREE activities and attractions:
Times Square
The New York public Library 
Grand Central station 
Wall Street in the Financial District
Bergdof Goodman - This was a highlight for Mum and I as we stumbled in on our first day... This department store is just across from the Plaza hotel and Central park and is an ART GALLERY. The shoes and pieces in here are so beautifully curated, with some dresses having their own section in the store. Mum and I spent hours wondering and sighing at all the amazing designs and laughing at the price tags. There is also a lovely cafe on the top floor of this building with a view over central park, but its quite expensive and you have to book 
Columbus circle
Hells kitchen
The Flatiron building
Carrie Bradshaw's house in Greenwich Village (for all my Sex and the City fans)
St Patrick's cathedral
The High Line - This is an old elevated railway track that runs through the meatpacking district, its very industrial and has a lot of history surrounding it. This is a lovely thing to do early morning with a coffee in hand while its not too crowded. Also if you are staying nearby it would be a great place to go for a morning run! 
Walk across the  Manhattan bridge from Chinatown, this offers great views over Soho, the Financial district and Chinatown. 
Brooklyn Bridge - This was a highlight for me because we combined it with exploring Dumbo and getting pizza from Garibaldi's and eating it in the park by the harbor. If you're only going to walk one way then get the subway across to Dumbo (prepare for the HIPSTERS and photoshoots) and walk back towards the city for the best views!! This bridge gets busy so I recommend going very early morning or at sunset!!  Once in Brooklyn, find the Brooklyn Promenade close to Pierrepont Street, anther lovely place for a view. 
9/11 memorial and musuem 
Ride the Staten Island Ferry!! This is a free activity and gives amazing views of the city. We did it at sunset and passed the Statue of Liberty and got to see the memorial lights for 9/11. It was pretty special. 
Because we were staying in Harlem, which is historically an African American community, we went to a gospel church on Sunday morning for a service which was a really fucking cool thing to do. The passion and expression shown in the 'service' (which was more just singing and inspirational talking) left us feeling pretty elated afterwords and its worth going just to hear the amazing singing voices these people have. As Mum planned this for us I can't remember the name of the church but if you're in NYC and this is something that interests you, message me and ill rustle the name out of my Mum.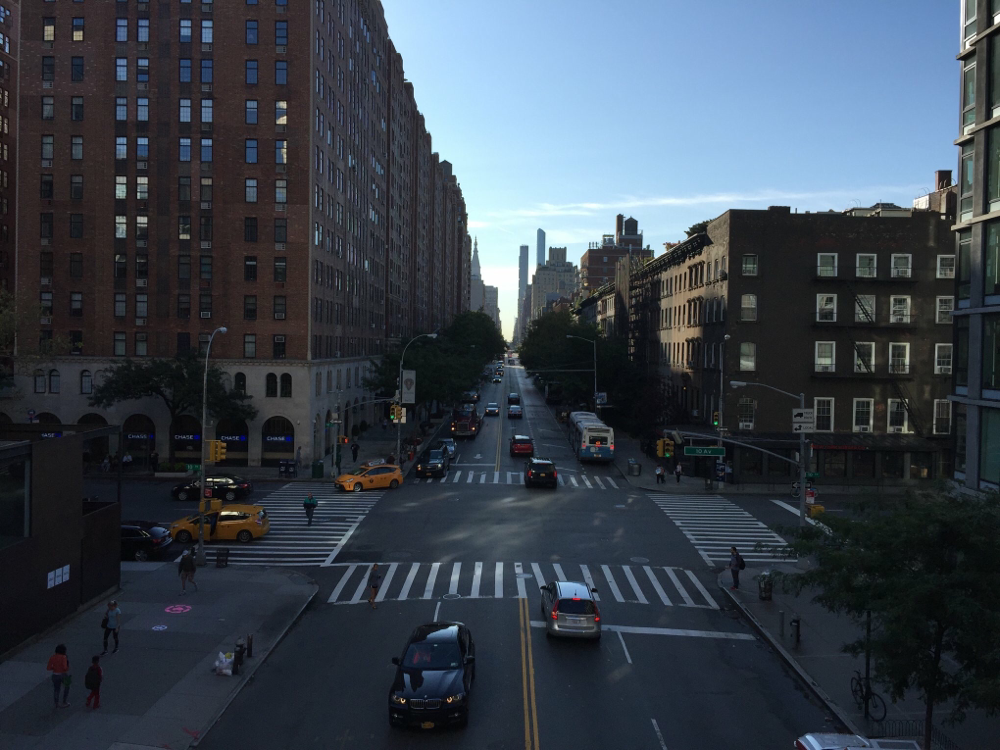 Activities that cost money
Get cheap theater tickets – Mum and I got discounted tickets to CATS from the TKTS line in Times Square. While there are other ways, such as online, to get cheaper tickets, lining up here whilst being bombarded with info on all the shows and looking up at the coloured lights is a pretty fun experience in itself. You need to arrive at the counter the same day to see what they have but it's usually a widespread and good selection. Be prepared to wait in line for about an hour. 
Make sure you go to as many museums and galleries as you can. As I mentioned above there are free days/times however they are often crowded and take away from the experience a little, so put a bit of money aside to visit 1 or 2 galleries and pay the fee. 
Its not a trip to NY without going up either the Rockerfeller Center or The Empire State Building for the view. These are both pretty pricey activities but are 100% worth it!!