The second and most anticipated location for our trip was Seminyak. We had 5 nights there and after the quite, laid back, surf town of Ulutwatu it was a complete change. the atmosphere was completely different. The roads clogged, the footpaths busy, it was noisy and smelly. But it was fun. There were millions of cool cafes, restaurants and bars and streets of bustling markets full of treasures (which we later spent days looking through). I was itching to get out and explore as soon as we arrived at our accommodation. That combined with the heat made the whole experience a little overwhelming, but in the best way possible.
When looking for accommodation in Seminyak try and find somewhere as close to Oberi street and the beach as possible as this is the central area. You will find walking is the easiest way to get around but in the 35 degree heat (plus extreme humidity) you'll find yourself craving a taxi for any distance longer than 10 minutes, especially if you want to arrive without wet hair and soaked clothing.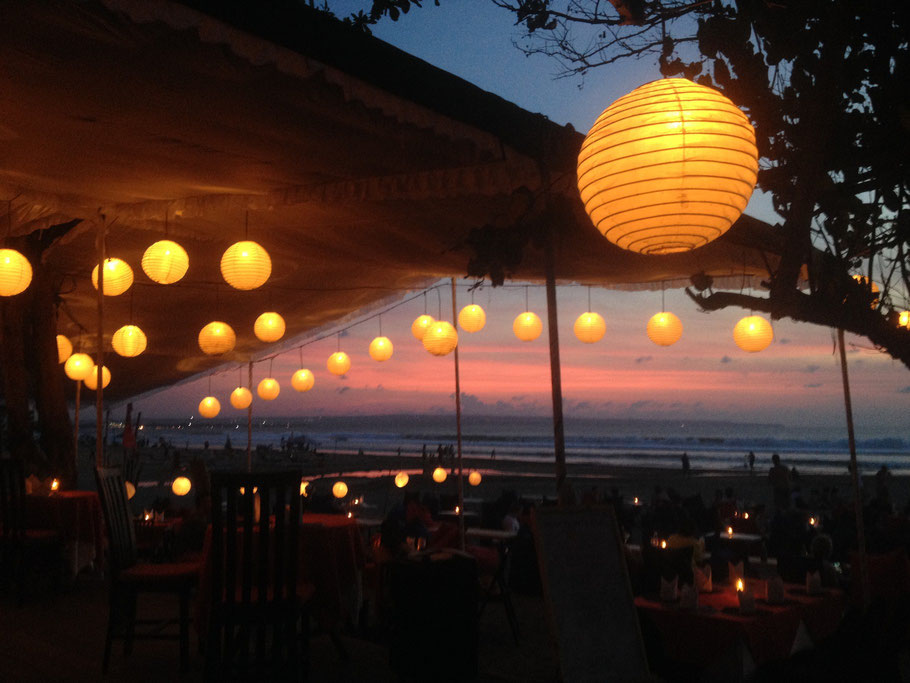 Oberi street is the place to go for food any time of day. You'd need months to sample food from all the different restaurants, bars and boutique cafes along this bustling street. The best part is how amazingly designed they all were.
Cafe bali was our favorite by far; the food was fantastic, very simple, but so yummy with an all day breakfast menu and delicious juices. The boutique/shabby chic-like decoration, mixed with a Balinese influence was so pretty. The value for money was incredible too, our bills for all 3 of us were never over $15.  I honestly cannot fault this place.
La Favela, a south american themed restaurant/bar, was a little more pricey and I didn't go there in the greatest mood (v. sleepy and hot) but it was incredible. Think tree houses in the jungle, with day of the dead decor and fairy lights all inside with an open roof looking at the stars, they had live birds in cages flying around and a really cool soundtrack playing. This place is meant to get pretty wild on a Saturday as it also doubles as a bar. To get in you had to walk over a rope bridge suspended over a man made stream, it was over the top and it was fabulous. 
Motel Mexicola was also absolutely fantastic. This place isn't on Oberi street but is about a 3 minute drive. They have a no professional photo policy and it was night (iPhone 4S' just don't cut it) so I don't have any photos. But oh my god!! the food was good, the music was good, the staff were so fun, Lucy and Nicola got called up by one of the waiters to dance on the table. It had the coolest vibe and we all cant wait to go back. 
For next time I was also told that  the W Resort is an amazing place to go for brunch on a Sunday.  W also has a bar called Woo bar that is meant to be really cool for sunset. 
Ku De Ta is meant to be a fancy and fun place to go for dinner but we didn't make it there either.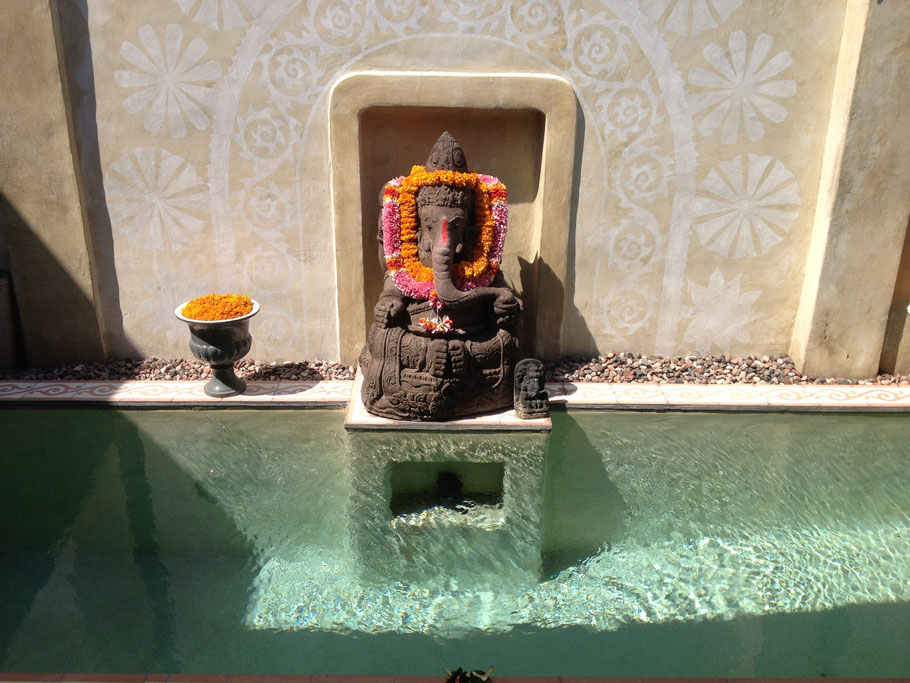 We spent one morning in Kuta exploring the shops and markets. Me and Lucy both got our hair braided and we found this incredible shop selling the most amazing bikinis for 3$!! I bought 5 but I regret not buying more, they were so cool. Kuta was pretty dirty but as was Seminyak. I personally wouldn't stay in Kuta, only because Seminyak had the nicest restaurants and bars and Kuta has a pretty tacky reputation. The jewelry in Bali is awesome and I bought so many rings and necklaces for basically nothing, once again I regret not buying more. I had a list of things I had wanted to buy before I left and I got everything and more! Because of our luggage restriction I had to wear this massive crotchet rug I bought as a shawl on the plane home.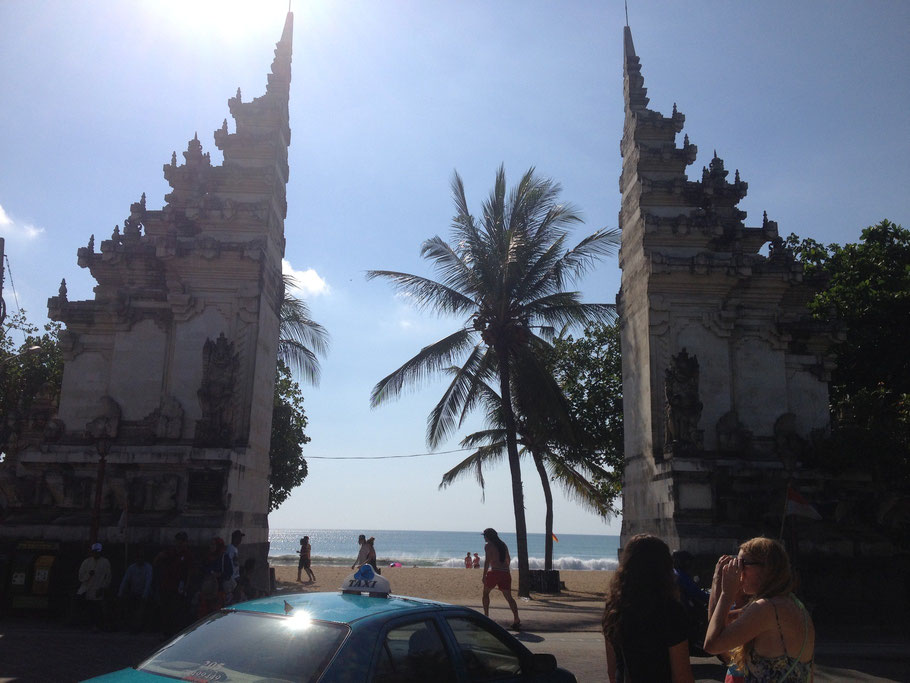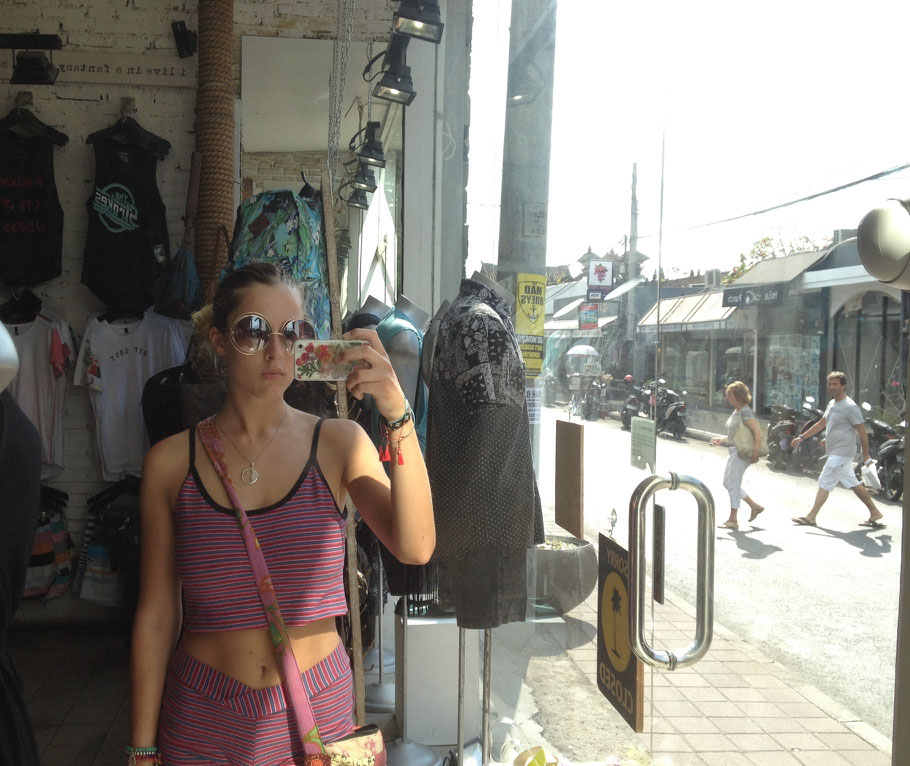 We arrived at around 3 in the afternoon, it was hot, we were stressed (because finding this place was really hard) but as soon as we walked through the gate we were happy. It was unlike anywhere I'd ever been in my life. The design was incredible and we had our own bedrooms with massive canopies and an outdoor (but still very private) bathroom, with a shower amongst the trees and a massive bath carved into rock. The kitchen was well equipped with everything you'd need to cook, but in Bali buying food at cafes and restaurants is so cheap and convenient, there is just no reason why you'd cook at home. The host, Vannessa, of this Airbnb apartment was incredibly helpful. She was away at the time and as there was no one else staying in the downstairs room we had the whole place to ourselves. It had great security and every morning this lovely Balinese woman called pnaimi would come and make out bed and make us the most delicious french inspired breakfast, with home made jam, fresh fruit and croissants. It was in a fantastic location, only a minutes walk from the main street of Seminyak and all the markets. It was about a 15 minute walk to the beach, but you walk through markets and shops so its better to walk than get a taxi and it was never a problem for us. Oberi Street, where we went for dinner and lunch several times was about a 5-10 minute walk away, we got a taxi the first time because the Seminyak streets are very confusing and it was dark. To go out at night we just got  a taxi for around $3 that took us to Kuta, it was around a 10 minute drive. The only down side to this accommodation was that it didn't have a pool or air conditioning. The living space was very open (which was beautiful) but as it was super hot we found ourselves having to have cold showers 5 times a day to substitute the pool and air con we had in Uluwatu.  I would 100% recommend staying here, it was a complete one off experience and I wish we got to spend more time here, because there is so much to do in Seminyak we didn't spend to much time in our accommodation. ): 
You can where we stayed on Airbnb or here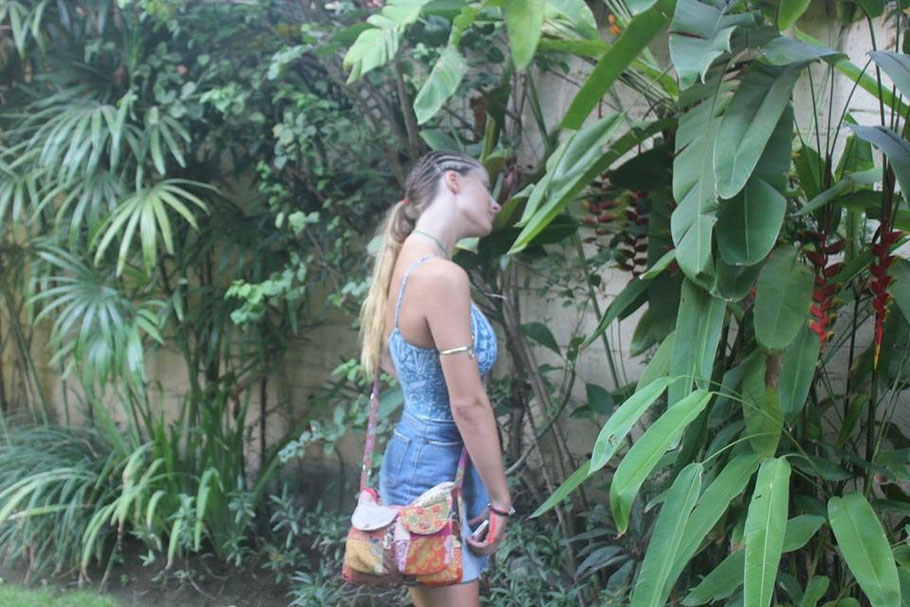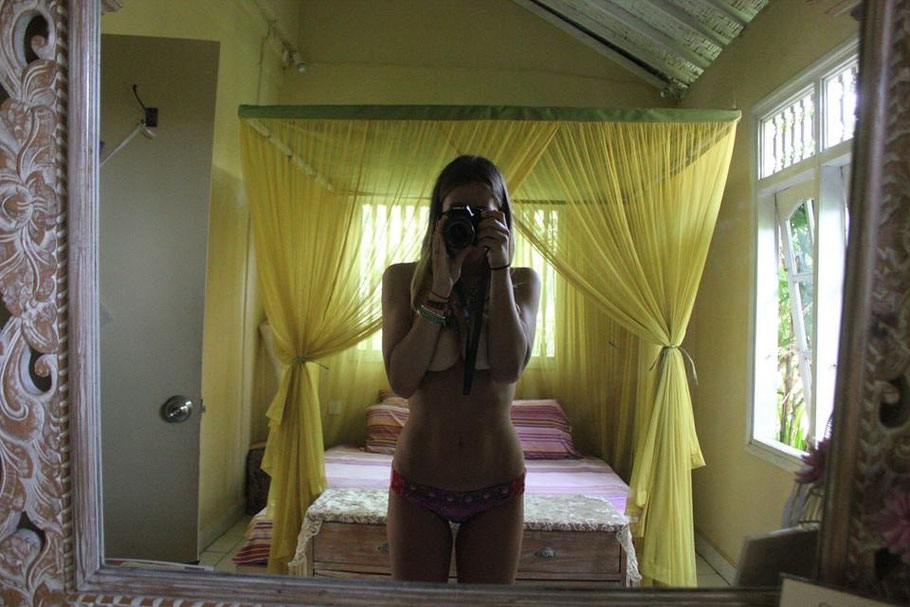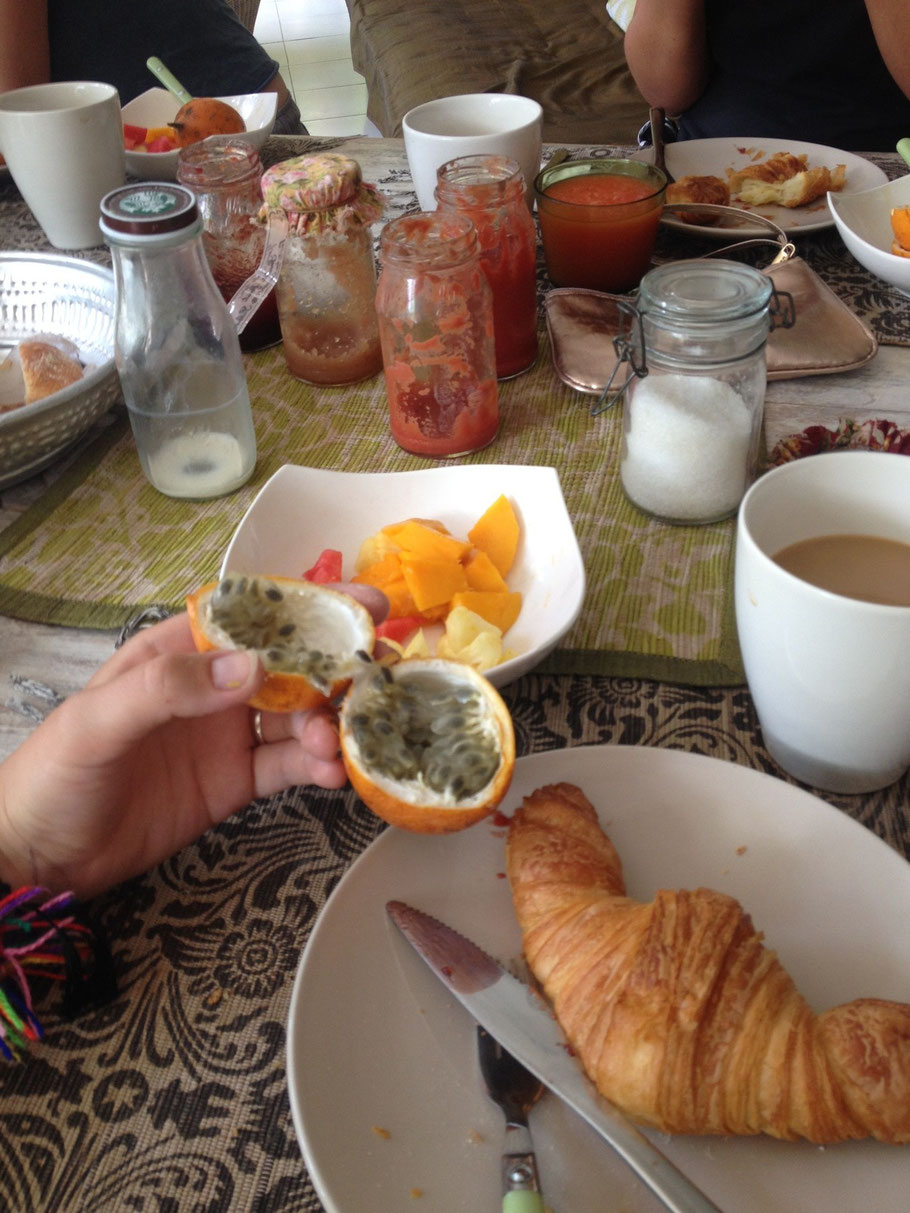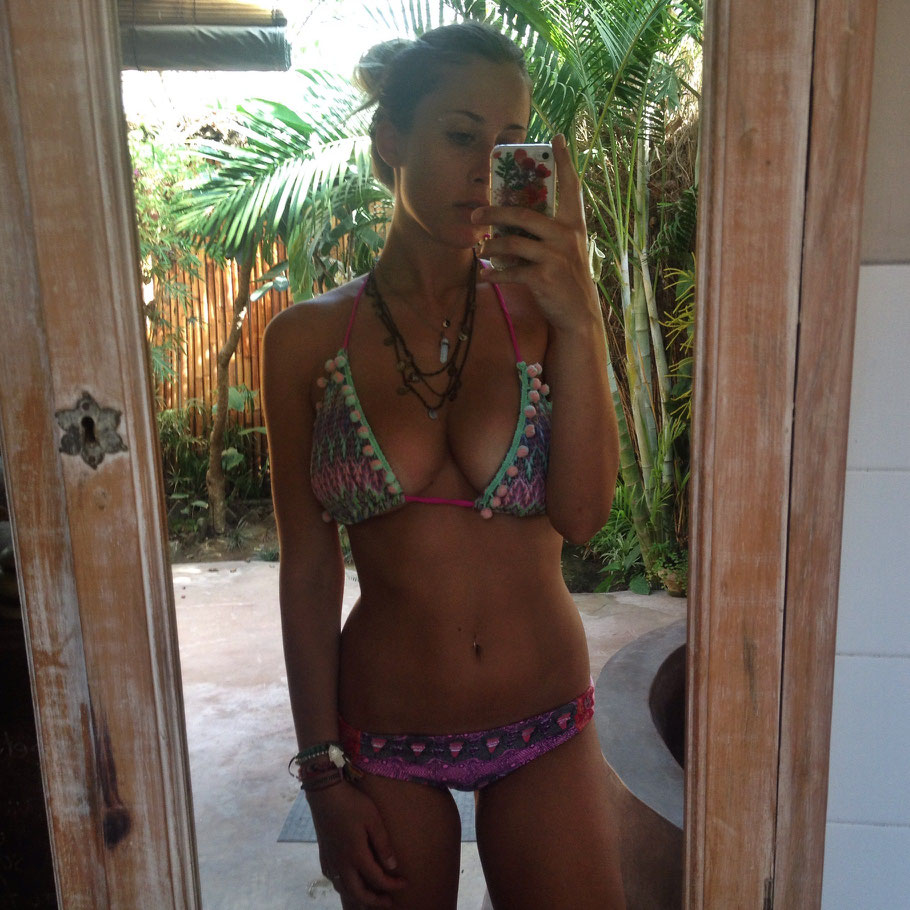 Potato Head certainly has the wow factor, you'll never want to leave. The first thing that impresses is the great design of the building exterior it's unique and clever. The bar and restaurant area blends in to the lawn seamlessly and then there's the pool and view onto the ocean. We arrived completely ravenous. We didn't bother trying to get a good seat we just grabbed a menu and ordered food as fast as we could. I got the most delicious chicken sandwich I have ever had (either that or hunger blinded my taste buds) We then went on a waiting list to get a cabana bed by the pool. The wait was about an hour but that didn't bother us, because we just lay on our sarongs on the grass and swam in the ocean and pool. Just before sunset we got the cabana bed and ordered drinks. Like most restaurants we went to in Bali the service was amazing. Once you have secured a cabana, it is all yours with a dedicated and humble waiter. The drinks were expensive but we were expecting this. I'm not quite sure how much it was to but it wouldn't have been more than 15$ each. Because it was past 5 we didn't have to pay for the cabana bed. I cannot wait to go back for a day by the pool but I've heard you have to be there by 11 to get a bed.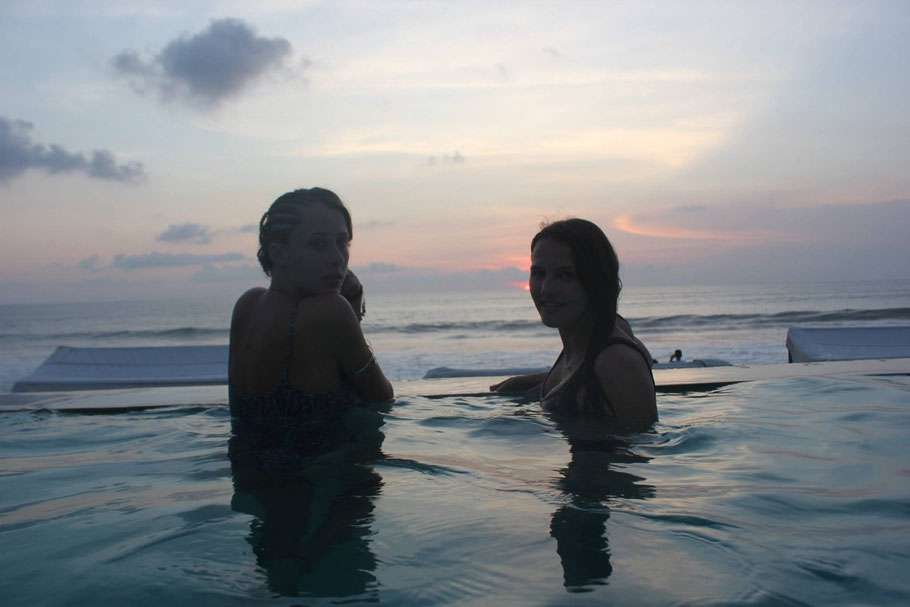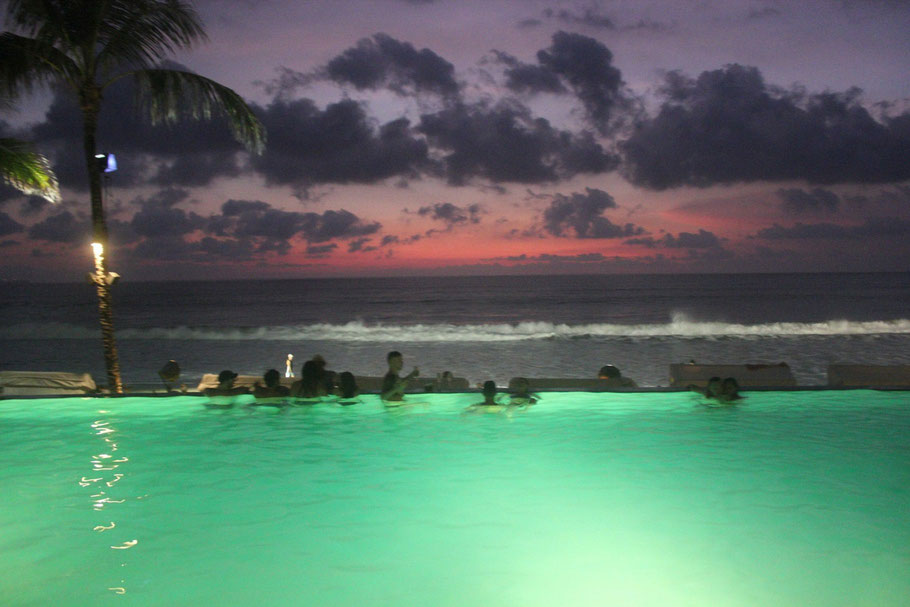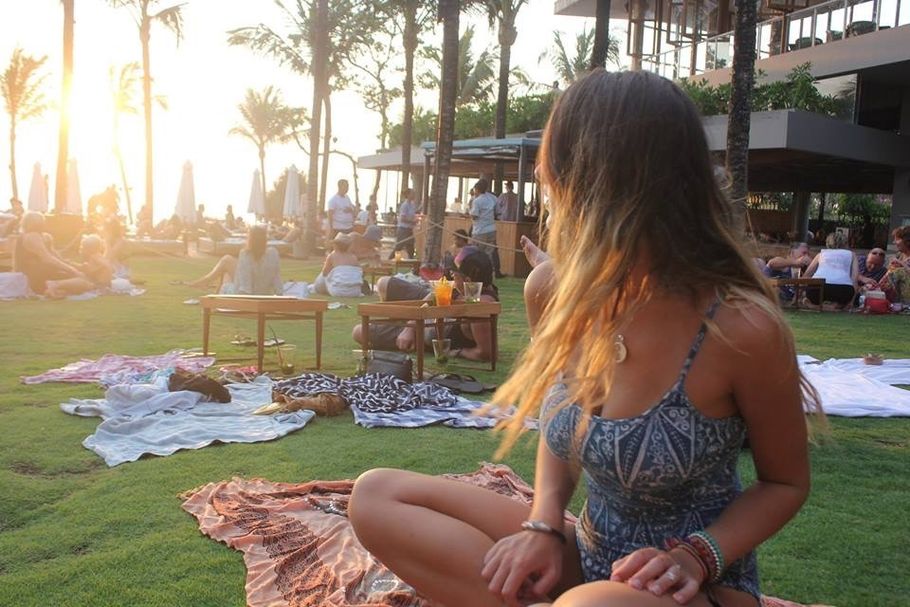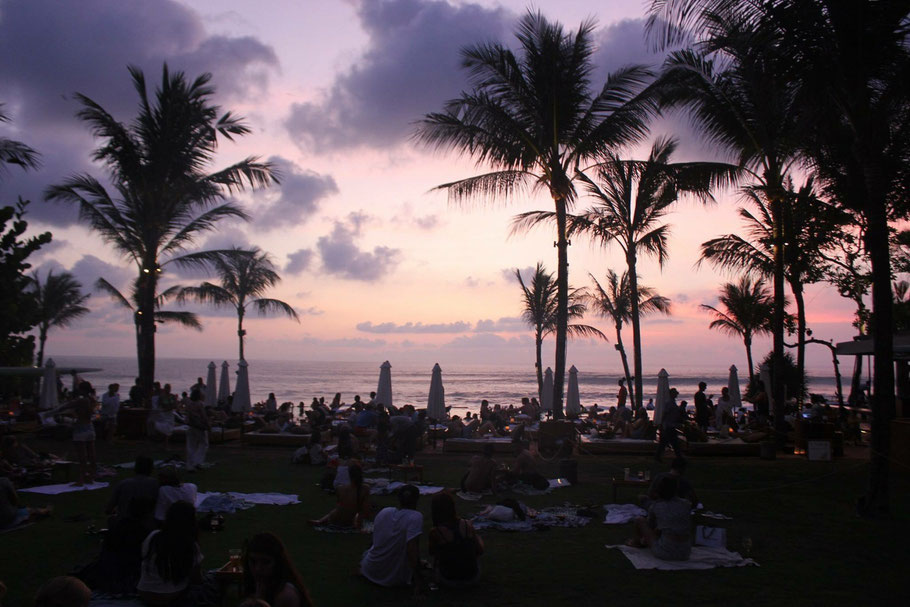 The term tacky doesn't even begin to describe Bali nightlife, but oh my god we had fun. We went out 3 nights and each time went to sky garden because it was pretty fantastic. 6 levels, loads of different themed rooms. a rooftop bar that overlooked the skyline and a fairly decent international line-up. On our last night in Seminyak Ali and Fila, phsy trance artists that I'm obsessed with, were playing and we saw them for $8 a ticket including 3 free drinks (which we all used to get bottled water because HOT). We danced our feet off and I was so surprised to see so many of their fans there with signs. it was super intimate too, with the DJs standing on a slightly elevated platform just in front of us. 
The first night we went out we didn't know what to expect and we went to sky garden because it was the biggest and id read some good reviews. It was Balinese uni night so we were pretty much the only non-Indos in the club and we had so much fun. we met this awesome group of people and danced with them all night. On the Friday we had been to Potato head and met a group of guys who were a few years older than us and lived near us at home! We sat with them at the beach club and they invited us to come out with them that night. They were super nice and one of them was friends with the owner of sky garden and we went backstage with them and met the DJ and danced behind him on stage. We also had an open bar which Nicola and Lucy took strong advantage of. It was such a strange night and don't think we got home till 5 but it was sooo much fun.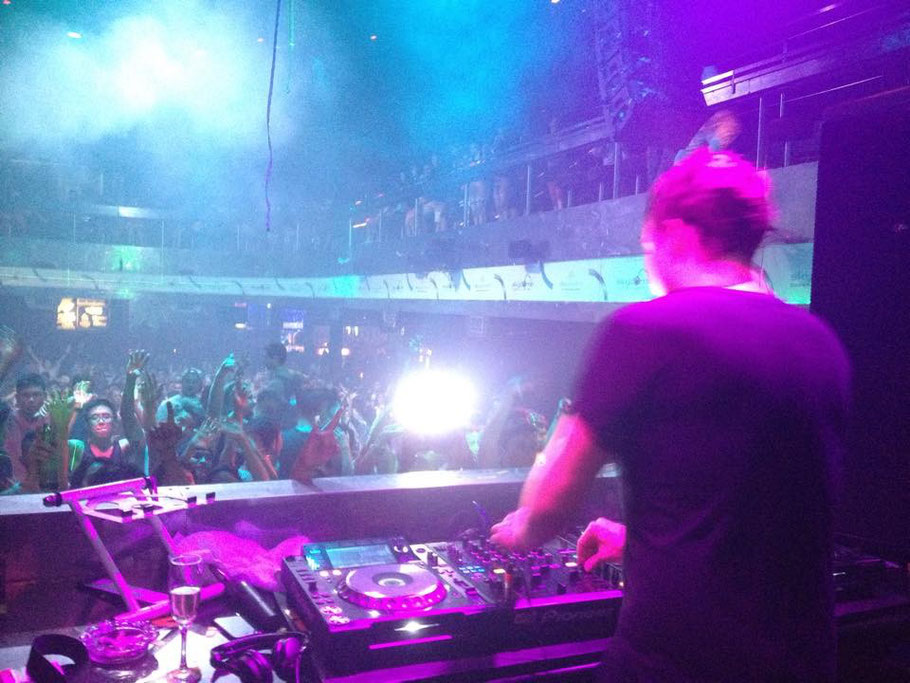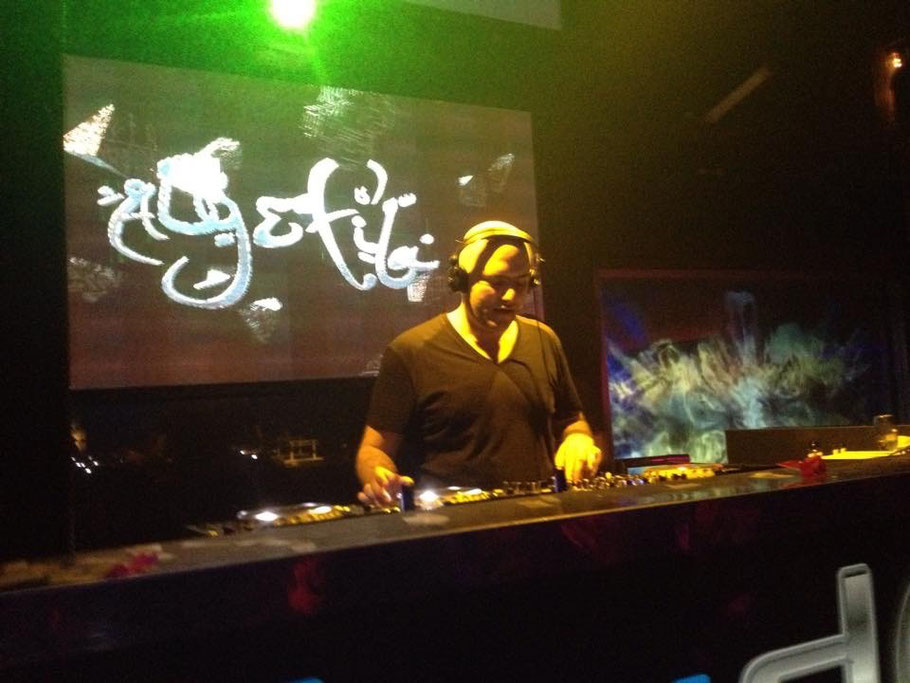 Based on my love of anything colorful I was literally jumping up and down with excitement to get to this place. It was awesome. Cheap drinks, cool music, and a magical sunset. Colourful lights came on after dark although we didn't stay there much after sunset, because we were hungry. Its located on Seminyak beach and you'll find that there are heaps of other bean bag bars that have tried to copy it. For something different these places could be worth trying too, but you may as well settle for here because you know its good.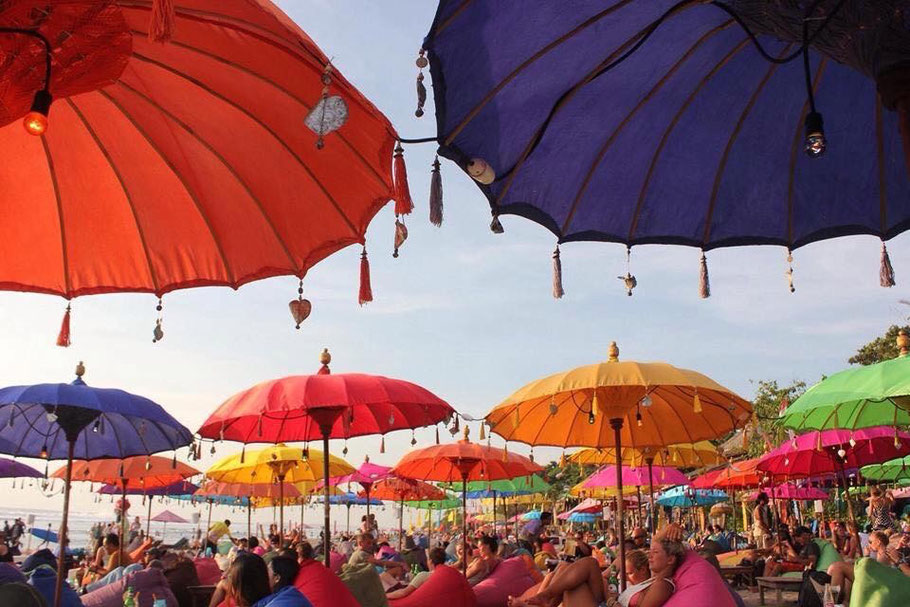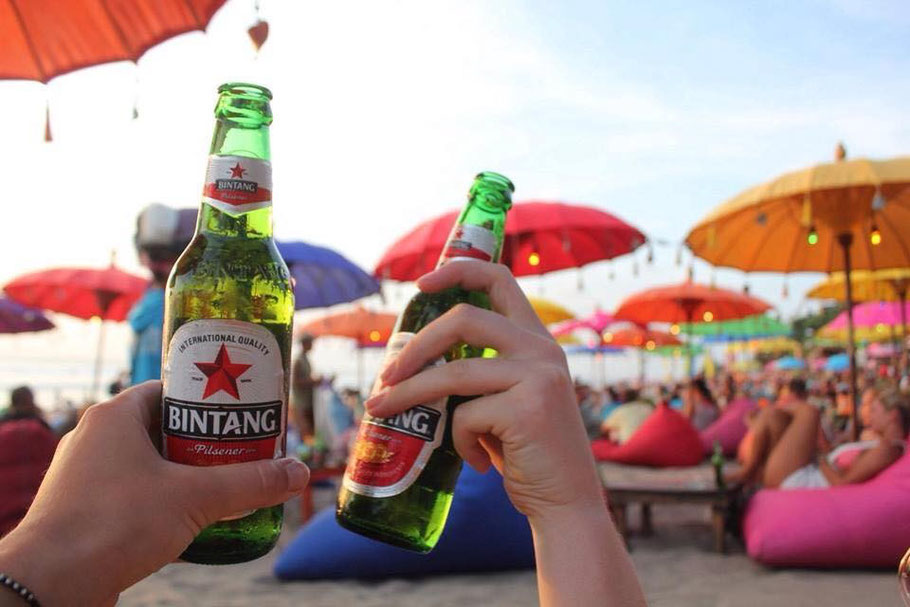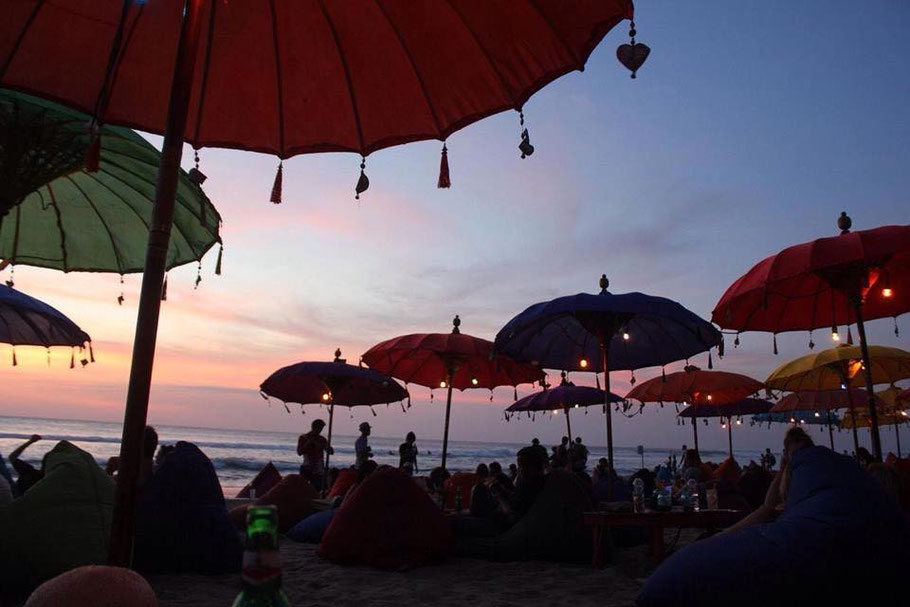 We went here in the afternoon to use the pool and have lunch. It had the best vibe and we only had to spend $15 between the 3 of us to grab a day bed by the pool. The food was so yummy. I specifically recommend their pineapple juice and their super food power bowl, oh and their pizza that's good too. There was a DJ playing really awesome music, free wifi and a relatively cool crowd. To get a good bed I recommend going at around 2 which means you can get lunch and laze in the sun too!