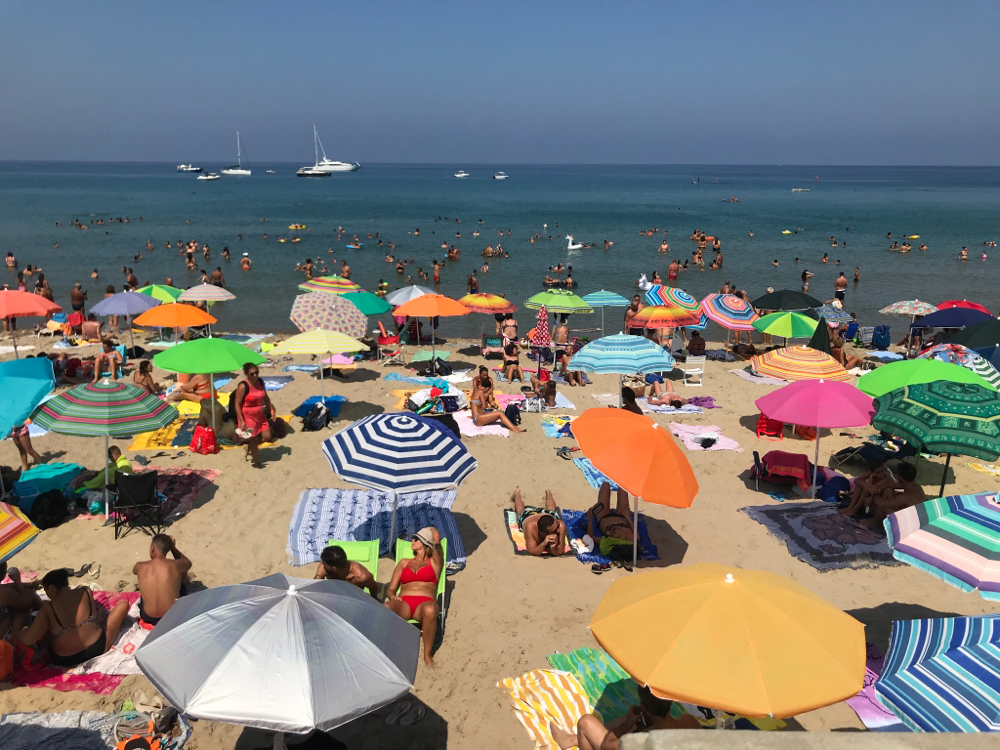 Back at it again with another Italian adventure!!! This time venturing as south as one can, to the beautiful, mystical SICILY.
It was all an outcome of fomo. Lucy and Fergus had planned a romantic trip to the Amalfi coast and I wanted IN. I couldn't justify spending big money (it was V. last minute) on a trip to Amalfi when I'd already been there a million (OK 4) times but the more they talked about it the more I realised I was going to be alone in CPH for 6 days (!!!) and that I really felt like pizza. So, in true "I live in Europe" style I booked a flight to Naples the night before departure. The flight was ridiculously cheap (like $30) and to keep costs down, I was going to stay in a dirty hostel in Naples and get the train into Amalfi to visit Luc and the Duchess while they were there. I was also V excited to be in Naples as it has some of my favourite vintage clothing markets IN. THE. WORLD. What can I say, Italians do (clothes, food, beaches, mountains, architecture) better. 
So there I was, Thursday night in CPH and Friday morning in NAPLES, drinking espresso at the bar, running along the port at sunset and eating pizza from my favourite pizza place (again in the world, can you tell I like Naples??) TONY'S (obviously). Its a lil hole in the wall right off the piazza near the Stazionne Centrale and the margarita pizza is 2.50 euro and the best god damn thing I've ever put in my mouth.
The weekend markets in Naples are legit. Obviously its hit and miss but the prices are right and I always find a few vintage D&G pieces for 1 euro. Just look after yourself and your belongings, its not really that safe here, my bag was stolen in 2017 LOL (but also not lol... I cried a lot). So uh yeah, that was Naples, I also just, you know, got the train into Positano a few times to swim at the beach and drink wine with my friends... a totally average weekend.
Once that was done (the hard work that it was) I flew from Naples to Palermo in Sicily with Avianca, the flight was 30 euros and took around 40 minutes (I wore a big t'shirt with no pants and a wet bikini...and they upgraded me to business class, yee haw)
I love planning trips (can you tell??) and Sicily was no different. Even though it was a last minute plan I already had most of what I wanted to do in my head. I had a list of must-sees and pretty limited time (wanted to be back in CPH to party (obviously) I started by booking my flights in and out (picking the cheapest ones on the dates that I needed) This left me with a 8pm flight into PALERMO and a 7pm flight out of CATALINA to CPH 4 days later.
As a quick summary I spent 2 nights in Palermo and 2 nights in Trapani and used just about all modes of transport to get around. From Palermo airport you can either get the train or the bus into the city (its about 40 mins away and both cost about the same, the train is nicer).
From Palermo I did a day trip to Cefalú which is about an hour away by train and costs 7 euro each way.
I then went back to Palermo Airport and got a bus to Trapani and from there I did a day trip to Favignana Island. To get there I got the slow ferry that departed at 10am. Next was another bus back to Palermo airport then a train into Palermo centre and then a train from Palermo to Catalina where my backpack and I spent the day at the beach before flying back to CPH. AMORÉÉÉ!!!
The buses all run incredibly on time (in fact they are often early) so make sure you're in the right spot a good 15 minutes before your bus!! I used "buscenter-italy" to book my bus to and from Trapani and it was 16 euros each way. The trains are fantastic but don't cover the whole of Sicily (e.g. Trapani) so I did have to get a little creative with my transport (which is why I went to and from Palermo airport 4 times lol). Undeniably the best way to see Sicily would be to hire a car. The distances are pretty small (I think one side to the other might be like 5 hours??) and I passed so much beautiful scenery (mountains !!!) that I would have been able to actually explore had I had a car. I thought about it but it wasn't economical considering I was by myself and couldn't split the cost, plus I like public transport when i'm traveling alone... it gives me a task to complete and you see a lot more cultural interactions etc (excuse me while I get DEEP).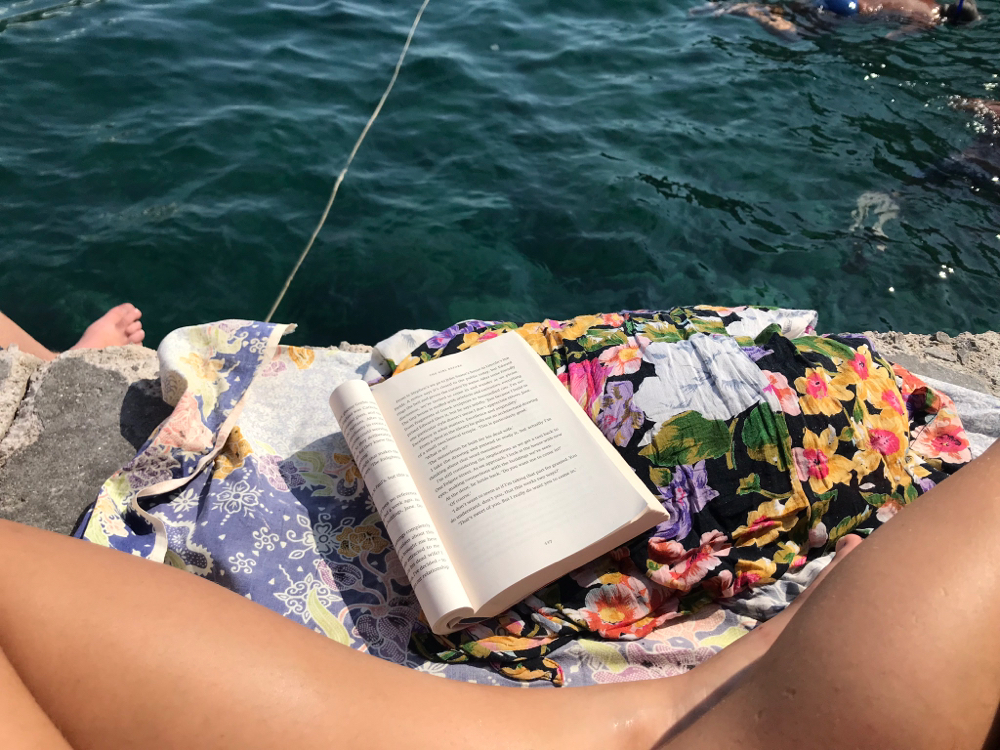 WHERE TO STAY 
I stayed at a hostel called 'Jonothan hostel and Guest house'. It was small in an old, Italian building with a beautiful, sunny common balcony, high ceilings, nice spacious facilitates and a grand, spiral staircase. It was lovely and they were super accommodating. I paid $30 a night for a bed in a female dorm (I also booked it like a day before I arrived, so I imagine it would usually be cheaper). I booked this hostel because of its proximity to the train station (which I used a lot while I was there). It was less than a 5 minute walk. 
WHAT TO EAT
Food in Sicily is different!!! They are famous for a lot of deep fried 'things' meatballs, cheese sticks etc and things like fried eggplant in hamburger buns (?) and shredded meat sandwiches etc... As you can probably tell by my punctuation I wasn't all overly excited with these new eating options and mostly I stuck to pizza (dw still everywhere) and just fresh fruit and vegetables that I could eat on the go. Street food is super popular and prevalent here with little carts on every corner. I didn't eat any meat sandwiches but I did get some Arancini and Cannoli which are both Sicilian and delicious. The best part about food in Sicily is the gelato which is super cheap and served (generously, always) in a brioche bun (??) and they specialise in pistachio flavour (!!!!!). 
WHAT TO DO
Running in Palermo was fantastic. The city is flat, with wide, glamorous streets that don't fill with people until at least 10am. I got up at 7 each morning and took to the pavement, usually running in the middle of the road because there was just no one around !!! I had no choice but to run at this hour as the heat was pretty crazy and once the people traffic (and regular traffic) picks up, the city is wild & bustling. I was able to see so much of the city this way, exploring the gardens, the port and the old town. yay for legs. 
Palermo itself was such a pleasant surprise for me. I hadn't done any research or thought much about the city as I was mainly using it as a launch pad to explore other places. I ended up walking for hours and hours on either end of my day trips (its even more beautiful and alive at night). The streets were thriving with activity and lined with the most incredible, intricate old buildings. The architecture was unique, I could feel the Italian 'vibe' but it had a little something else going on. The middle eastern influence from across the Mediterranean meant that the streets were also full of bustling markets. There are three main ones, Capo, Vucciria and Ballarò and they are all reminiscent of Arab souks. Make sure you give yourself a few hours to properly get lost in the labyrinth of streets here, start at the  intersection of Via Maqueda and Corso Vittorio Emanuele where the Piazza Vigliena, a baroque 'four corners' that marks the centre of the historic quarter and from there everything is amazing. Also check out the Teatro Massimo Vittorio Emanuele which is the third largest opera house in Europe (I feel so old saying this) but it was incredible. GOLD AND RED VELVET EVERYWHERE BABY. Tickets for a tour inside are 8 euro and its worth it. I won't write about all the sites to see, get yourself a map when you get there or talk to local, they'll point you in the right direction... and because the city is so 'small' it is all intimate and walkable. UGH I loved it. 
 On my last day I got a 20 minute bus from the city centre to a beach called Mondello (which is Palermo's local). It was hot and all I wanted to do was read in my bikini so this place was perfect. I was told not to expect much, but obviously, in true European style, it was incredible, rainbow beach umbrellas everywhere, aqua blue water, cute Italian architecture. THANKS. only downside was the overly 'friendly' local men who seemed to be cruising for new 'friends'. I got approached 4 (!!!) times, like fuck man, i'm lying here half naked trying to read my book, do I look like I wanna talk to you about where i'm from ?????? and NO I don't want to follow you on instagram. 
The bulk of my reason for staying in Palermo was so I could do an easy day trip to Cefalú, a rustic beach town that had been at the forefront of my Pinterest dreams since I was 16. The journey was easy. Trains departed from Palermo station to Cefalú almost once an hour and the tickets were 7 euro (make sure you pay for a ticket as there are a lot of ticket checkers on the trains in Sicily, especially on this route which is popular with tourists) (in saying this, i'm pretty sure you can also buy your tickets on the train if you get caught without one).
The journey is beautiful, through romantic countryside with a surprising number of mountains out one window and the ocean out the other. Cefalú station is a 15 minute walk from the 'tourist centre' or main beach. Its not a very big town so there's not a whole lot to explore here. It was very hot and the water very warm. I spent my day lying in the sand next to some old boats, swimming topless in the ocean and looking back on the incredibly rustic old town which is loomed over by a big rocky mountain. NICE. For lunch I had gelato (obviously) and went for a long walk around the old town and its surrounds. I really recommend a day trip from Palermo rather than just staying in Cefalú as there is a lot more to see in Palermo and I was entirely satisfied with my day trip.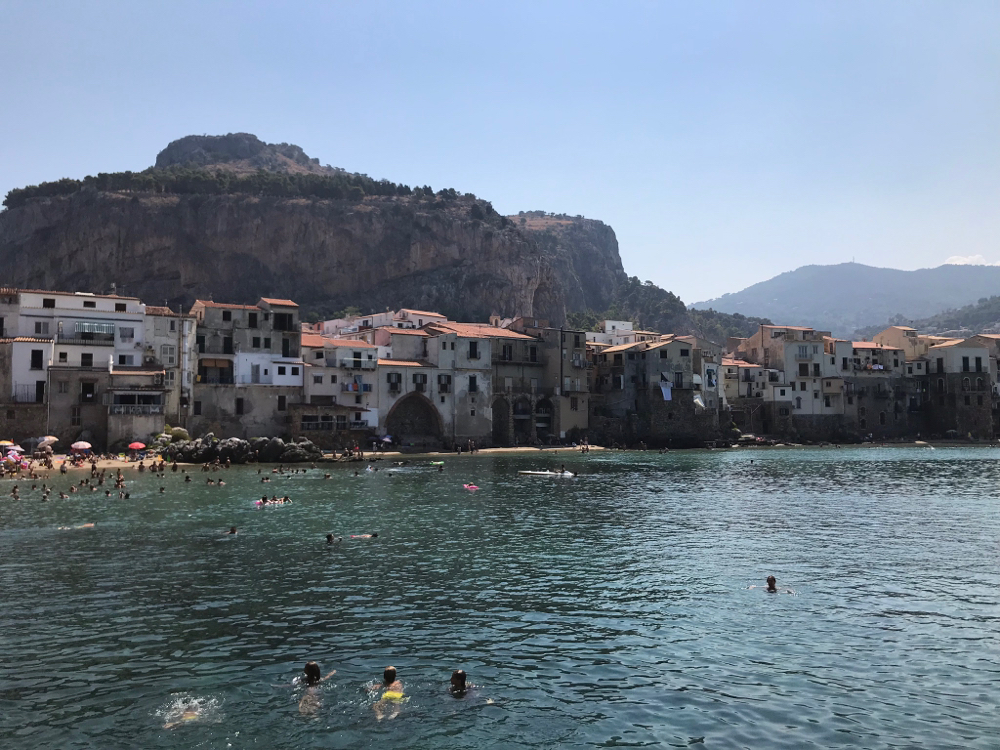 Half the reason I wanted to come to Sicily was to go to Cala Rossa in Favignana, a bay of beautiful blue water in a collection of islands off the west coast of the mainland. I planned on staying in Trapani, the port town where the ferries departed for the islands but it was so much harder to get there than I anticipated... obviously it wasn't impossible, I made it, but it involved getting the train back to the airport in Palermo and then getting a bus from there. I booked the bus through "bus-center-italy" online. It was 16 euros and took around 2 hours. I hand you this information proudly as even the people who ran my hostel in Palermo had no idea how to get there without a car. I arrived late at night, around 10pm and went straight to bed baby!!!
WHERE TO STAY
I stay at a hostel called Hostelleria that was a 2 minute walk from the port (and my bus stop) although this isn't that impressive as Trapani is tiny. It was spacious and comfortable with a common kitchen and lots of sitting areas and was $27 a night (again I booked it the day before I arrived so it could be cheaper if booked in advance). 
WHERE TO EXPLORE 
In Trapani itself there is not a lot going on... its a quaint fishing village with an old town and a very cute lil beach. To see the sites I went on an amazing run here and i'm pretty sure I saw the entire city and then finished the run with a swim in the ocean (yay). Sunsets from the city wall are amazing here, on my second night I took a bottle of wine, bought some cannoli and uh really enjoyed myself watching the sunset !!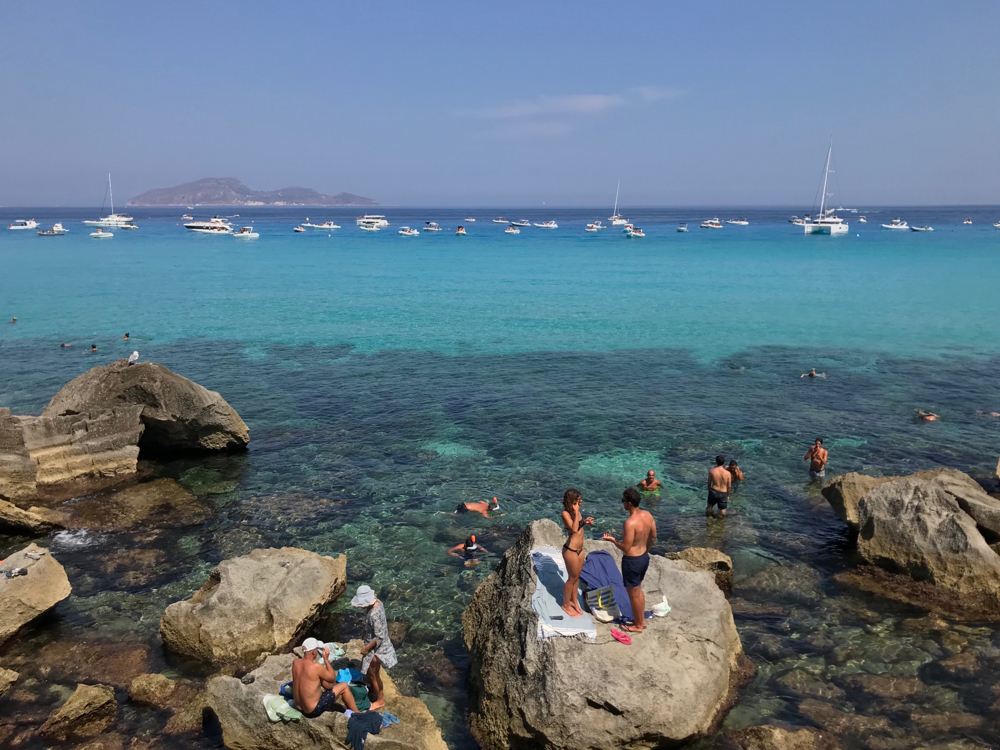 FAVIGNANA
NOW FOR THE MAIN COURSE. The ferries leave from Trapani to get to Favignana all day long BUT they book out fast. As I was only doing a one day trip out there I wanted to be on the earliest ferry possible. There are two options, there is the slow ferry and the hydrofoil (much faster but more expensive). The hydrofoil had sold out even when I went to the port at 7:30am so I got the 10am slow ferry across (it took about an hour and half) and the tickets were 20 euros return. The ferry journey was incredibly pleasant, I sat out on the deck with my feet hanging off the edge in my bikini listening to some hot tunes with the wind in my hair (a big yes from me)
One I arrived in Favignana I hired bike straight away from a kiosk by the port for 8 euros for the day and I headed to Cala Rossa which unsurprisingly BLEW MY MIND. I do wish I was there with someone else though as the water was DEEP and even though I tried really hard I couldn't stay in for longer than a minute without panicking and clambering out (I'm scared of deep water but much better when with someone else)… either way, it was one of the most beautiful places that i've seen. I took a healthy amount of self timer bikini photos and was on my way. I used the map given to me by the bike hire place to navigate all the beaches. I rode to another on the other side of the island which was also breathtaking. The whole island is TINY and I was never riding for longer than 20 minutes between locations. In the middle of the day I needed a break from the sun so I found a nice park bench in town and ate my (now v sweaty and warm) capsicum and drank an entire bottle of SAN PELLIGRINO (when it Italy am I right??). After lunch I settled on yet another beach to wait out the final hour before my ferry back to the mainland. Here I got approached by some very good looking but miss-guided Italian boys whom just about directly asked me for sex (in their defence I don't think their english was very good and they had no choice but to get to the point) Taking that as a sign my day was done I hopped on my bike and returned to the ferry for my 6pm journey home (ish).