A not so crash course on: 
**When I look back on my time in mexico I see it as the speed hump of my solo adventures. So I warn you, this post may be a touch self-indulgant and not all that informing.**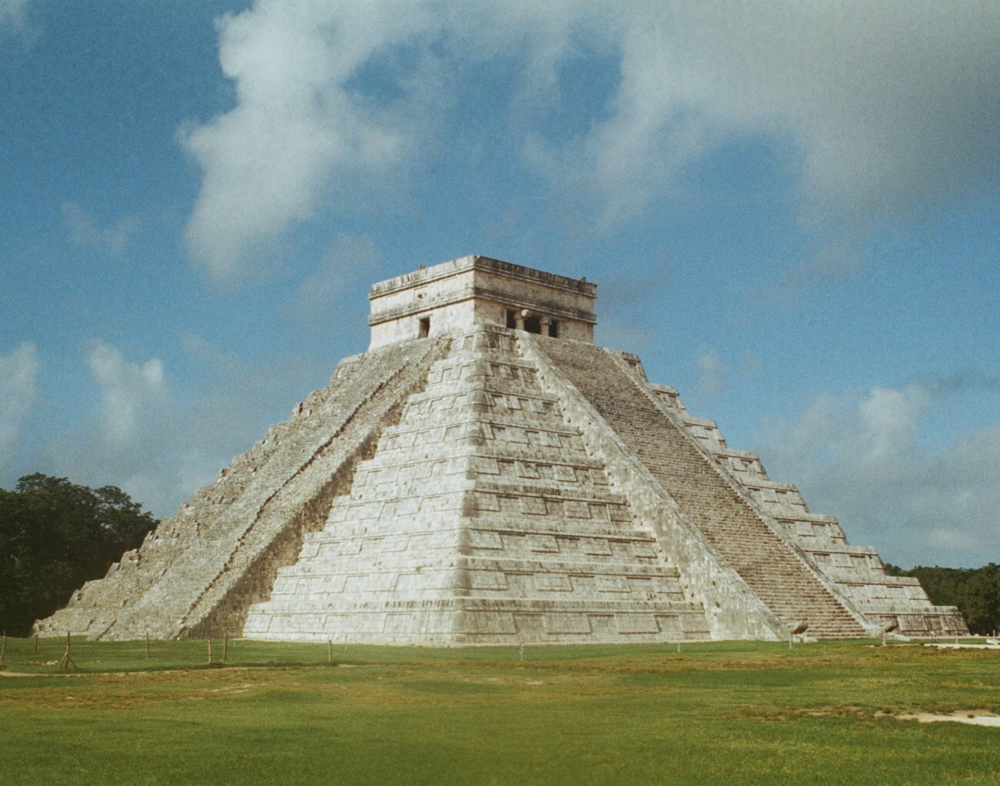 In a bid to save anyone from the disaster I experienced… PLEASE do not travel to mexico or     central america in SEPTEMBER OR OCTOBER. It is the monsoon season and holy fuck             IT RAINS.
Despite having already been traveling for 3 months, I'd spent the majority of my time in safe, predictable Europe with groups of friends, having only really spent a few days at a time on my own. Then my bag was stolen, which was a seismic hick-up that I could not have predicted and that made me really, really sad every time I let my brain settle on it. Luckily less than a week after this happened I was due to meet my mum in New York and the wound was healed (albeit superficially) with abhorrent amounts of shopping and an all round fun time.
Three weeks later I found myself on a flight from Dallas to Cancun with a backpack full of new clothes and a sudden realization that from here on out I was very much on my own. I arrived, flustered, excited and nervous, in Cancun in the Yucatan Peninsula of Mexico, where although I had no intentions of staying because I knew it was going to be awful, I was still put off by the grand tackiness of everything.
I flew to Cancun as it's a popular American tourist destination so flights there are cheap and regular. I flew with American Airlines from San Francisco via Dallas for $210. My flight got in late so I had a bed in a cheap hostel in Cancun, walking distance from the bus station. I needed sleep and a shower and was not impressed when the guy at the front desk insisted (for 20 minutes) that I have a 'welcome shot' of some gross sugary liqueur to 'get me started'…
Early the next morning I got a bus from Cancun to Tulum for about $15, it was a 3.5 hour bus ride. The buses in Mexico are pretty awesome. They are prompt, cheap and comfortable and run at all hours of the day. Plus there are so many of them you never really have to book in advance (unless you MUST get a specific bus and then you might as well to be safe).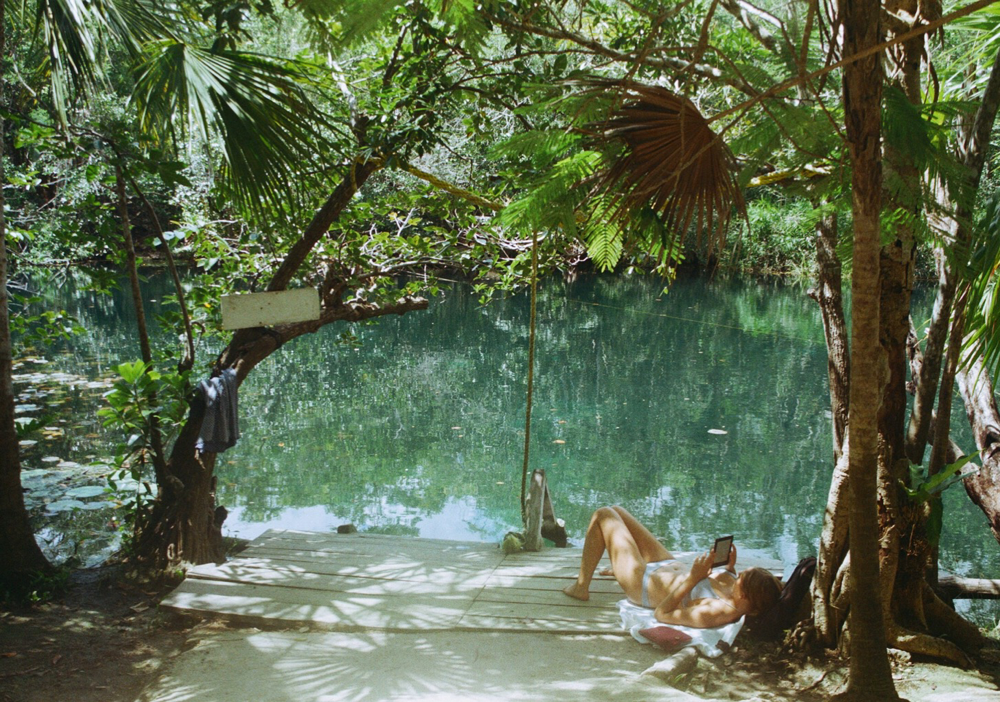 transport etc
Before I get into my crazed ramblings I might as well address some actual important stuff. First, I only traveled to a small section of Mexico so my advice isn't particularly diverse however I can confirm (based of what others told me) that the buses run efficiently all over the country, so transport isn't something you'll have to worry about in Mexico. 
Getting to Mexico itself is quite easy especially from South or North America. The major cities have incredibly cheap flights from all over these continents, you can fly from New York to Cancun for like $170!!!! So if you're coming from Aus, try and find a cheap flight to the US and then book a separate flight from there. 
After Mexico I got a bus into Belize from Chetumal, the buses that go over the border are chicken buses (old american school buses with an 'edge'). They are slightly less reliable but I had no troubles and didn't pre-book anything.
When you leave Mexico overland you have to pay a border exit fee of about 40 USD (can't remember exact amount) so make sure you have that on you OR some flights into the country will state they include the exit tax so make sure you check that and print off a copy stating you've already paid so you can show it at the border so you don't pay twice. 
I desperately want to go back to Mexico, its such a beautiful, naturally diverse and culturally rich country which I completely wasted my time in. For those of you that plan on going and doing it properly here is a list of a couple of places I had recommended to me/read about that are on my list for next time;
Copper Canyon, Puerto Escondido, Hierve el Agua, Agua Azul near Palenque, Playa Carrizalillo, Cenote Calavera, Canyon del Sumidero, Pena de Bernal Gran, Las Coloradas, Nexpa, Oaxaca City and Mexico City.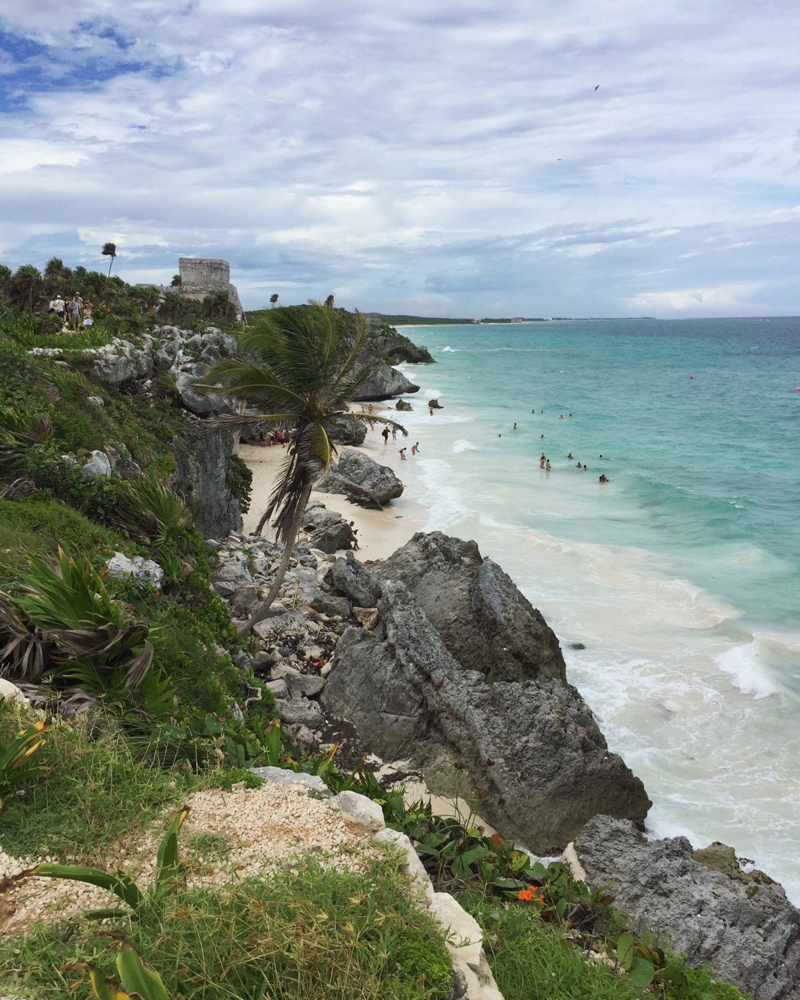 Tulum was somewhere I had high expectations for, having basked in a million pictures of its natural beauty and read nothing but amazing things… but? I kinda hated it. The town itself is a 15-20 minute walk from the beach and is based around a concrete, single story, touristy, main street with a few (terribly stocked) supermarkets, shops selling crochet handbags and a million hostels. I got there and just didn't really know what to do. The bike hire from my hostel was too expensive (I solved this problem later) and it was too late for an hour return walk to the beach so I just stumbled around the grotty town trying to suss out what all the fuss was about. I PROMISE IT AINT OBVIOUS.
I stayed in a hostel called MAMAS HOME which was pretty well located and had a fun bright interior. As before mentioned they offer bike hire (which is essential in Tulum) however!!! Don't hire from your hostel or from a 'bike hire shop' because the hire was the same cost as a bed!! Instead, walk to the main street and go to the main intersection at the start of the town (on the side where the supermarkets are) and there should be a nice man on the corner hiring bikes for half the price of what the hostels offer. (I know these are fairly cryptic instructions but when you're there it should be fairly obvious).
Once I had a bike I felt much better. Having a set of WHEELS meant I could be at the beach in 10 minutes and not walking in the blistering heat. The beach in Tulum is fucking beautiful. The water is a turquoise so bright it hurts your eyes, there are swaying palm trees and the sand is white and fine. Unluckily for me, I only had one afternoon of calm weather before the rain and storming set in. I'm sure, had the weather been better, I could have spent a week just lying on the beach. Behind the beach is a site of Mayan ruins which cost about $8 to visit. I'll be honest and say these didn't excite me one bit, but its still a nice way to spend an afternoon, and there is a beautiful, private beach attached to the ruins that you can only swim at if you've paid to see the sites so its worth it for just that.
  There are some great places to eat in Tulum (if you like tacos). I can't remember the names of them but look out for plastic table clothes and locals and that'll be your spot. There are a couple of these places lining the main street and tacos are about 30 cents each. Don't fuck yourself up with the spicy sauce, cause its HOT. 
My brain was functioning at about a 2/10 during my time in Mexico so I'm sure I missed a lot of good stuff, there are some dance parties here on occasion if you're into Soloman... There are also a lot of beautiful boutique hotels and restaurants that cater for those on less of a budget.
cenotes
THE MAIN EVENT - cenotes (pronounced sen - oat - ez (I think) are about 95% of the reason I came to this part of Mexico and luckily for me the weather held out for the two mornings I chose to visit them. FUN FACT about the Yucatan Peninsula is that the land is only 'so' thick and beneath it is a massive lake which flows through cave systems and in many places opens up to the sky to reveal beautiful blue swimming holes.
I started my cenotes adventures with the 'gran cenote' which is probably the most popular in Tulum. It was a 15 minute bike ride on a straight, paved road out of Tulum. From memory the cost to enter was about $20 which is ridiculous but I would have been sad to miss out. As it's a popular location, don't expect to have this place to yourself. I was thrilled to discover they hired out fluro life jackets (a personal favorite of mine) so this natural wonder was littered with bright orange Americans in rock shoes and waterproof selfie sticks. Phenomenal.
Actually though this place was amazing, you can swim through a massive enclosed cave to another adjoining cenote, the water is clear aqua and there are little turtles swimming around everywhere. I spent about 2 hours here with a nice friend called Stewart that I'd met in my hostel. We then went to the Mayan ruins in the afternoon to make the most of the temporary good weather.
On my third day in Tulum I rode out to the Carwash (?) Cenote which was a little further than the gran cenote (maybe 25 minutes bike ride). This was my favorite. A big deep blue swimming hole surrounded by rugged jungle with big wooden tree houses for sunbathing and only 2 other people in sight. I had good weather for the few hours I hung out here (which was meticulously planned) and thoroughly enjoyed basking in the sun and squealing as I jumped in the deep hole of water (which was about 25 meters deep ugh YUCKKKK). Bring mosquito spray as there are a fair few bugs around. I paid about $5 to swim here.
While on the subject of Cenotes, a few days later while staying in Valladoid to visit Chichen Itza I also visited Il Kik cenote which, thanks to an array of beautifully curated tumblr photos had been on my bucket list since I was 14. I had low expectations because I knew how massive a tourist destination this place had become BUT OH MY GOD. It could not have been more awful…. Once upon a time, in the middle of the Mexican jungle the earth opened up and formed a huge cylindrical cave, laced with greenery and dangling vines. The water here is 50 meters deep and glows a dark green in the sunlight. Water glistens on the rock surface, butterflies float, intertwined in the vines. And surrounding it is nothing, a secret in the middle of no-where.
Now, present day. On the side of a busy highway is a bright entrance way to a tacky and mostly empty resort, with golf carts, gift shops and a wedding reception venue. I have honestly never seen a natural wonder so massively capitalized upon and RUINED. The opening of the cenote is lined with brick walls, completely removing the mystique of this amazing place.
The actual cenote is eery. And if you remove yourself from the goings on around you, you can momentarily appreciate the sheer ridiculousness of this place. I spent about an hour here before going back to the entrance and flagging down a collectivo to take me back into town.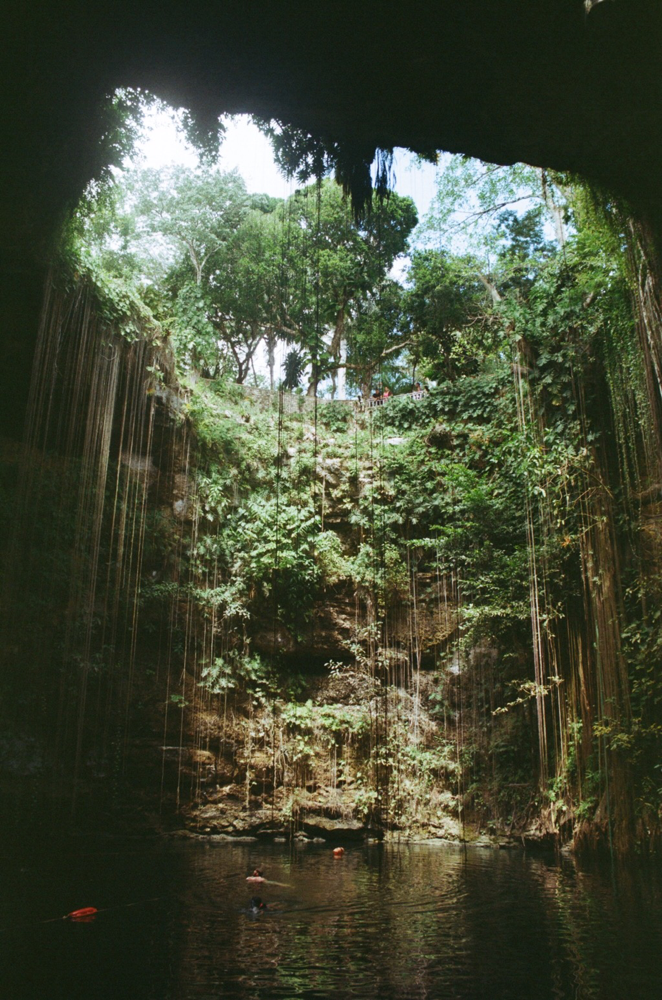 valladoid and chichen itza
Considering it was so close and the buses were so easy to navigate I decided to do a 24 hour trip to Valladoid, the town closest to Chichen Itza and the Il Kik Cenote. I got a late afternoon bus from Tulum to Valladoid, it was only a 2.5 hour bus ride and cost about $10. I booked a cheap bed in a hostel that day (can't remember what it was called but there is plenty of accommodation in this town). I got straight into bed and got up at 6am and walked to the Collectivo station where I told a driver I wanted to go to Chichen Itza. Basically, most people do a tour with which transport is included to go to this site however its stupidly expensive when instead you can get a public collectivo for a few dollars and then view the site at your own leisure. The only issue is that the collectivo won't leave until its full (its a 10 seater mini van so this doesn't take too long) and it will stop for people that flag it down on the way. Regardless I got there by the time the park opened, got my ticket (for $14 aud), walked around, was underwhelmed as expected and gtfo before the hoards of tour buses arrived. I then got a collectivo to the Il Kik cenote which I wrote about before. I just told the driver to drop me off there and he did. Again, underwhelmed, spent an hour there and got a collectivo back to Valladoid where I had some lunch and got a 2pm bus to Bacalar. I do recommend going to these two places if you have a spare 24 hours as, although they weren't the best sites I've ever seen, the Mayan ruins are an incredible piece history and if you're close you might as well. 
bacalar
Bacalar, like Tulum, had been high on my list for several years, having indulged in a million photos of unnaturally aqua blue water, lined with swing sets and rustic tiki huts. The difference? This place was just as beautiful as expected, and now that I was used to the layout and appearance of these Mexican beach towns I was far more comfortable.
I arrived late at night, at my hostel called the Cabanas Hostal and Camping Magic on the far end of the town. Unlike its name, this place was simple and elegant, with campsites as well as private cabanas and a big wooden hut down by the water full of dorm beds. The beds were all free standing with giant mosquito nets covering them (which I think is super lovely, but I later learned served a serious purpose). They have a jetty that goes out from this hut into the water with a sun hut and hammocks that sway over the water. undeniable paradise... There was another hostel called the YAK LAKE HOUSE that everyone I'd met was raving about. I stayed there for a night at the end of my time in Bacalar because I was feeling a little trapped and isolated at the camping place BUT this was entirely my fault and the camping place is FAR more beautiful and relaxing a location. The Yak house is a classic backpacker hostel, lots of drinking, fine but not the best. 
That is the end of any potentially helpful stories from my time in Mexico. Below is a self-indulgent and stressful tale of dead phones, motorcycles and many tears. address with sarcasm;
The first morning in Bacalar I woke up drenched in sweat and rolled over to check the time. Upon turning it on, my phone screen went bright yellow and then black and it wouldn't turn back on. This was the phone I had just purchased (for a lot of money) 3 weeks before to replace my stolen one which I had no insurance for.  At the risk of sounding like a princess (which I am) I freaked out. My whole life was on that phone,  I had no maps, no way of booking hostels, no camera, NO MUSIC and no way to contact anyone, which at the time was hard cause I was feeling shit and lonely.  I panicked, the sick feeling returning, knowing that whatever was about to happen was going to be stressful and probably cost me a lot of money.
I wouldn't usually continue this story but I feel as though it may be therapeutic for someone who has suffered the same ill fate while traveling and I hope that by writing it down i'll be less likely to make the same STUPID MISTAKES.
Unable to go back to sleep I headed to the front desk to see if they knew anywhere I could get my phone fixed. They said there were some phone shops in town and tried to explain them to me without having a map. I had no idea. I headed off, glancing at the Spanish street names they had scrawled on some paper for me. I found one, it was a shack with a rattling roller door and a spray painted image of a phone on its wall. It wasn't open. I knocked, paced for 20 minutes and then went to find one of the other ones. It started pouring with rain, and I mean POURING. I was wearing a pink satin slip dress with bikini bottoms and no bra, clutching a bag with my broken phone and pacing up and down this tiny town's streets, yelling at anyone I could find (in English of course) asking if they knew what I could do. The phone shops opened, the nice men in them (who spoke no English) tried charging it (which I told them i'd done a million times) tried resetting it (again) and then told me in very very broken English that i'd have to go to Chetumal, the city that was an hour and a half away.
I was a crazy person. I ran back to my hostel and demanded to know when the next bus to Chetumal was, I was going. Out of sheer coincidence the guy behind the desk said his friend was actually going there right now and would I like a lift. YES. obviously, that would be amazing. He handed me a helmet (suddenly even more amazing/not so amazing (undecided) and his friend emerges on a big, black Harley Davidson. of course.
So I climb on the back, the driver's eyebrows raising under his helmet as I am still wearing my soaking wet nightgown and a pair of flip flops. He doesn't seem to mind. He tells me to hold on tight and we go. I allowed myself a glace at the speed meter every now and then and it was rarely under 100km/h. The wind roared, the road glistened with water and we were surrounded by thick, dark jungle. I was on the back of a Harley Davidson, riding through Mexico in a wet pink slip dress with a complete stranger. 
The fun ended, we had a few phone shops in mind, my lovely driver/bike friend who obviously spoke fluent Spanish helped me 'sort everything out'. Basically they told me it was fucked and to come back in 2 days when they got the right parts ordered in. It was going to cost $450. The nearest Apple Store was several countries away so this was it. My bike friend wanted to 'hang out', get some food, definitely enthused by my incredibly inappropriate attire. I said no and got a taxi to the bus station, waited for an hour WITH NO MUSIC and then got an hour and half long bus back to Bacalar.
Ending this miserable story, I went on the bus 2 days later to go and get my phone and without my bike friend we had to use google translate to communicate and they told me I'd lost all my data, music and photos and they'd had to replace the hard drive. I was sad, that meant all my photos from America and Mexico were lost (which I hadn't backed up) but really I was just relieved it was over. I had my phone back. and then once I was back at my hostel in a far better mood, I made the grim discovery that the new iPhone with 128gb of data that I had purchased only 3 WEEKS BEFOREHAND and then paid $400 to get fixed had had its hard drive replaced meaning now it only had 11gb of storage.  I also realized that despite the 128gb phone I bought BRAND NEW being completely faulty, there was now no way I could get a refund because I had tampered with it and replaced its parts. Fantastic.
I cried a lot here, for a few days actually. I'd lost a lot of money and now couldn't fit my music library on my phone and I knew i'd spend the next 6 months trying to delete stuff so I had enough room to take 3 pictures. I was tired, hot and stressed, the weather was shit, IT RAINED ALL DAY. I couldn't make any friends because I was a ball of irritable energy so I just spent the rest of my time sobbing in bed with people occasionally coming in and patting me on the back. It sucked, I wanted to go home, but obviously I didn't. I decided to get the fuck out of Mexico so I got my shit together, played some party music and boarded a bus to Belize. I was fine.