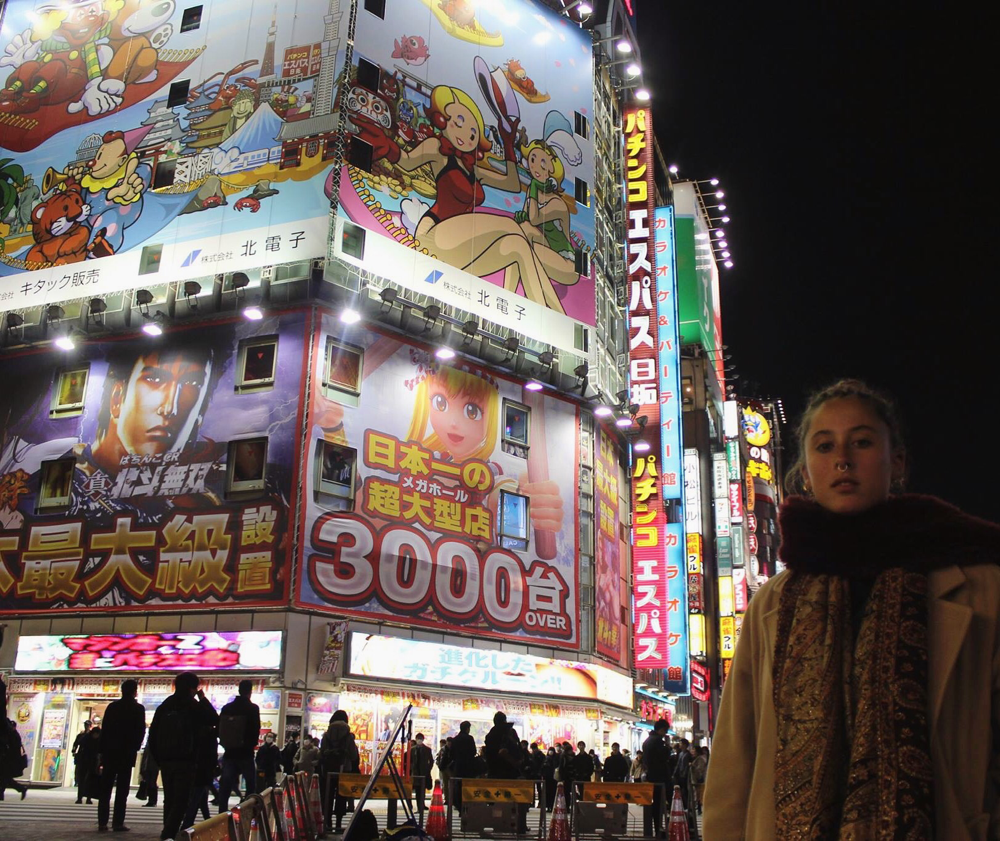 Having just spent 3 months in India, my time in Japan with my dad and sister was a bit of a blur. I'll never be able to replicate the disorientation I felt coming off the plane in Tokyo and catching the train into the city. Everybody in Tokyo is immaculate, no stray hairs, no scarf unbalanced. This isn't a bad thing by the way, its beautiful. Then you look outside !!!!! The lights, the cleanliness, there is truly no-where else like it (except maybe Seoul but I haven't been there). The only similarity this place has to India is the homogeneity of the people, otherwise its another universe. Everyone stared at me (in the most polite way possible) as I stood, Caucasian for one, but also with bright pink dreadlocks piled onto my head, a red fur coat and about 4 mismatched rucksacks.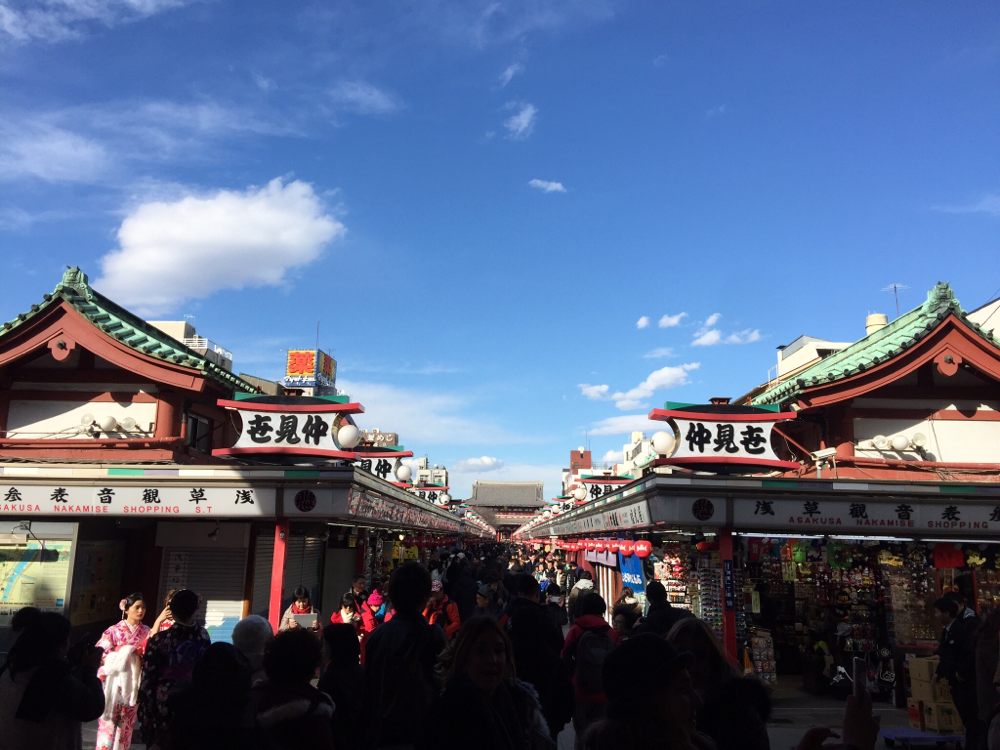 Where to stay
 Although it was a family holiday I still wanted to make sure everything was done as cheaply as possible so we stayed in a budget '3' person room at a hostel called Sophia Earth Hostel near Shinjuku. The location was fantastic, a short walk from all the madness of Shinjuku, but still hidden in a quiet backstreet. The number '3' is written so as in Tokyo this is quite a loose term. The room was TINY, and i've stayed in some small places. There were 3 beds however the third was pulled out from under the second one so it was kind of like a multi-leveled king size bed with a small toilet off the side… but we made it work. The room was about $130 a night for the 3 of us. Hostels in Tokyo usually start at $30 a night for a bed in a dorm. Many people prefer the capsule hostels/hotels that are also super affordable and offer a little more privacy. I was keen to stay in one of these but Dad didn't want to ): They are becoming even more prevalent as tourism in Japan rises, so hopefully the prices get a little more competitive! As far as location goes, anywhere near Shibuya, Shinjuku and Harajuku will do you just fine. These are the three areas we spent the most time in and that are best connected to the rest of the city. 
If you're on your own or in a couple an Airbnb might be a good idea too. New properties pop up everyday and while I couldn't find anything quite right for my family, its way easier as a couple! For $35 off your first Airbnb stay click this link!
Time in Tokyo
Given my state of disorientation and exhaustion I was lazy and let my dad do a lot of the planning for activities in Tokyo. I'd done a fair bit of research but had kind of left it on the back burner as navigating our way around India was a full time job and Japan, as the last stop on my trip, just seemed so far off. We managed to cram a lot into our week in Tokyo, leaving the room before breakfast and not returning till after dark. It took us a day or two to get used to the metro system and get an understanding of the layout of the city, so it would definitely help to study the map a little before you arrive. 
As a massive treat dad had got us both a JR rail pass meaning we could travel freely throughout the country for the entirety of our stay. We did a fantastic day trip to Mt Fuji that is an integral part of any trip to Japan. It was super easy, and mostly free with the JR pass but I'll write about it on a separate post.
To make the most of the city I would recommend at least 4-6 days depending on how much energy you have. I was there in February which is the middle of winter, it was between 4 and -4 so warm clothing is essential. I loved being there in the cold as it made the ramen restaurants and beautiful shrines that much cozier. That being said if you get the chance to go to Japan in April or May for the cherry blossom season then go!!! Its definitely on my list.  
DO NOT cram Tokyo with Osaka, Kyoto & Nara if you have only 1 week like travel agents always offer. That is the worst travel planning ever in my opinion. You will end up wasting time on road without having time to really explore. 
What to do 
Shinjuku Gyoen Park for a picnic (only appropriate in nice weather obvs)
Stroll around Sumida Park overlooking Sumida River and Tokyo Skytree.
Walk around charming Tokyo's old neighborhood Asakusa and observe the locals praying in Sensoji Temple which is a spectacular structure. 
Go to Ueno park which is the biggest and most popular public park in Tokyo this place is awesome during cherry blossom season.
Explore Tsukiji Fish Market in the morning.
Head to Ginza and watch the buildings come glistening at night. We also found it fascinating watching the exchange between the rich business men and the modern 'geisha' in this region. A lot of the fancy clubs and restaurants are still structured with the 'geisha hostess' model. Definitely worth having a walk around the area and taking all the strange interactions in.
We feasted on hello panda and green tea kit-kats during our time in Japan, you can buy them really cheaply in Daiso and other small markets.
We got an amazing view of Tokyo and Mt Fuji in the distance from the viewing deck of Tokyo Metropolitan Government Building in Shinjuku for free. Dad found this one and was very proud of his discovery. This is way better than paying to go to the top of the Skytree.
We went to Shibuya to walk across the famous Shibuya crossing a few times a day (usually because it was on our way somewhere). Apparently there are over a million people crossing everyday and up to 2500 people each time the lights change !!!
My sister Julia and I were obsessed with Takeshita Street in Harajuku. Dad played along the first time we walked through it but by the third time he took some time out and planned to meet us after. There are amazing shoe stores here for those who love platform boots (me) and some pretty decent vintage stores. Plus its Kawaii everything, I have never seen such an aesthetically pleasing shopping plaza. 
Go to Akihabara at sunset to see it during the day and then transition into night. The lights here are insane.
The massive Meiji Shrine in the forest in the center of Tokyo (near Harajuku) is MAGICAL. Its a 15 minute walk through forest to get in meaning its a massive escape from the city.
Make sure you download maps.me so you can navigate the city while you're out as google maps don't have connectless maps here.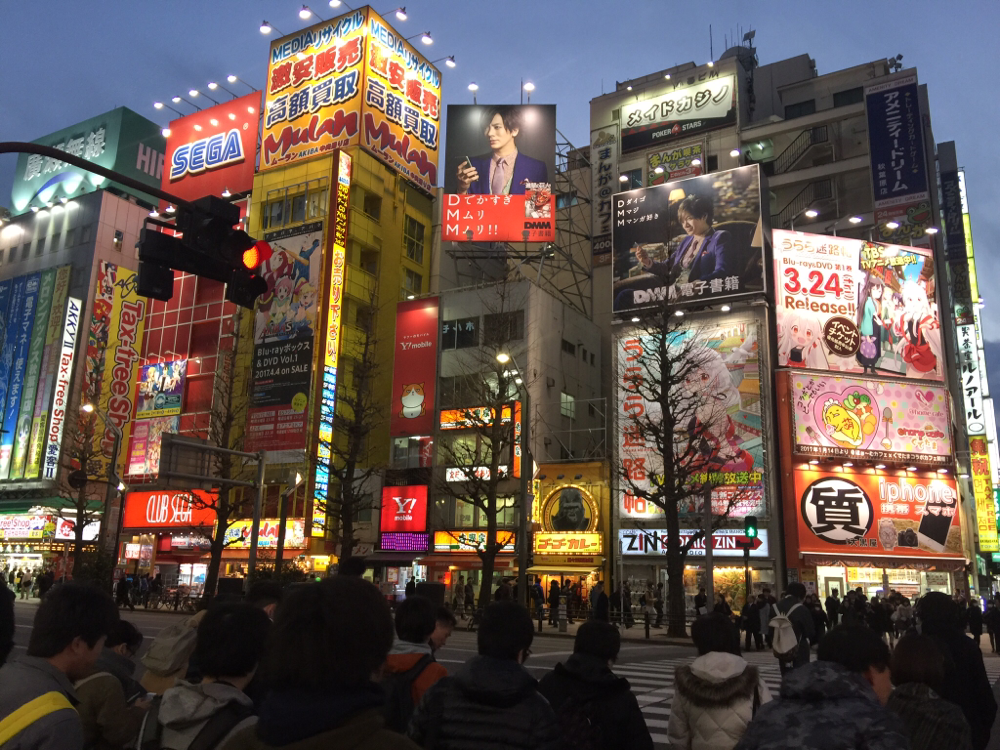 Getting around Tokyo
Central Tokyo is very well covered by trains and subways. If you don't plan on leaving Tokyo then a JR pass is an unnecessary expense. You should be able to travel around Tokyo using a re-loadable Suica or Pasmo card for about $60 a week, including airport transfers (this still isn't cheap but definitely beats the $350 JR 7 day price). Suica cards can be purchased in JR train ticket stations and Pasmo cards in subway stations. These two cards function similarly and can be used interchangeably between subways, trains and monorails. So you just need to take your pick on which card to purchase.
Don't even think about getting a taxi. A 15 minute ride will cost you upwards of $50 and the city is well connected enough that you should never need to anyway. Plus walking is a fabulous way to see the city so even if you find yourself a fair distance from a metro stop (which is a rare occurrence) the walk will do you good!!!
If you're lucky enough to have a JR pass (like me yay) then most of the transport within the city is included (there are a few exceptions but riding the main metro line that loops around the city is all you should need and that's included). The only time we had to pay extra for a train trip was on our day trip to Mt Fuji where the line changes and becomes a separate 'Mt Fuji' service.  
As a quick addition here, if you're flying from Australia you shouldn't pay more than $500 for your return flights. Prices are so competitive these days that these fairs are available almost all the time... I've spoken to a few (stupid) people who paid upwards of $1300 for their return flights as they didn't want to fly with Air Asia because they are 'dangerous'. Don't be that person... that person sucks.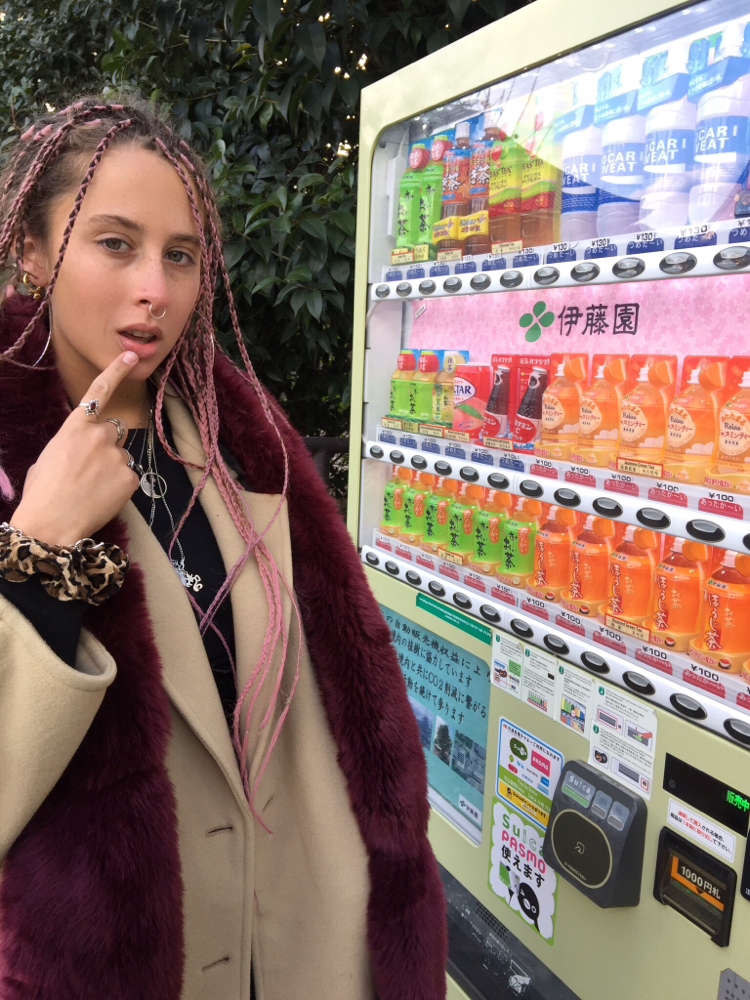 What to eat 
 The food in Japan is fucking incredible. As a full time fan of Japanese cuisine I was in heaven from the moment I stepped off the plane… 7 eleven here serves fresh, delicious sushi for $2-$3 which was my go to lunch (and sometimes breakfast) most days. We went out for Ramen almost every night, the city is full of cheap and easy ramen restaurants with 'combination' set menus usually serving gyoza (omg) and a ramen and a drink for about $12, these places are cosy and convenient and always delicious plus there are no tips or service charges. If you want to go out for a drink the Golden Gai in Shinjuku is the place to go. Its a large outdoor complex of small bars, all uniquely Japanese 'themed'. Shinjuku's Omoide Yokocho is located right next to Shinjuku Station on the west side. It's not a market in the traditional sense, but it definitely feels like one, with its small stores, restaurants and izakaya forming a warren that comes alive at night. Our favourite sushi train was called Genki Sushi in Shibuya. The system here is automated so your food is brought to you on  a little electronic train. V fun. V tokyo. 
We struggled a little bit with breakfast. I am a strong porridge/weekbix fan and won't settle for anything much more exotic than this before 10am (dad is the same) and we found it hard to find anything remotely 'normal' for breakfast that wasn't served in some weird, expensive american diner. We ended up going to McDonald's for breakfast a few times (I'm not proud), but it was cheap and gave us our non-Japanese fix. In the same way, I felt like I was craving some fresh vegetables that weren't served in a broth by the end of my time in Japan. We didn't venture into many supermarkets but I feel as though even if you had a kitchen here cooking would be a bit of a challenge.  We went out for a couple of great meals in restaurants that me (being post-India-lazy) didn't write down...so I can't be much help there but if you plan to go out on a picnic, you can buy fresh sashimi and sushi trays from Family Marts or 7 eleven!!!