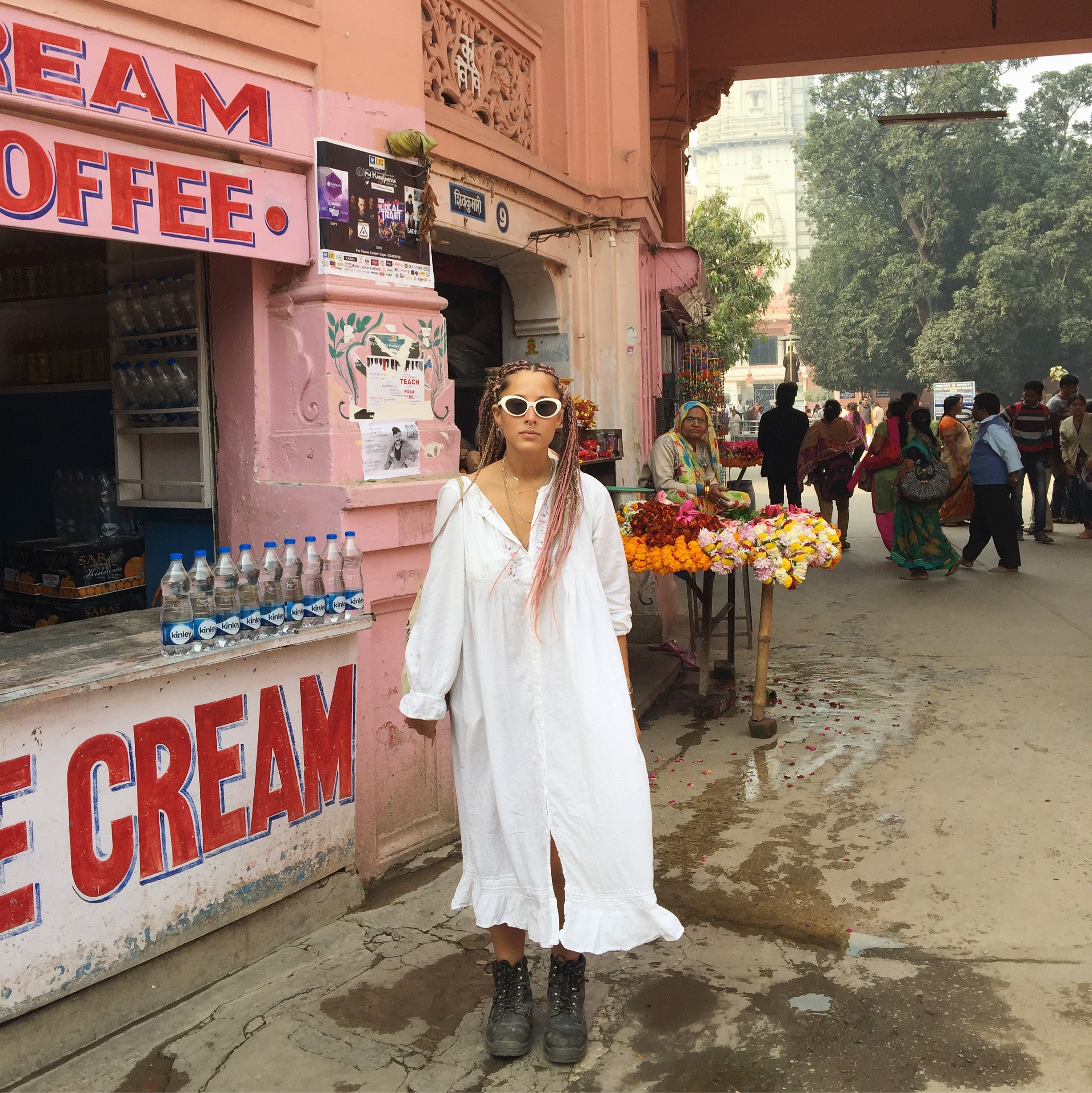 In the beginning of 2017 I spent several months travelling through India, spending time in both the south and the north. In the south I traveled with my good pal Jodie and we explored the likes of Kerala, Varkala, Hampi and Goa. I met my boyfriend in the north and we spent time in Varanasi, Delhi and Rajasthan. India is an outrageously diverse country and moving from state to state felt like travelling between countries. The south and the north are entirely different experiences and while both were amazing I definitely felt the north was 'true' India as the south reminded me more of other South-East-Asian countries. That being said, if you have the time definitely try and make it to both sides of the country!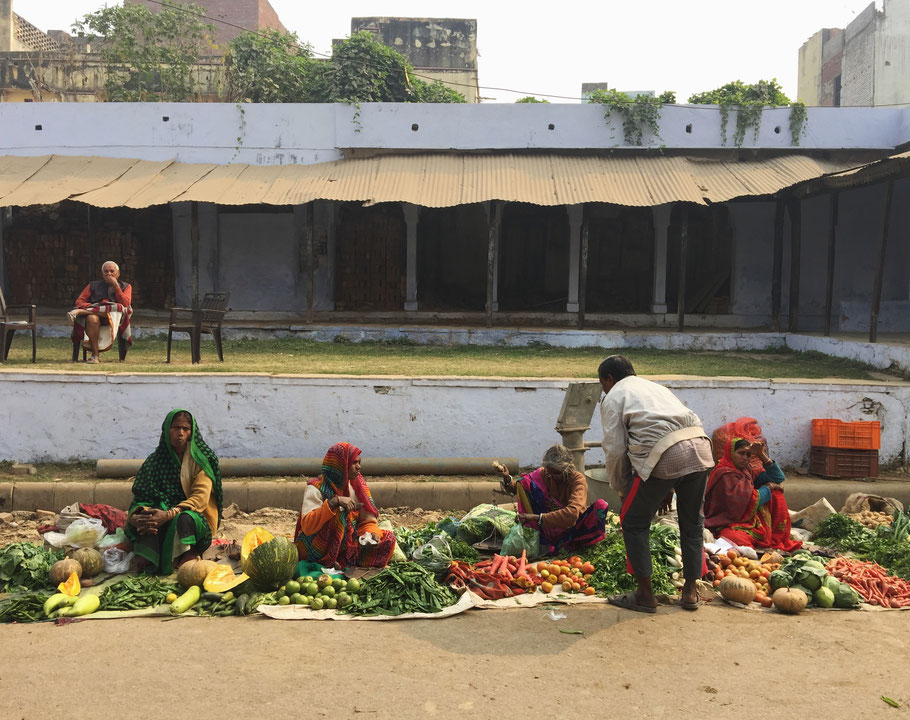 India is fucking enormous and planning a trip there is daunting as hell when you don't know what you want to see. Given our time restriction there were a few places we had to skip that I was super sad about but I'm holding out for next time!!
In the north 
In my opinion the north is where its at. Varanasi was Ebbs and my first location together and was one of my favorites. Many people would argue we threw ourselves into the 'Indian deep-end' by starting with this city but we loved the chaos. Varanasi is known to be one of the holiest places on earth and is situated with Ghats running straight onto the Ganges. While its undeniably full-on it was one of the most engaging and beautiful places we visited. 
Next up was Agra (we flew from Varanasi to Delhi and then caught a train to Agra). Unfortunately for Agra, its a shit-hole. Obviously as a tourist in India you'll stay here for at least 1 night to see the Taj and the Red Fort which are both definitely worth seeing. 
We then caught a 5 hour bus to Jaipur where we stayed for 6 days. Jaipur was one of my favorite places in Rajasthan. The city itself is messy and sprawling and although the beauty may be a little harder to find than in other locations... ITS THERE AND ITS AMAZING. The Amer fort which is a 20 minute drive outside of Jaipur was one of the most beautiful things i've ever seen and the 'old pink city' in Jaipur itself was 10/10. There is just so much to do here!! 
Next was a train to Ajmer and then a shuttle to Pushkar! This magic little city is a tourist hub where you'll find yoga, shopping and amazing food. We found ourselves a little bored here after a couple of days as there really isn't that much to do but its 100% worth stopping at if you're travelling through Rajasthan (and love shopping). 
An overnight bus took us to Udaipur next where we spent almost a week basking in the sun by Pichola Lake. Known as the White City this place is full of upmarket hotels and accordingly is a little more expensive than other Rajasthan destinations but is still worth a visit!
Another overnight bus to Johdpur was next. The Blue City was one of our favorites again, it had great shopping and some awesome food as well as the giant fort that shadows the entire city and was one of the most beautiful and interesting museum/palace experiences i've ever had. 
 Overnight bus number 3 took us to Jaisalmer the Golden City, which is located right on the edge of the Thar desert. Make sure you stay in the fort here as you'll have amazing views over the city and have an awesome vantage point for some incredible sunsets. 
To break up the journey back to Delhi we stopped by Bikaner for a night. This place isn't all too exiting other than for its fort which was fantastically preserved. 
Although it has a bad name Delhi was one of the funnest places we visited on the trip. Just be prepared for the smog and the traffic! 
I didn't have time to visit Amristar, Leh or Rishikesh but they are all on my list for next time. 
In the south 
As lovely as it was the south of India wasn't the best place i've ever been. We flew into Cochin and got a bus to Alleppey for the backwaters (which was NICE but not AMAZING). An extremely pleasant afternoon train ride took us to Varkala next where we spent a week lying in the sun and walking along the cliff side shop fronts. A full days travel (and 2 expensive buses) took us to Hampi next which was a pretty special place. I'll admit I didn't love it as much as I expected to after sooooo many people had told me it was their favorite place in the world but it is definitely beautiful and completely unique and i'll be back!!. An easy overnight bus took us to Palolem next where we spent a week lying on the beach, taking yoga classes and speeding along the highway on our moped. Goa is a seriously magical state and although the south of the state  was beautiful I had a better time in the north purely because it had a little more going on. I stayed at the Jungle hostel in north Goa which was one of the best hostel experiences i've had to date. Arambol was my favorite town in North Goa and was where I got my hair braided! 
Something I did during my time in India which made it a lot easier to keep track of all the things I wanted to see and do was marking stuff on maps.me when I read about it or was recommended it. That way even if I wrote it down somewhere ages ago and forgot about it I still had the little red dot marked on my map to remind me to go there. It is also great for working out what to do when, and how close everything is in relation to where you are. My Jaipur map had about 25 dots on it and we got around to most of them!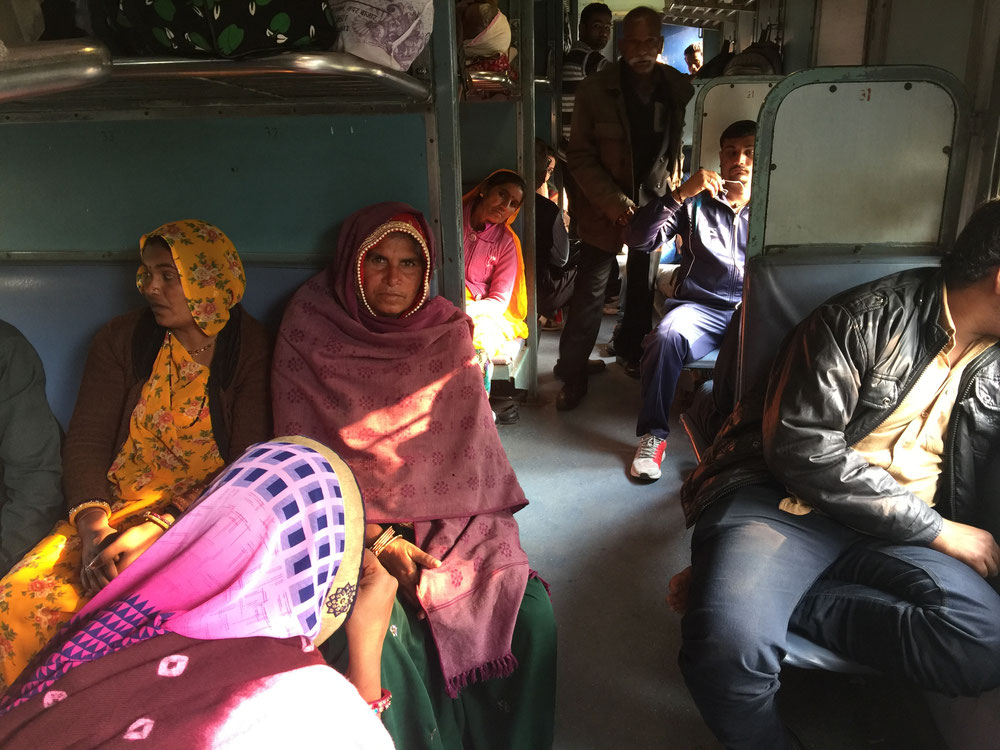 I won't lie the food in India is seriously dangerous. Everything is delicious and cheap and they don't stinge it on the Ghee (which is literally just lard). I felt pretty shitty about myself by the end of the trip. None of the hostels have kitchens and obviously if you're staying in hotels they wont have them either. While there is fresh produce available most of the food options, especially the cheap ones are pretty oily and carby and exercise isn't that possible either. All this negativity aside, the food in India is the best in the world and I miss it everyday. When you first arrive it may all seem a little overwhelming so here are a few of my simple favorites that you can start with when you arrive!
Thali - Hands down the greatest invention of all time. Essentially a big metal tray with an assortment of curries, vegetables, rice and bread. If you're lucky they'll refill it as you go (I told you its dangerous) The contents differs constantly but will almost always be delicious. Usually you can get these from the 'HOTELS' (the local's restaurants) for $2 or so. 
Samosas - deep fried pastries usually filled with potato and spices 
Chana Masala - A tomato based chick pea curry 
Veg Biryani - Basically an Indian veg fried rice (also good with chicken) 
Dal - Lentil soup 
Paneer - This is a type of cheese thats often the main contents of a curry. I actually hated this stuff but its ridiculously popular !!
Palak - Spinach (Aloo Palak is a potato spinach curry that is amazing!!) 
I didn't eat meat while I was in India purely because the vegetarian food was readily available and reliably better. Make sure you drink as much fresh orange juice as you can and you have to try a banhg lassi somewhere (choose you're location wisely cause they are fucking strong!!). I ate my weight in butter nann (literally) but roti and chapati are usually cheaper (depending on the region). I ate banana porridge for breakfast pretty much every morning which was served at most hotels/restaurants (I was v sad when I couldn't find any). 
 You can't drink the water in India however I did brush my teeth with it and I was fine. To avoid the cost of buying new bottles everyday (it adds up!!) I used aqua tabs to filter the tap water. This doesn't taste amazing but it does the job!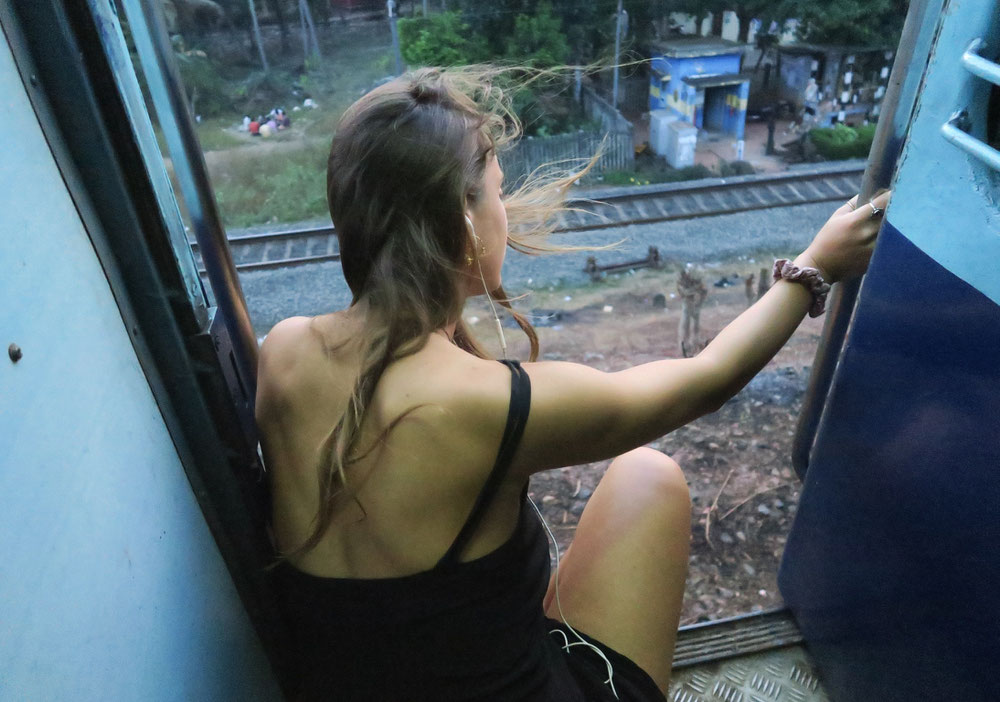 Train travel is actually one of the most difficult things to wrap your head around whilst travelling through India. We booked our trains online on the Indian railways website https://www.irctc.co.in/eticketing/loginHome.jsf. In order to book a train you must have an account which can only be created with the use of an Indian phone number. I luckily met a lovely Indian guy in Goa who gave me the details and password to his account and I was able to book all our train tickets that way, however if you don't have a generous Indian friend, Indian sim cards can be purchased easily in phone shops and convenience stores and train accounts can be created using one of them.
A few (amazing) tips he gave me for when booking a train: always pick trains with numbers starting with 12 as they are express trains or trains that are starting in your departure point of choice and thus will not be delayed (he was 100% right here as we did not have one delayed train). Indian trains are notorious for running very, very late but using this tip we didn't have one bad experience. Another tip was to make sure you book at least a month in advance for big trips (such as the Jaisalmer to Delhi express) smaller trips between big cities that have general admission tickets can be booked the day before/ on the day. Don't be intimidated by the website (as I was, before I had it all explained to me) it looks very scary but is actually super easy to navigate. Once you've searched up your potential trip and you are selecting tickets make sure the tab at the top of your page reads AVAILABLE and not WL. WL stands for wait-listed and essentially means you won't have a ticket unless an X amount of people cancel their tickets (which never happens). 
Train class system 
The different classes aboard Indian trains was initially very confusing but is actually simple. Basically as a backpacker you will be more than fine travelling on sleeper class (for overnight trips) and general class (for day trips) the 1st, 2nd and 3rd class carriages are all slightly fancier than each other but are no less stressful or uncomfortable than sleeper class (unless you sleep in a private first class carriage but that will cost you A LOT more than sleeper class)
For example: On board the Jaisalmer express train that is an 18 hour trip from Jaisalmer to Delhi, first class tickets will cost you around $65 pp, second class will cost you $35 and sleeper class will cost you $7. In sleeper class you are assigned your own bed/berth so you're not fighting anyone for a seat (this is not the case in general class, where, everyone just climbs on and sits where they can.) Often hundreds more tickets are sold than what the train can carry leading to people sitting in bag racks and hanging out the windows for air.
Train trips during the day in India were one of the greatest experiences of my life, particularly those in the sunny southern states. I'd put all my luggage on a rack and keep my valuables (phone, wallet, passport, camera) with me and sit with my legs dangling outside the door of the train. Nothing more thrilling than flying at 100km an hour through Indian countryside with loud music in your ears and hot tropical wind gusting through your clothes and hair. AHHH!!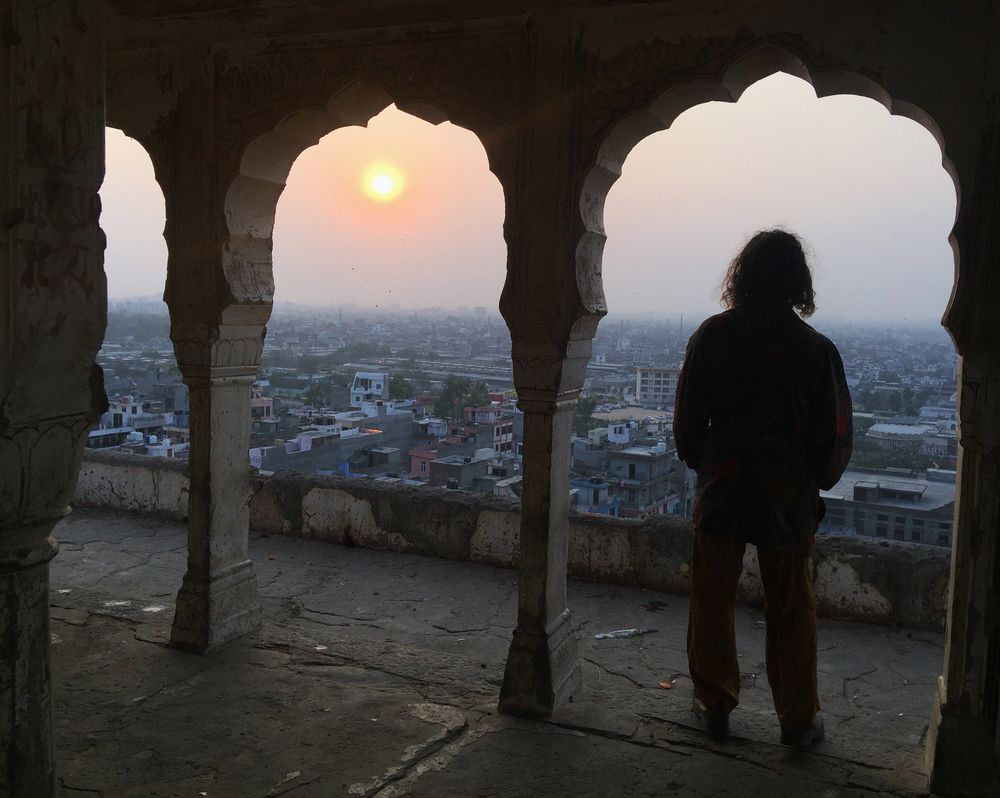 We traveled by bus for the majority of our trip as it was convenient and really cheap. Within Rajasthan there are overnight buses that run between each town for about $6 a trip and they are pretty reliable and somewhat comfortable. Our bus travel experiences would have been greatly improved had we traveled with a sleeping bag as the buses are outrageously cold at night. The windows don't close fully and the temperatures outside are close to zero. Had we been prepared for the cold we would have slept like babies as almost all the sleeper buses in India are equipped with double and single beds meaning you can completely stretch out and (theoretically) get a great nights sleep. Some bus trips are notoriously worse than others, with the overnight journey to Jaisalmer being the worst as it hurdles across potholes and sand and dust coats the inside of the bus from the air outside (fun!!)
These buses can all be booked the day of/day before you wish to travel as there are so many companies that you'll never get turned away. That being said, some companies are known to overbook their buses and we had a few occasions (mainly in the south) where two tickets had been sold for the one seat...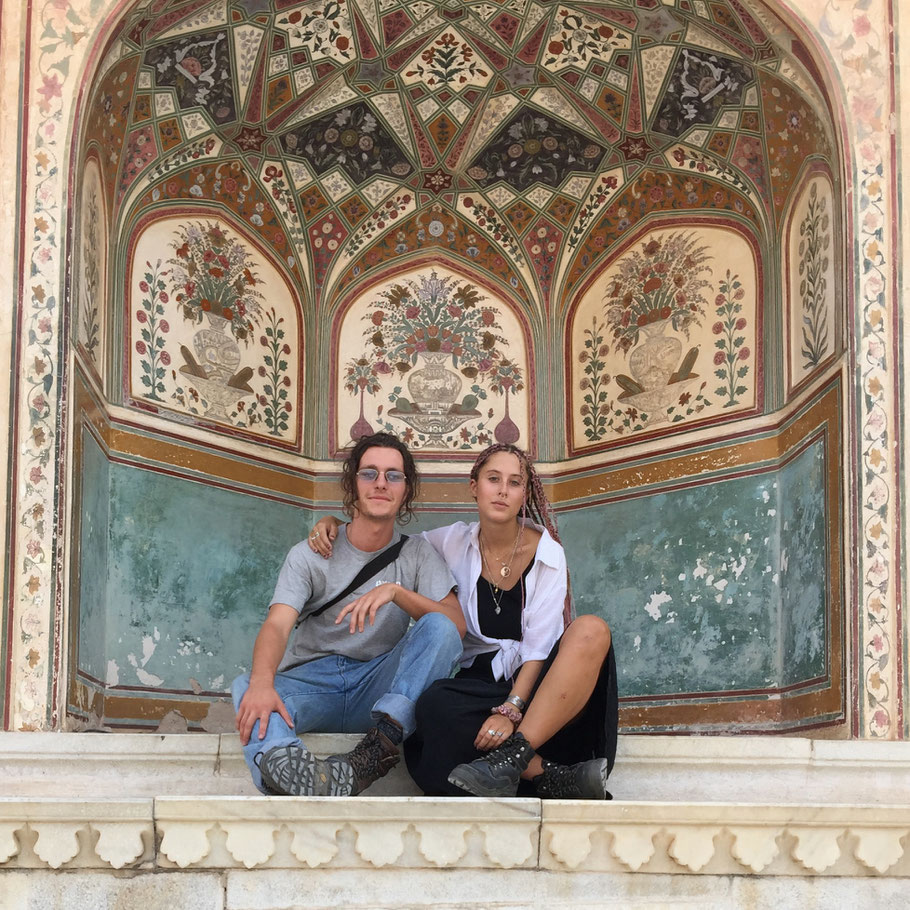 India is cheap. My trip was completed with luxury in mind and about 40kg of shopping and I still managed to spend less than $2500 over the few months I was there (including my flights). Ebbs and I stayed in 5 star hotels for the same price as a hostel bed in Europe and ate for a few dollars a day. The cost of shopping varied depending on location but was generally pretty cheap especially if you have good bargaining skills. Transport was ridiculously affordable with most overnight buses in Rajasthan being about $6 and long train trips in general seating class costing only a dollar or 2. 
To save money make sure you eat locally, stay in guest houses (most in Rajasthan offered a basic private room with a bathroom for $6 a night for two people) catch buses and trains instead of private transfers and work on your bargaining skills! 
The cost of museum/attraction entry was actually quite high, given that they knew the travelers were going to pay regardless. The Taj Mahal costs over $20 to enter and most of the palaces were about $15 entry. That being said all these places are worth the money so just make sure your budget includes a few hundred extra to cover the entrance fees, you wont regret it!
FOOD - $6 a day
Involved several snacks a day, street food, eating at local restaurants, getting breakfast at our hostel some mornings and Ebbs having the occasional beer.
ACCOMMODATION  - $9 a day
This is a pretty rough estimation as some nights we were paying $3 each and other nights when we stayed in fancy hotels we were paying $20 a night
TRANSPORT  - $10 per trip
It cost anywhere between $2 and $15 to get just about anywhere by train or bus in India. 
ACTIVITIES  - $5 a day (ish)
We went to a palace or museum most days in Rajasthan and they were usually $5 - $15 entry
OTHER  - $3 a day 
(ATM fees, hash, tampons etc)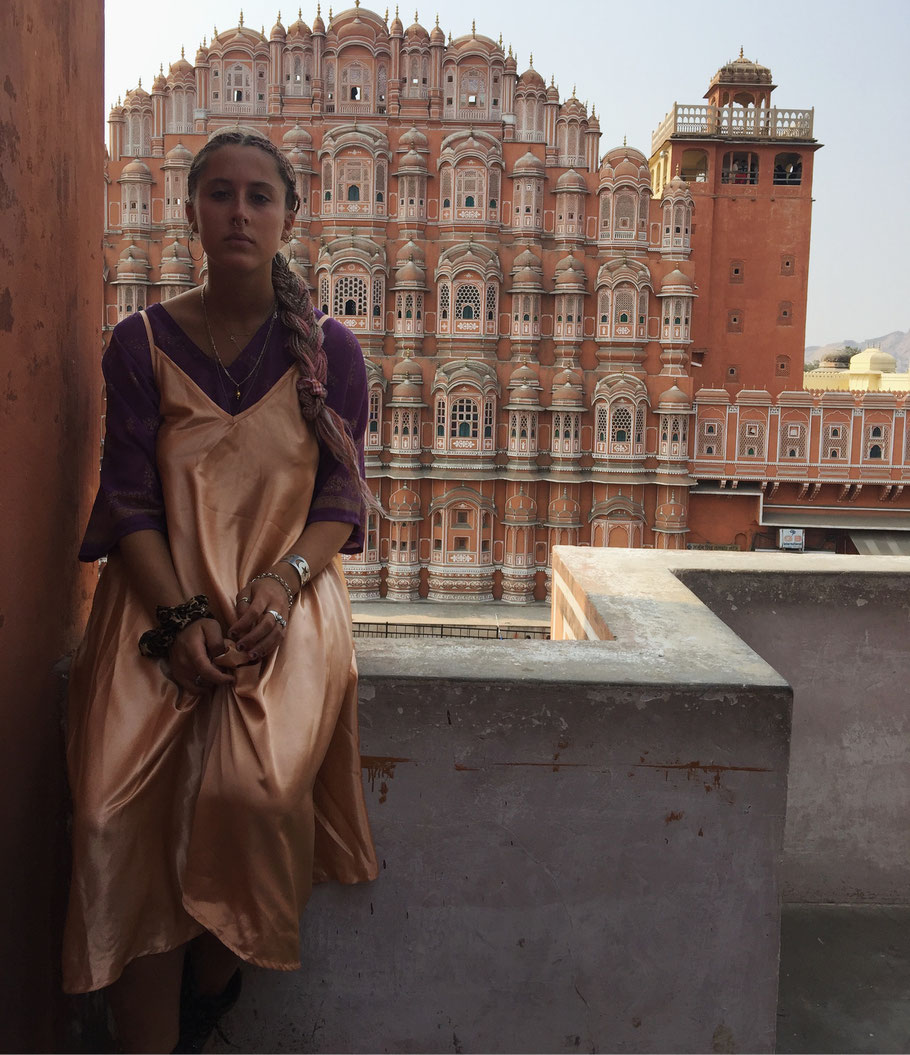 The shopping was one of the best things about travelling through India. Everywhere you went you were surrounded by beautiful fabrics and jewelry and musical instruments carved out of some rare material. Barely a day went by when I didn't buy something so as you can imagine I came home with a huge amount of stuff. The best shopping for me was at the Anjuna Flea Market in north Goa which is every Wednesday and Sunday. This place had everything you could possibly imagine and more. The prices were pretty good especially given that it is souly a tourist attraction. In the north the best shopping was in Pushkar. Here they have shops that are just rooms dumped with fabric that you literally climb on top of and sort through. The prices are surprisingly reasonable and you'll always walk away with something really precious. If you want to buy saris/scarfs then Johdpur is the place!!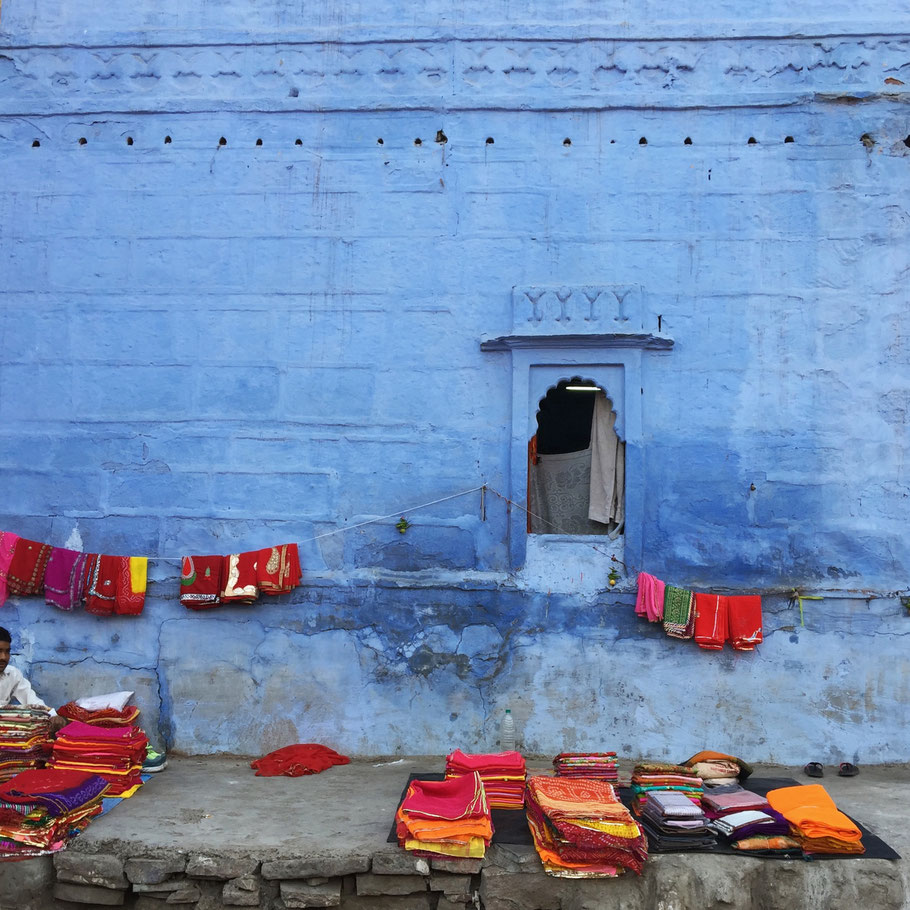 The first question anyone ever asks me about my time in India is whether I felt safe. I traveled with Jodie (another girl) by myself and with Ebbs (my boyfriend) and I felt safe the entire time. Obviously being a white tourist I got plenty of attention but it was deriven from curiosity and I very rarely felt like a sexual object or at all uncomfortable. Of course there were a few times when I caught men filming down my top on the train or my ass was grabbed by a stranger in a serge of people on the street but I never felt genuinely at risk or hurt. Obviously this is just my personal experience and I may have been very lucky as you do hear horror stories of terrible things happening to people. My best rule is just to exercise caution at all times (to an extent) try not to be in the wrong place at the wrong time and always assess your relationships with people before putting your trust in them (scam artists are very common in India).
The street hassling wasn't as bad as I expected either. There are some places in Asia and Morocco where you'll be pulled and prodded in all directions as you walk through the streets but I generally found Indian touts to be quite calm and respectful. A simple no was often enough!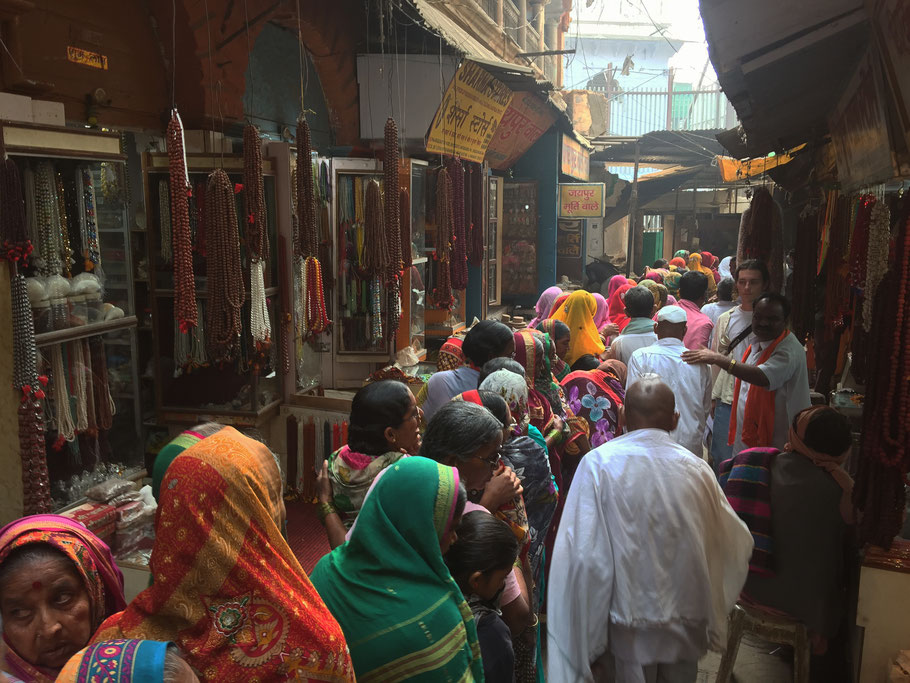 We got really lucky and hardly got sick at all apart from one uncomfortable day in Pushkar. I did feel pretty sluggish during my time in India particularly near the end. The whole experience is quite draining as day to day activities do require a fair bit of calculation and there is no where to exercise (especially in the north) so I was pretty run down upon returning to Australia. 
I don't take malaria medication (for several reasons). The main being that the treatment for Malaria is the same drug as the prevention and as the prevention drugs arn't 100% effective. If you do contract the disease treatment will be near impossible as your body is already accustomed to the drug. Cost is also another reason I don't take the tablets as the only known effective drug is about $4 a day!!
I did have a Hep A and a Typhoid injection before I left which cost me $150.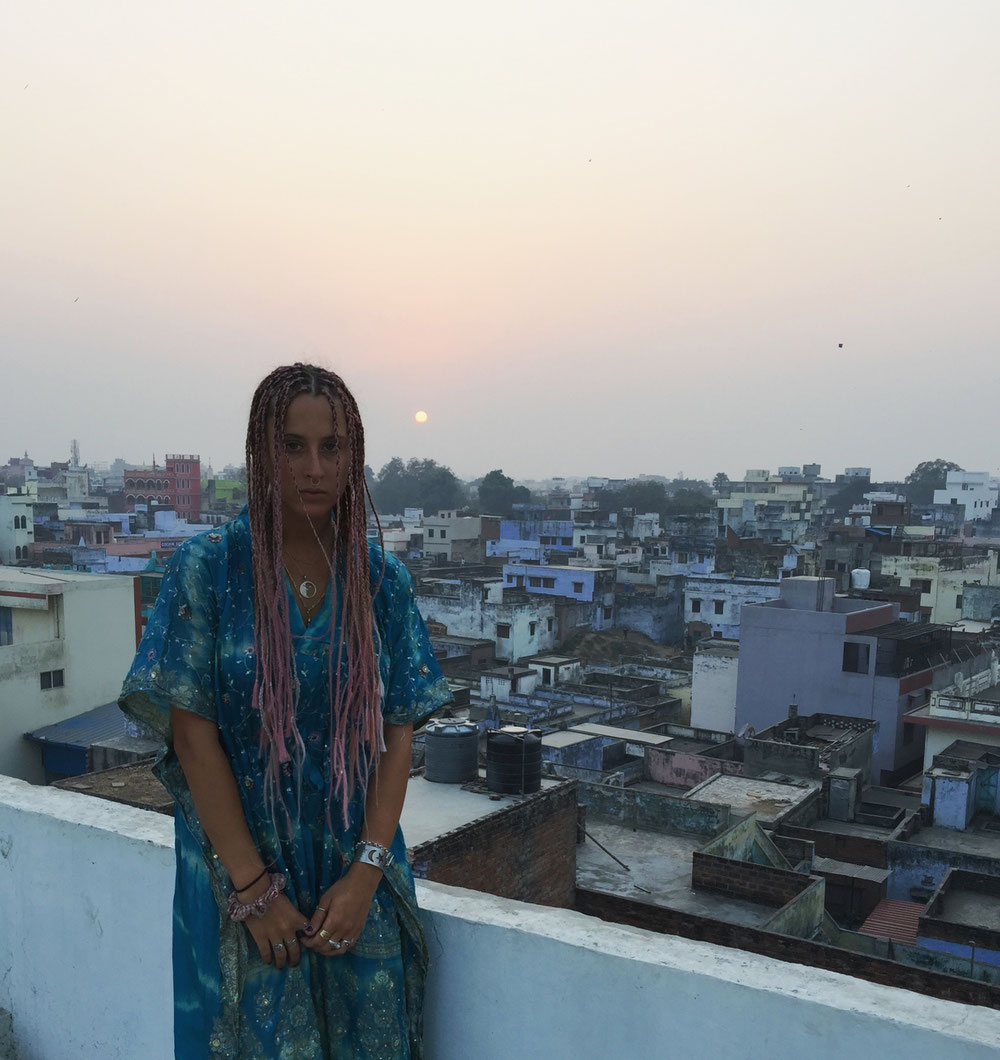 The best time of year to travel to India is over the winter months of December, January and February as this is when the temperatures are at their lowest. That being said, it was still 35+ degrees everyday in the south and about 25 degrees during the day in the north. In Rajasthan the temperatures do drop substantially at night as its a desert climate so make sure you bring a couple of warm jumpers. As this is peak season the prices are a little higher and there are more people around however India is so cheap already an extra few dollars here and there is not going to break the budget!!
The Holi festival of colour is in March which would be a life changing experience and some of the Himalayan towns in the north are closed over the winter period as their roads are snowed/iced over so if you're wishing to visit these places the shoulder months of October/April are probably best. The summer months of July/August can get to temperatures upwards of 65 Celsius which is unimaginable for most of us so it is wise to stick to the cooler months.