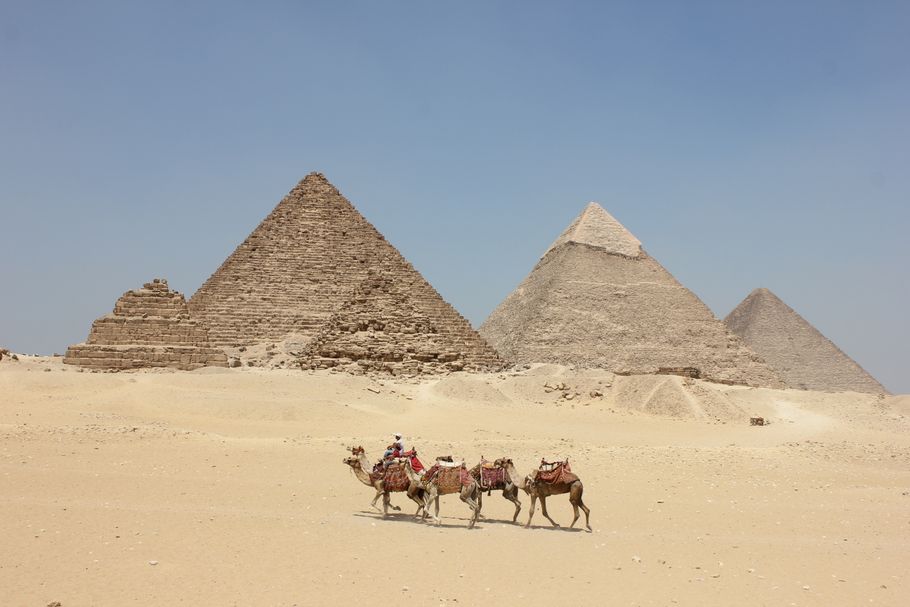 While it may seem a distant, mystical land, Egypt is actually a quick flight from Europe, just 2 hours south of Athens. Once I realized this, the temptation was too great to ignore and so despite my flights not actually being that cheap ($380 return to Italy) I headed across the Aegean to Cairo!! First impressions shocked me a little (which I loved) as I had expected Cairo to be a large, modern city and it would have been... 50 years ago. Now it is a sprawling, crumbling metropolis with dust in the air so thick you can see it. Everything is time warped, the cars, the street signs and the architecture. The building I stayed in had an old metal framed lift with a huge staircase wrapped around it. I can imagine that in its prime this building would have been glamorous however while it definitely had charm, most floors were abandoned, with windows missing, dark corridors covered by sheets and (unfortunately considering I was staying a few floors above) strange men lurking in the shadows.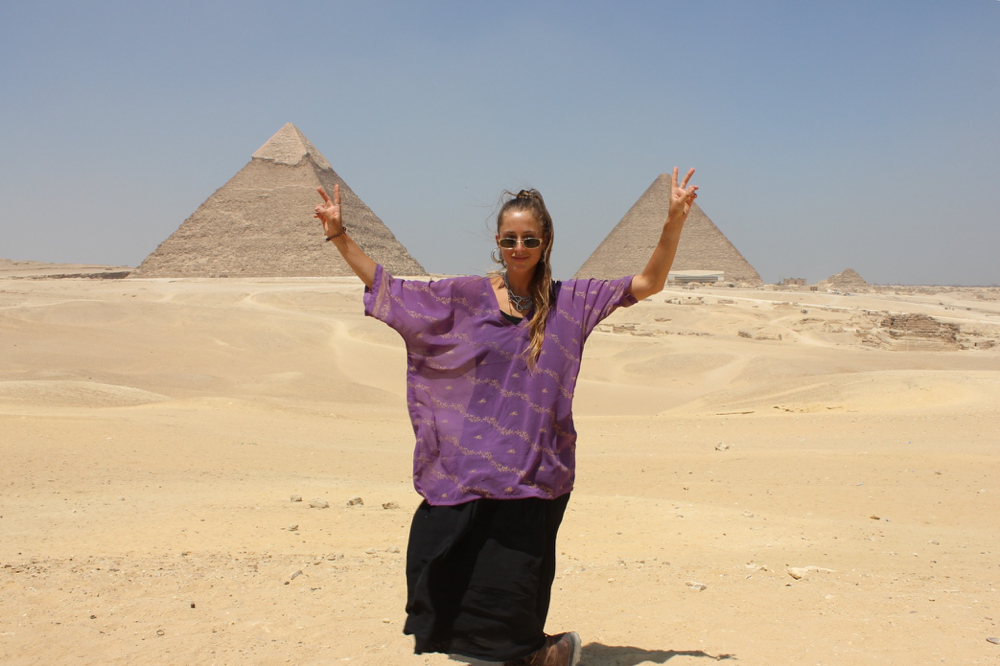 Some General Egypt Stuff
Get ready because Egypt it HOT, in fact, too hot... It was over 47 degrees the whole time I was there and although the heat is dry it just doesn't leave you alone. Given the lack of development in the city there's very little air conditioning so you can't go inside to escape it either!!
I had mixed experiences with the people of Egypt. My first encounter was with my taxi driver from the airport whom after backtracking on the price we'd agreed to, started grabbing my thighs and licking my arm while pointing up to 'Allah' (not quite sure how this combo worked for him but whatever).  A little rattled and VERY annoyed I arrived at my hostel which contradictory to this experience, was full of beautiful, kind Egyptians who wanted nothing more than to make my time in their country as comfortable and enjoyable as possible. Unsurprisingly on the street men would catcall and leer (no big deal) but other than that kept to themselves. While waiting for my overnight train to Luxor I  met some truly beautiful women and children who spoke little English but still spent hours (my train was VERY DELAYED) trying to communicate with me. The people at the station (which was an absolute nightmare) were helpful and kind and made sure to notify me if any information about my train changed (which it did every 10 minutes!!). I also met a lovely businessman on the train who very sincerely asked me how I was finding my travels and how people treated me as a tourist, offering me help with anything I needed in Luxor. Its people like these that make all the difference when you're travelling (especially alone). 
Egypt's tourism has been seriously damaged by their bad image in global media. The effect of this was hard to ignore in the areas that surrounded the big tourist destinations (which are arguably some of the biggest in the world). Restaurants stood empty, touts with horse drawn carts, post cards and other goods walked around listlessly as there was no-one to sell to. While I was visiting the VALLEY OF THE KINGS I was ALONE apart from one tour bus that arrived about 20 minutes before I left. Given the scale of this site and its massive contribution to history, to see no-one there was really quite shocking... Its sad to see that people are missing out on this awe inspiring country and that its clearly having a detrimental effect on the people here who's livelihoods depend on the tourism industry.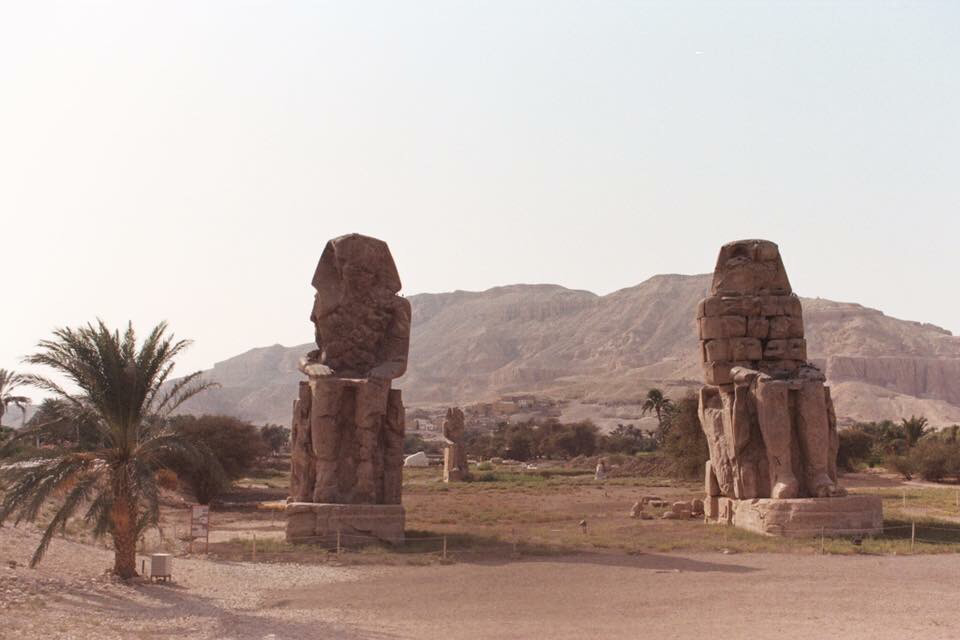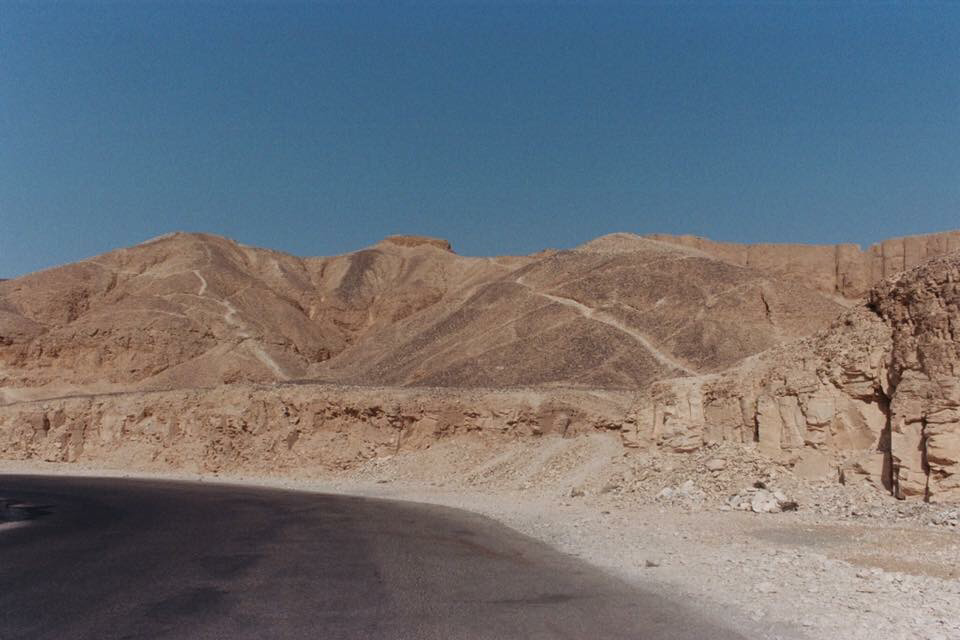 Safety
The one question I've been asked a million times; was Egypt safe? I really hate having to address this as I feel I'm constantly swatting away people''s warnings on places I'm visiting when they really know nothing about the situation there at all... EGYPT WAS SAFE. Apart from the unwelcome petting in the taxi (which could have happened anywhere) I never felt threatened, scared or even out of place. People were gentle and other than those trying to sell me things on the street, everybody left me alone. I caught 2 general class overnight trains as a 20 year old female traveling alone and made it to Luxor and back without any issues. If Egypt is on your list but you've been hesitant because of the safety issues, GO. It's undeniably an unstable country however terrorism and civil unrest is unpredictable and trouble could strike at any moment, anywhere in the world!! Don't let this stop you or you'll never go anywhere!
What to eat 
I don't really know what Egyptian food is. There was a lot of greasy kebab meat, cous cous, bread and oily soup. It was easy to eat cheaply  but finding fresh fruit or vegetables was nearly impossible. I ate mostly from a 'fast food' restaurant called Karvan which was on the street below my hostel. They made delicious falafel, lentil soup and roasted chicken for outrageously cheap prices. Half a chicken with rice, vegetables and soup was $2.30.
If I was staying any longer than I did I would have sought out a supermarket and made myself oats for breakfast with some fresh fruit and maybe yogurt, had lentil soup or falafel for lunch and then chicken with veges for dinner (avoiding all the extra bread and greasy rice they give you even though its delicious it makes you feel gross!!)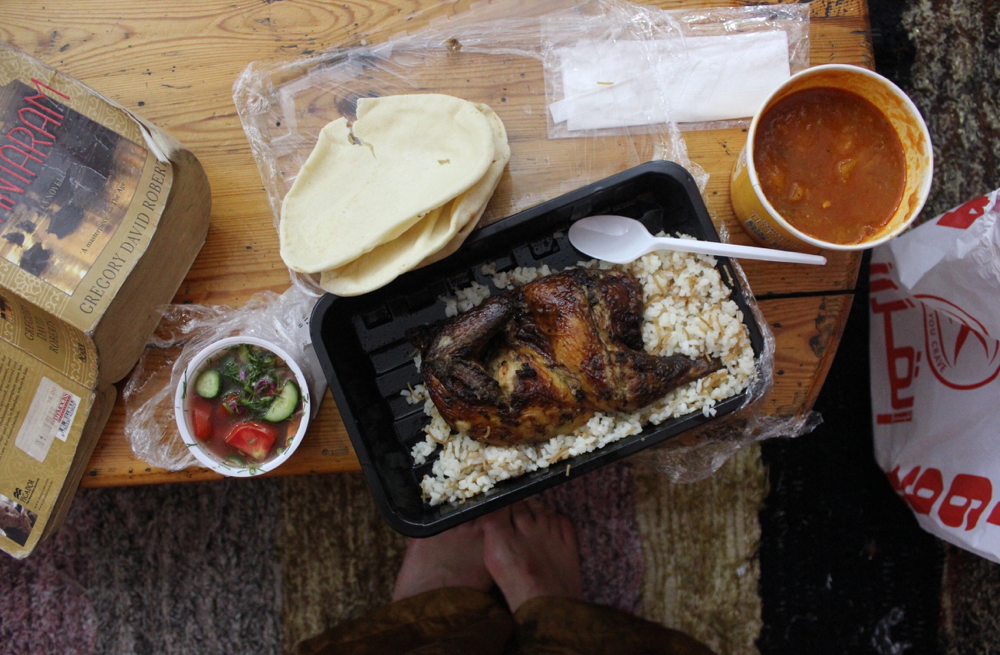 Where to stay
I was staying at the Meramees hostel near Talat Harb Square in downtown Cairo and I loved it. The staff were charismatic and couldn't help me enough (although i'm certain they were making a very decent profit off the stuff they booked for me and I was too tired to protest). On my first night there I was upgraded to a private room (which I was super grateful for given I hadn't slept in a bed for 3 nights) and on my second night they moved me to a dorm upstairs that had huge soft beds (not bunks) and big windows. They were happy to order you delivery food from a nearby chicken/kebab shop that was dirt cheap and super delicious (especially with free delivery).
The best part about the hostel was definitely the balcony off the common area (that I am writing from as we speak) it always had a perfect breeze and gave the coolest perspective over the bustling city below.  The hostel was $7au a night for a dorm bed and included breakfast (although this was just bread and jam and coffee) 
The location was awesome, only a 5 min walk from the Egyptian museum and a short drive from Ramesus Train Station. Accommodation in Cairo is cheap and although where I stayed wasn't the cheapest (there were some that were $5-$6 a night) I was happy that I decided to stay somewhere with a good rating as it made my time that much more enjoyable. 
How to get there
I'll start with the most annoying thing about going to Egypt: the visa. Actually, the visa process in Egypt is one of the easier ones I've have to deal with. You don't have to apply or fill out anything prior to arrival, you just have to have $40 USD with you to pay when you get to the airport. Its all a bit confusing when you do first arrive as the signage in the airport is shit and everyone is rushing in different directions. From memory, the visa counters were directly as you came in and you paid the fee and got given a ticket saying you'd paid and then got in another immigration line with that ticket and they stamped the visa into your passport as you were let through.
I flew from Milan to Cairo direct for $200 with Meridana air. This flight was the cheapest I could find from Italy at the time although it is way cheaper to fly from Athens with Aegean Airways. On my way back I flew from Cairo to Rome for $230 with Aegean airways with a stop over in Athens. My flights were pretty expensive considering the short time I spent in Egypt but I enjoyed it so much I don't regret a thing!
To get from Cairo airport into downtown either book a airport transfer with your hotel/hostel or get a taxi from outside arrivals. Although I read online that the price should be around 50 pounds the lowest I could get it to was 100 (which my hostel then assured me was a good deal given their shuttle cost 180). There is also a public bus which is unsurprisingly hell and not recommended by anyone (especially fresh off the plane) although if your up for a challenge and on a tight budget then give it a go!!
Travel within Egypt is usually by rail although there are internal flights (by the time you get to the airport and check in etc you might as well get the train). Train tickets can be booked online using the Egypt Rail website although make sure you book plenty in advance as they sell out online pretty fast. 
You can also try your luck at train tickets at the station however they rarely sell first (seated), second and third class tickets to tourists allowing you only to purchase the super pricey sleeper class. My hostel booked my train tickets for me as I had left it too late to book online (I wasn't sure whether I wanted to go or not) for $30 each way (usually its about $7au a ticket) but as they got me general class this was still substantially cheaper than the $80 sleeper tickets. 
Another trick that a few people mentioned to me was to board the train without a ticket and simply find a spare seat. The ticket man will then just charge you the amount of money the ticket would have been behind the counter (about $7). This tactic is apparently quite illegal which is why I didn't try it however after actually riding the trains i'm not really sure how you could be caught? (its not the train workers but the police who have an issue with it) and there are no police on the train so idk (?). 
To get around within the cities you can use the metro (which is 2 EP per ride) or jump in a metered taxi (which should cost about 30 cents per 5 minutes) 
I'm a big fan of walking everywhere and coming from Europe where the streets are wide, clean and beautiful I found walking in Egypt a little jarring. The air is polluted and full of dust, there are no footpaths and its so fucking HOT. Unless its a distance less than 15 minutes I don't really recommend using your feet. 
Incontestably the most mysterious place on earth, the Pyramids far surpassed expectations and i'm not exaggerating when I say its worth coming to Egypt JUST to see them. Located a half hour drive out of central Cairo, in a city called Giza, entry is 80 Egyptian Pounds and once you're inside you're free to roam to your hearts content. If you wish to go inside the pyramids you'll have to pay extra and buy these passes at the door. Make sure you know what you want to pay for as they'll try and sell you the most expensive option first!! The 'gates' open at 8am and close by 4pm. The best time to get there is early morning to avoid the heat as much as possible. I didn't get there until 11 because I had a slow morning and I ended up spending 4 hours there even in the midday heat. You could easily spend the whole day here, taking breaks in the neighboring cafes (with awesome views) and walking to the far sides of the complex to get different angles. Don't worry about 'beating the crowds' because there are none... the space is so massive anyway that you're unlikely to come across any big groups of people.  
Camel rides should cost 200 per hour. I booked mine through a company called K.G safari just outside the main entrance and I paid 400 EP for a 2 hour circuit around the pyramids. While I wouldn't normally recommend a tour, riding a camel around the pyramids was pretty fucking cool. My 'guide' rode a horse and because I told him i'd ridden camels before (not implying this made me experienced) he gave me the reigns and we galloped alongside each other through the desert with the pyramids surrounding us (FYI camels can run pretty fast!!). Riding made it a lot easier to cover ground and as the complex is so massive and full of sand this would have been hard work to walk in the heat.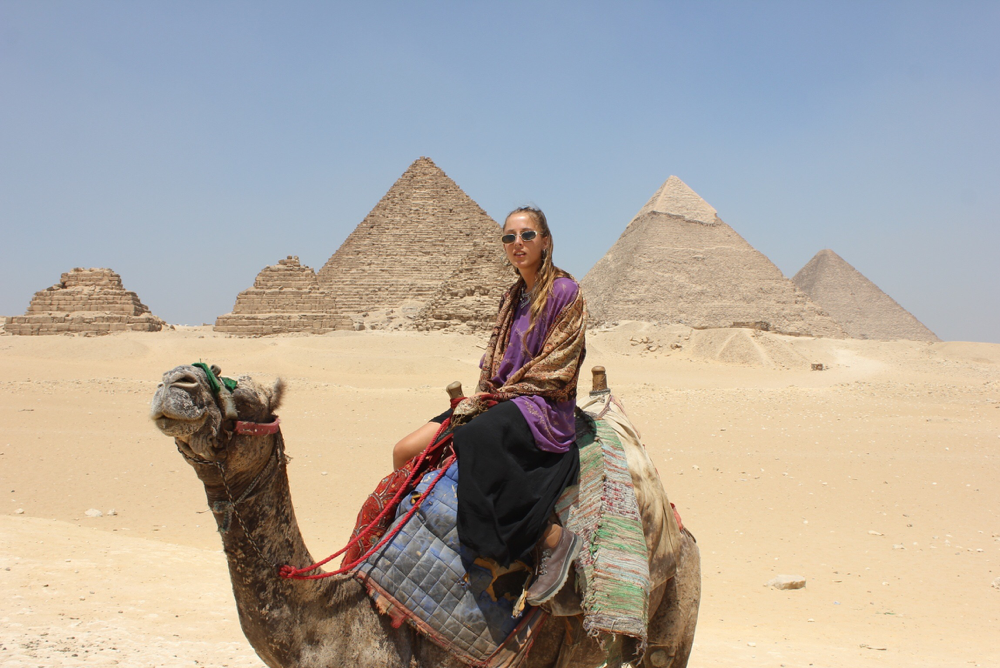 How to get there 
As I had limited time and (was persuaded by the guys that ran my hostel) I got a driver to take me to and from the pyramids for 200 EP (about $15). The driver took me there and waited for me and then drove me back again 4 hours later. 
You can also get the metro to Giza station and then get a taxi from there. (I was going to walk but its about a 2 hour walk along a dirty highway so I wouldn't recommend)
When getting a taxi in Egypt make sure it has a meter or be sure of how much you want to pay before getting the car and make sure you agree on price with the driver. Even still this can be tricky as there's no signed document and on my trip from the airport I had my driver go back on the amount he agreed to which sucked because I was already in the car.