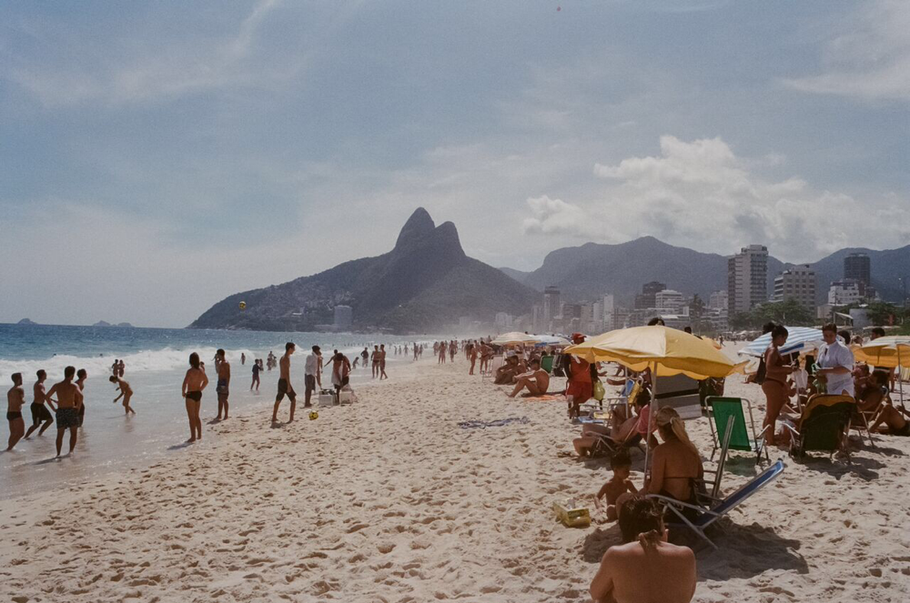 Rio de Janeiro is unlike any other city in the world.  These are charmed people, with Christ the Redeemer looking down over them with a cheeky smile. The energy is electric, a massive mix of ethnicities, hot people EVERYWHERE, everyone is buzzed, I wasn't out of place dancing outwardly as I walked down the street. There is something enormously special in the green mountains which break up the otherwise sea of concrete and stone, I felt like it was a unique national park with a city build within it, as though a cosmopolitan city has collided with a Caribbean island to create this unusual fusion between the natural and man-made worlds. 
Some hills are home to those living in favelas, whilst others are used as hikes and viewpoints. Time your hike with sunset to watch as Rio's beautiful landscape falls under deep pink darkness, only to come alive again with thousands of tiny golden lights, like somebody has sprinkled glitter across the city. Spend your days browsing the street's open markets, ogling at some of the world's hottest bodies on Ipanema beach, eating (affordable) Acai and basking in the year round good weather.  This city had me on a high for two weeks straight... there really is nowhere quite like it.  
Where to Stay
On recommendation of a good friend I stayed at the Books hostel in Lapa for the entire duration of my time in Rio. This is first and foremost a PARTY HOSTEL so keep that in mind if you plan on staying here. Despite my major lack of interest in partying I found my stay at this hostel incredibly pleasant. The location is fantastic at the base of Santa Teresa and near the Lapa steps on the outskirts of the CBD and super close to Gloria metro station. Plus the area is super beautiful.  I paid $13 a night for a bed in the 10 person dorm. The showers here were average (with no hot water usually) but its so hot anyway so its hardly a big deal. They had a communal kitchen that was perfectly well equipped and a fairly comprehensive free breakfast every morning! Many people move around during their stay in Rio to get a taste of different areas. As I was on my own I had the luxury of walking as much as my heart desired (which is a lot) so I had no trouble sampling every corner of the city without having to move all my stuff to a new location. BUT if this does sound like something you'd benefit from, I'd recommend a few days in Lapa to start, then a few nights in Cococabana or Ipanema and then a few nights in Botofogo...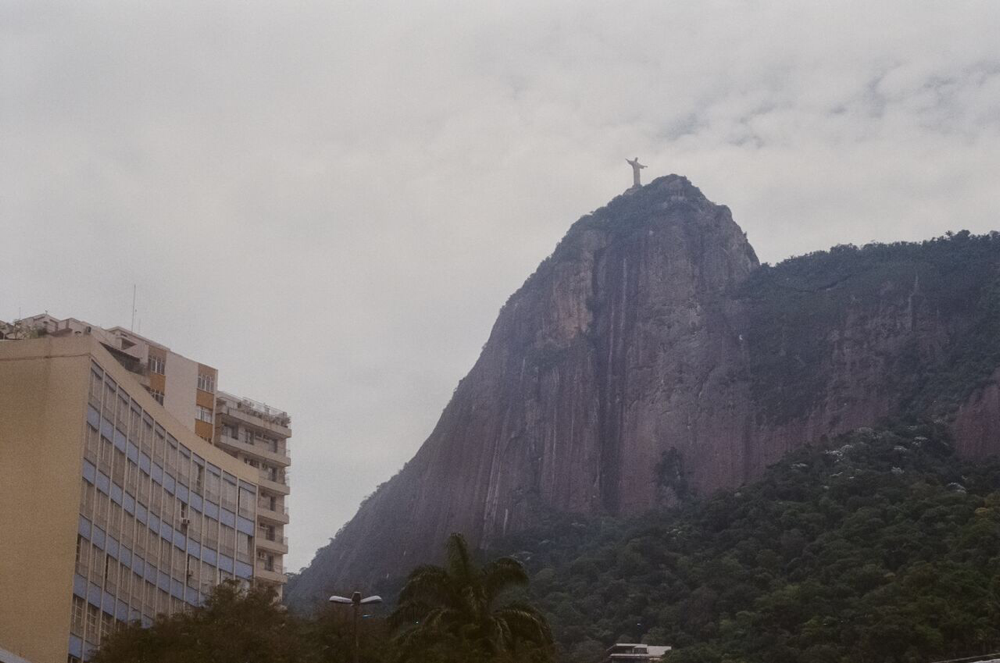 What to do 
While I spent the bulk of my time in Rio lying on the beach or climbing the surrounding mountains, my days were also full of the multitude of other activities this city provides...Things as simple as walking through the neighborhoods were amazing time passers as every corner you turn provides a new and unique vantage point of this magical city. While there are some areas (in the favelas) that aren't entirely safe to walk through, I found walking in this city easy and an effective mode of transport. On my first morning in Rio I spent a few sweaty hours listening to music and 'hiking' around Santa Teresa. This neighborhood is located on a massive hill just behind the bustling streets of Lapa and is home to some of the most beautiful bohemian architecture and street art I have ever seen. Every mansion (and I say mansion and not house cause thats what we are dealing with here) is a different pastel colour with cobblestone foot paths and vines and trees bursting out of crumbling walls. OMG its just so beautiful. Plus, given Santa Teresa is on a hill, every break in the buildings gives you a different view of Rio, sometimes of the ocean, sometimes of Christo and others of the favelas. Its amazing. I spent a good few hours exploring this area, stopping at a cute cafe for a coffee on the way.   Santa Teresa is famous for its historical tram; a little yellow wooden tram that connects this hillside area with the Centro area and you only pay one way to use this. SO! If you walk up the hill then you can ride down for free as they only check on the way up. The tram is SO scenic, it even rides over the top of the famous Lapa arches. Highly recommend. 
As a complete shopping addict, and after the wild markets in Bolivia I was craving some bargain hunting and Rio provided!!!! While there are street markets on most main roads (mainly near the train stations) on all days of the week (these are non-official markets, usually just homeless people with a small towel out covered in items for sale) there are also official  markets on the weekends where you can find awesome vintage clothing and antiques along with the usual TRASH. Feira da Glória near Gloria metro station is a great street market with food and clothing stores, open on Sunday mornings. Feira da Praça XV was my favorite with lots and lots of second hand clothing and vibrant Brazilians selling their wears. This market is on every Saturday and starts around 10am. In the city center you'll also find lots of permanent markets selling fake watches, sunglasses and handbags (some of which are fucking awesome) I got the sickest hot pink Baby G watch for $8!!
While you're in the area, Escadaria Selaron are the famous tiled steps (you've probably seen a million photos of) and are located in Lapa, a 5 minute walk from Books Hostel.  These steps are pretty beautiful HOWEVER the crowds are fucked up. Its free to walk up and down them but for some reason every time I walked past (which was a lot) they were so covered in people I had no desire to properly check them out. I recommend getting there at 7am to take in the beauty without having to ward off hundreds of other tourists. 
Samba is big in Rio and while its not something i'm into, I did go along to a couple of samba parties and street parties to see what all the fuss was about. One party I went to had a pretty funky live band but all the crowd seemed to want to do was sing aloud to the (probably cheesy) Portuguese lyrics and sway their hips so I didn't stay too long. I was in Rio the week leading up to Carnivale so there were lots of street parties pumping everybody up. Again, I appreciated the spectacle but I found them a little dull, just lots of drinking and yelling (cool)!!
 Its not a trip to Rio without watching the sunset from Sugarloaf Mountain. I left this till my last night as I wanted the perfect weather and I was rewarded!!! To save money I hiked up the first part (where the first cable car goes). To call this a hike is probably a little hyperbolic, its just a trail through some trees, v easy and v worth doing to save some money. Just make sure you get there in time as they close the trail just before sunset! The second cable car is compulsory (unless you are a rock climber) as the face of Sugarloaf mountain is sheer cliff. If you're under 21 or a current student, bring along a valid ID card to enjoy half price tickets (yay). I'm fairly sure mine cost $20 return with the 21 or under discount (which is pretty awesome as full price and both cable car return tickets are about $60).  I brought a drink, some food and a joint up with me and sat with friends as we watched the sunset over ridiculous Rio... it was a pretty lovely evening. 
While I can't say a lot for the food from restaurants in Rio (I ate mostly tinned tuna and steamed vegetables) I did revel in the cheap Acai that is sold just about EVERYWHERE. Just watch yourself with the Acai as its FULL of added sugar. I tried to ask for 'sin azúcar' but I never really knew whether that worked cause I think its all premixed... and the massive yellow passionfruit from the markets... I honestly ate about 6 a day,  I wish we had them in Aus...
Another highlight of my time in Rio was (shockingly) a booze cruise!! that was run by my hostel. Apparently they run them every few weeks and tickets are $10. So even if you're not staying at Books its worth trying to work out what the dates are... I wasn't going to go because well its a booze cruise and quite honestly I couldn't imagine anything worse... but everyone in my hostel including all the staff were going and a few of the guys in my room convinced me to come and bring my book and then, even if I fucking hated it at least i'd be on a boat with a book. Don't get me wrong, this was by no means a good party it was just fucking beautiful!!!! I sat on the bow of this massive sail boat watching the sun set over the mountains of Rio with Christo's silhouette in the center... it was magic!!
I'll write about hiking up to Christ the Redeemer in the hiking section however i'll meantion Park Lage here, which is where that hike starts. This park is incredibly beautiful and at the foot of the mountain that Christo resides on. It reminded me of the magic fairy gardens of Sintra in Portugal with caves to explore and amazing Roman inspired sandstone buildings. Huge tropical ferns and trees and butterflies. Its a botanical garden so its definitely worth exploring separate to the hike up to Christo with a book or a picnic. 
     While I didn't do any (somehow didn't have time) there are some great walking tours in the city. I was recommended freewalkingtours.com and I think their main tours start at 10:30am in the Centro district. 
Another awesome attraction in Rio is the Museum Of Tomorrow! Free on Tuesdays (I think). You cannot miss this building. It's a huge spaceship looking building right next to the water front at Pier Maua. It's a science museum and it was designed by Spanish neofuturistic architect Santiago Calatrava. Tickets were 20 Real each (£5). It was a fabulous interactive museum full of exhibitions and all the signs were translated in English.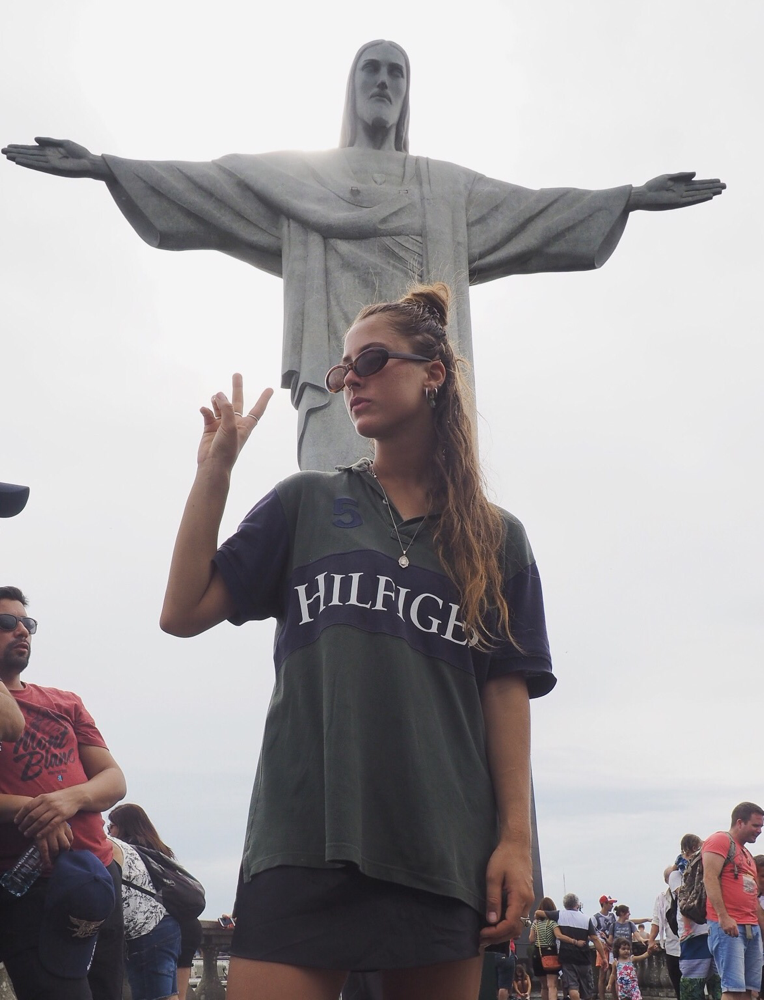 The Hiking
I'm truly devastated that Rio's party scene is terrible because otherwise I think I'd have found my heaven. Not only is this massive bohemian city full of beautiful people and incredible, sunny beaches, but you can literally start your day with a hike and not just any hike!!! A hike with views that take your breath away!! While I was actually pretty lazy when it came to sampling the hiking in Rio I did do three incredible walks that only took a couple of hours and were strong highlights of my time!!
The first was the hike up to Christ the Redeemer. This was a short but incredibly challenging hike that is meant to take 2.5 hours but we tackled in 45 minutes (mainly because we were fucking petrified someone was going to jump out of the bushes with a gun and rob us so we kinda ran the whole thing). We hadn't prepared to go to Christo that day but while out exploring my friend Matt and I decided the weather looked good enough to check him out so we walked to Park Lage at the base of Christo and started the hike up. Our fear came at the bottom of the mountain where a parks and recs center made us fill out all our details on a sheet to make an official record of us going on the walk and all the signs everywhere that said to take absolutely no valuables as there are often robberies at gunpoint lol!! As we weren't planning on doing the hike that day I had just about every valuable I owned on me and so did Matt. But we weren't turning back, instead we pumped some intense music and (very quickly) started the steep ascent. This isn't just a regular hike either. The mountain's top section is sheer cliff with terrain so steep it has to be climbed on ladders, foot holds and rope (another thing we weren't prepared for ahah I was wearing a satin slip dress). BUT we made it to the top, very sweaty and relieved to have all our belongings and also PROUD cause every other loser up there had paid $60 to get the shuttle and we had walked!! go us. Christ the Redeemer itself is obviously AMAZING, a surreal experience with views that span the ridiculous Rio landscape. 10/10. Entry to the actual site was $14 AUD from memory. To get back down we got a shuttle (which was free because it was after 5pm and they were closing the site) and then shared an Uber back to hostel for a few $$ each. 
A few days later I did the Dios (or the Two Brothers) home which was 100% my favorite thing I did in Rio. I went with a group of friends from my hostel. We shared an Uber to the base of the Favela at the end of Ipanema beach and then got driven up through the Favela on the back of local's motorcycles for a few $$ each. The hike starts behind a basketball complex through a broken metal fence. The hike itself was very easy and only took an hour or so but the views were FUCKING CRAZY. The final destination is a massive rock on the outcrop of the mountain that looks over the entirety of Rio with Ipanema at the base. Ugh!!!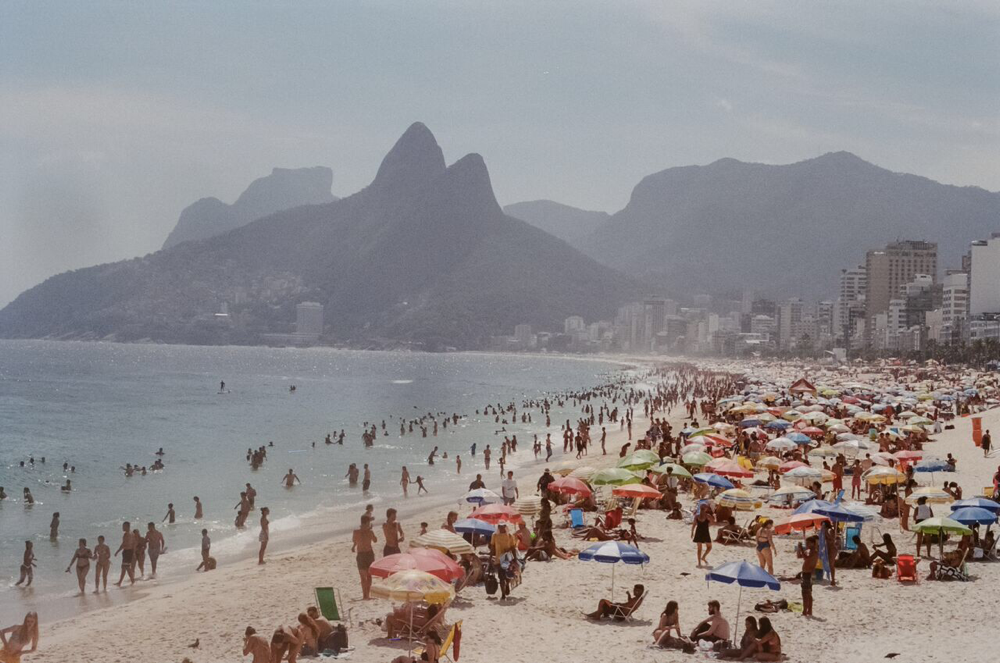 The Beaches
Ipanema is my hands down my favorite beach on earth. There is nothing that can compare to the crazy energy on this beach with the incredible backdrop of the Dois Irmaos mountains framing it all. At sunset you can see the silhouettes of thousands of soccer balls being passed and kicked along the shoreline and everyone is HOT especially if you park yourself in the center of the beach as this is where all the young people hang out (to the left and right are more families). I came to this beach every day during my time in Rio. On Sundays they close the road that runs parallel to the beach and people run and Rollerblade along the boardwalk. Cococabana is beautiful also, I only went here a couple of times when other friends from my hostel were meeting there (cause i'd rather be at Ipanema) but it certainly had its charms. The beach at the base of Sugarloaf is also incredibly beautiful and can be accessed via Botofogo... I only went here once near the end of my stay and wished i'd discovered it earlier! Its wise to not leave your belongings unattended on the beach as there are a lot of desperate people who watch for unattended things on the beach so if you're alone just ask the people sitting near you to watch your bag while you go for a swim! There are a million people selling stuff on the beaches here so its often good to bring headphones to drown out the noise!!! Don't expect a quiet, relaxing beach experience!!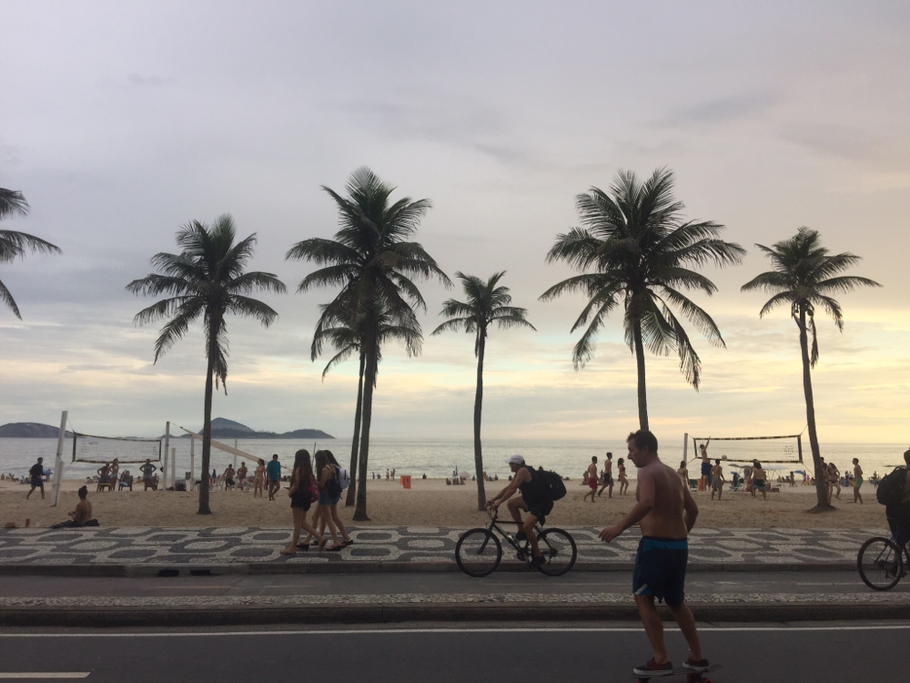 Budget
Rio is known for being quite an expensive South American destination however I found it to be pretty affordable. My accommodation was $13 a night for a bed in a mixed 10 person dorm which included breakfast. There are plenty of big supermarkets and street markets around where fresh food is cheap and readily available and if you have a kitchen in your hostel then food costs can be kept under $10 a day. Attractions cost different prices depending on how you attack them. Massive amounts of money can be saved for Christ the Redeemer and Sugarloaf mountain by hiking up instead of taking transport and having a student card or being under 21 also allows you discounts too! My favorite thing to do in the city was walk and go to the beach which are both free activities... There are also some great street markets with people selling second hand items for a few dollars. I got most places on foot but I also used the subway a fair bit which was really affordable when you buy ten rides at once. Basically, unless you're getting ubers everywhere, eating out for most meals and staying in more expensive accommodation, Rio doesn't have to be an expensive city to visit. I probably spent on average $30AUD a day including food, accommodation, transport and an activity.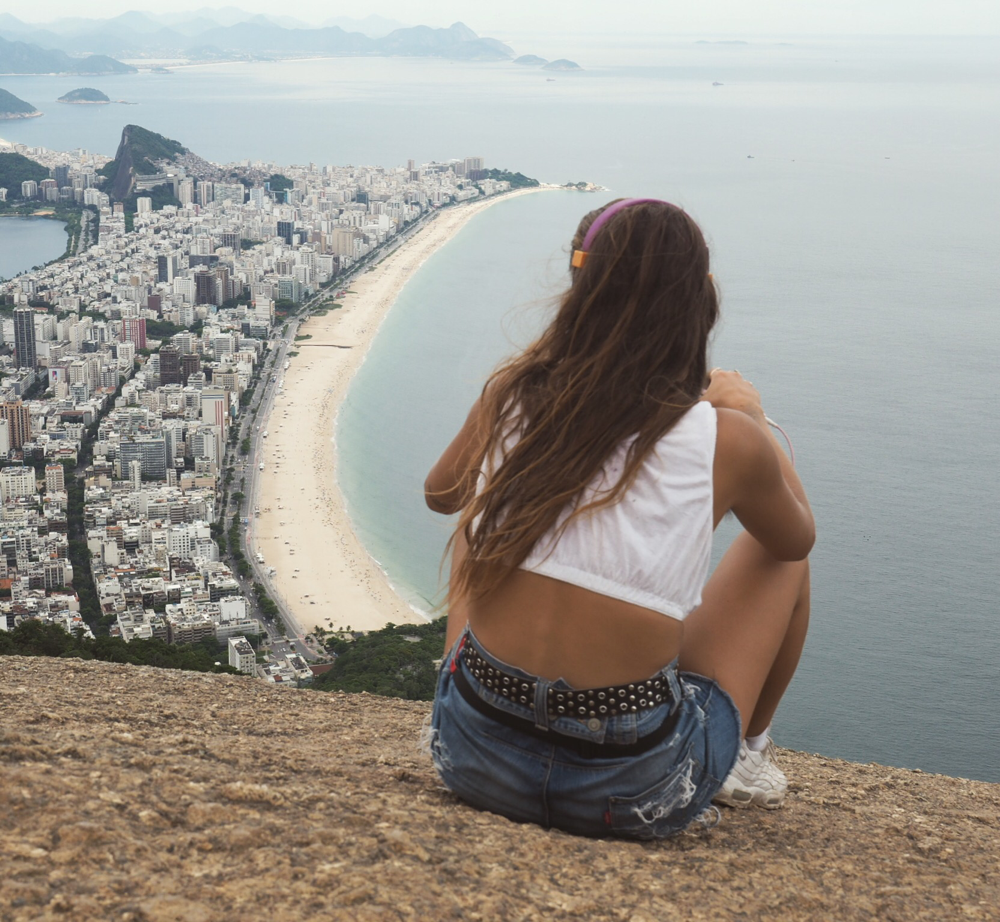 Safety
I feel I need to touch on this, even though it irritates me. Everyone (!) asked me if it was safe in Rio and YES IT WAS. As with most other 'dangerous' locations I've visited, in order for something bad to happen you have to either be an idiot or incredibly unlucky. Now assuming you're not stupid enough to be stumbling down a quiet street, drunk, at 4 in the morning, the only other way for something bad to happen to you in Rio is really bad luck. I was there for 2 weeks and spent the entire time walking around by myself with all my belongings and not once did I see anything or feel unsafe. Obviously the cat calling here is pretty insane and there are a lot of crazed, drug effected people in certain areas, But I never felt threatened in any way. Please don't let fear of being robbed or attacked stop you from experiencing this amazing city.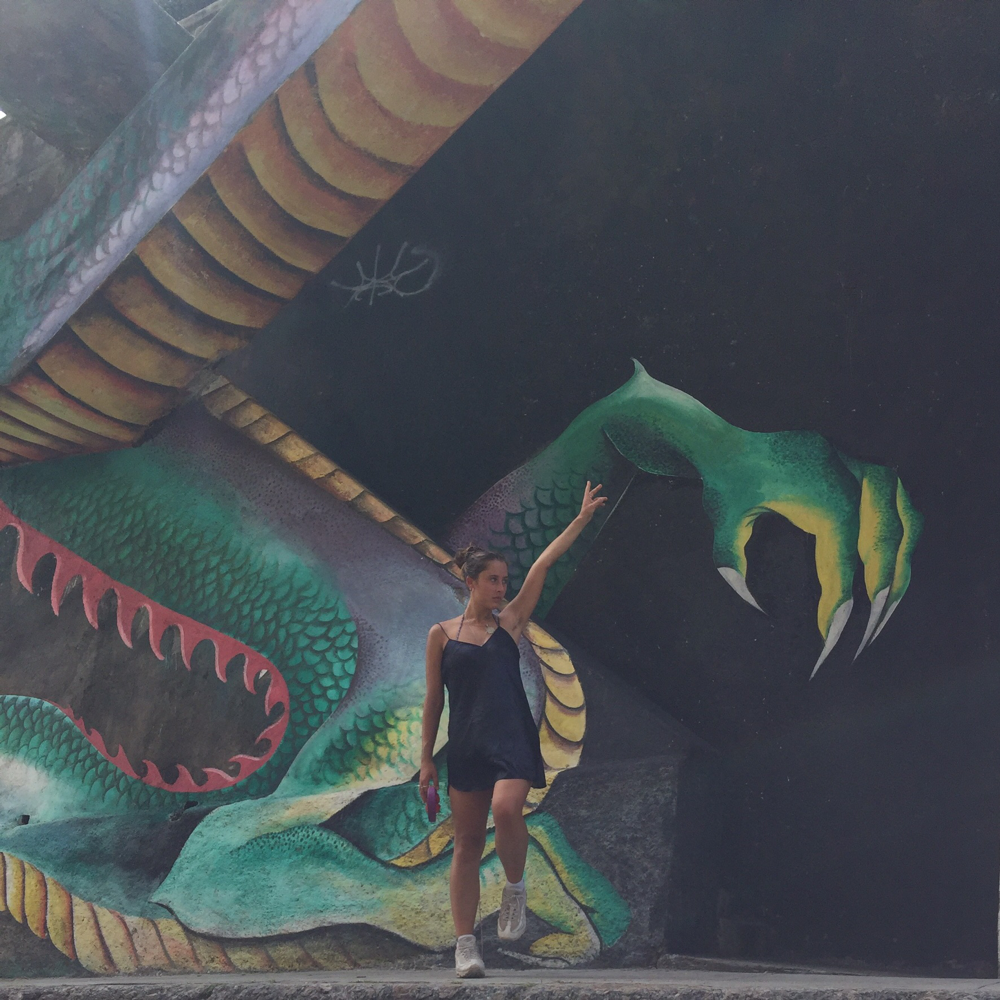 Transport
As I've already mentioned many times I walked everywhere during my time in Rio and I am certain this is the best way to really see the city. But obviously you can't walk everywhere, especially in a city as big as Rio (it took me 3 hours at a fast pace to walk from my hostel to Ipanema Beach). So for the times it's too far to walk the metro system in Rio is fantastic! You simply arrive at a station head to a machine marked Cartão Pré-pago. You select how much you want to top up with and the machine dispenses your card. You then tap in on each journey. It's 4.30/$2 a journey but is cheaper if you buy multiple rides! The metro is completely air conned (so cold and lovely!) and is very clean, safe and efficient. It also runs pretty late. There are also public buses around the city will cost about 2.5-3.5 BRL. The bus system can be confusing, so if you don't speak Portuguese make sure you have your destination written down just in case... I just used maps.me to follow where I was while I was on the bus and always made it to my destination!! If you do need a direct service Uber is actually very cheap in Rio and if there's a few of you to split the cost with it's sometimes cheaper just to get an Uber rather than the metro!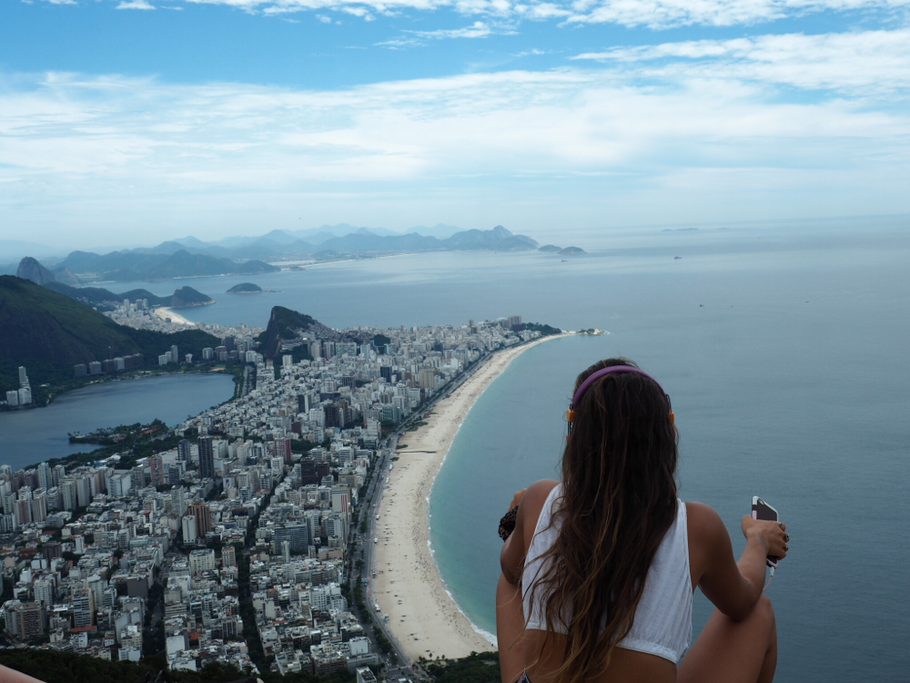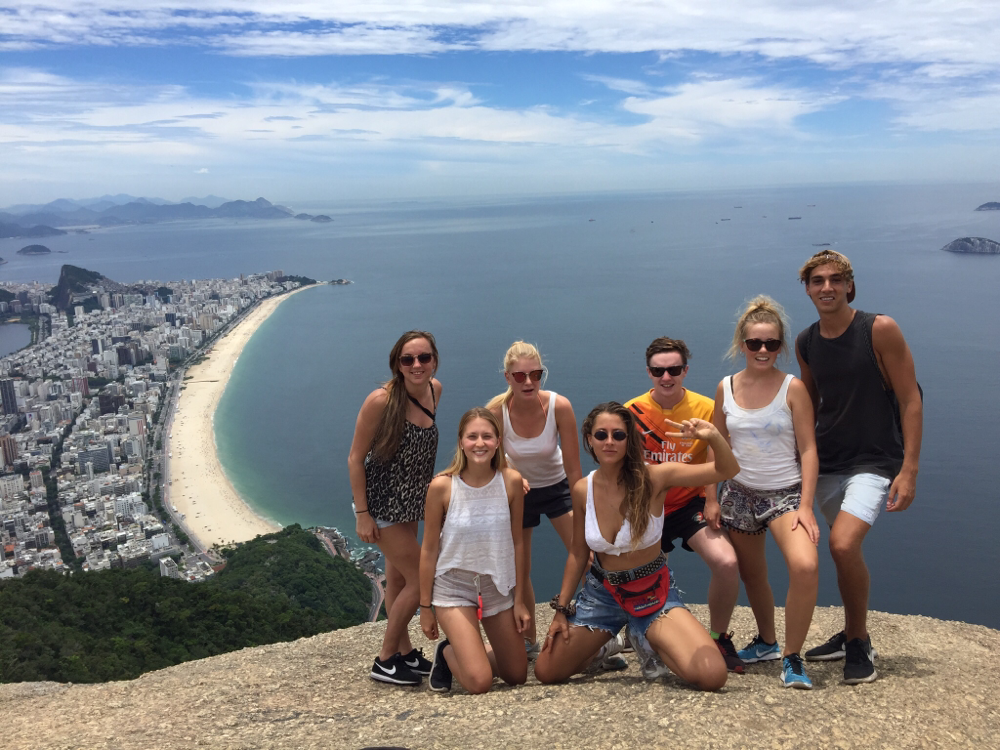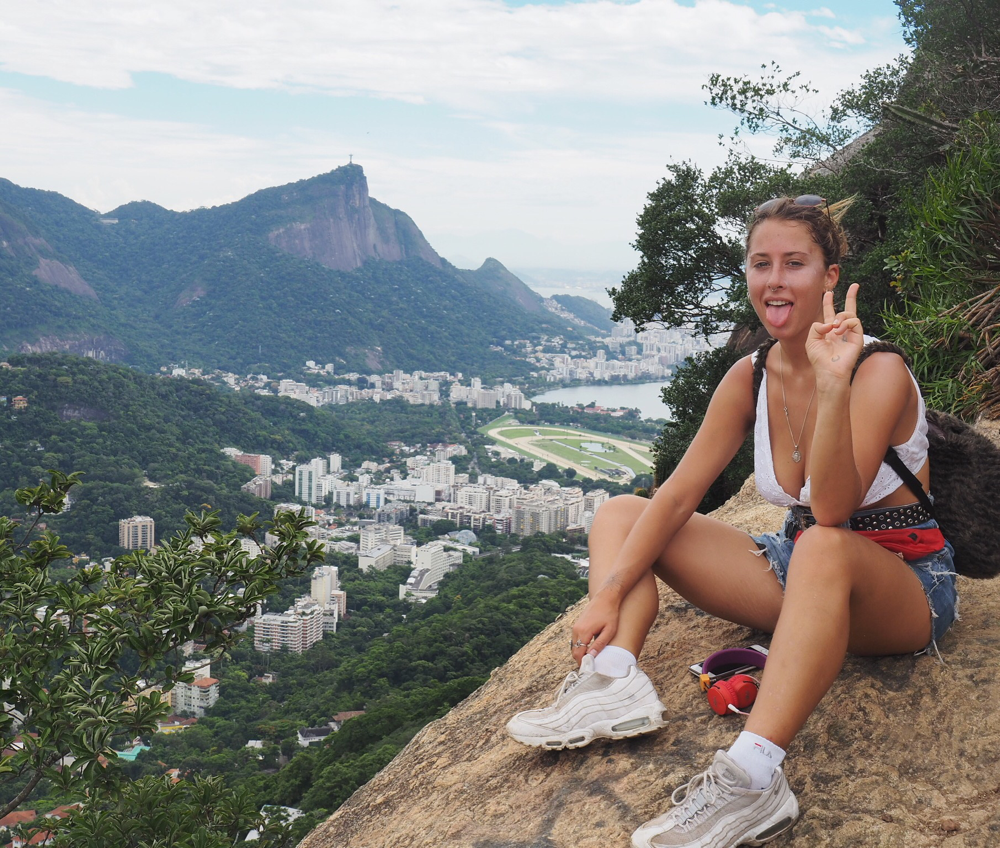 Other places to visit nearby (ish)
Arrial do Cabo: This beautiful beach destination is only 3 or so hours from Rio and I had planned to go there for 2 nights in the middle of my time in Rio but I just couldn't leave ahah. all you have to do is look at some pictures of this place to work out why its so popular. 
Sao Paulo: With a staggering population of over twenty million, Sao Paulo is Brazil's largest city. Hidden within this concrete jungle is the country's most creative street art amongst other intriguing cultural hot spots. It can be reached in six hours by bus which is what I did to get my flight to Berlin and it was incredibly easy or less than one hour on a plane from Rio de Janeiro.
Paraty: A couple of hours on a bus will take you to the pretty little colonial town of Paraty. The charming cobbled streets and brightly coloured architecture in the historical square have attracted artists from all over Brazil. As a result, it has become a central hub for the creative arts, hosting regular festivals all year around.
Ilha Grande: A few hours South and across the water is Ilha Grande, a stunning tropical island with some of the best beaches in Brazil. If I hadn't fallen so deeply in love with Rio I definitely would have tried to come here for a while to do some hiking and spend some extra time in the sun.