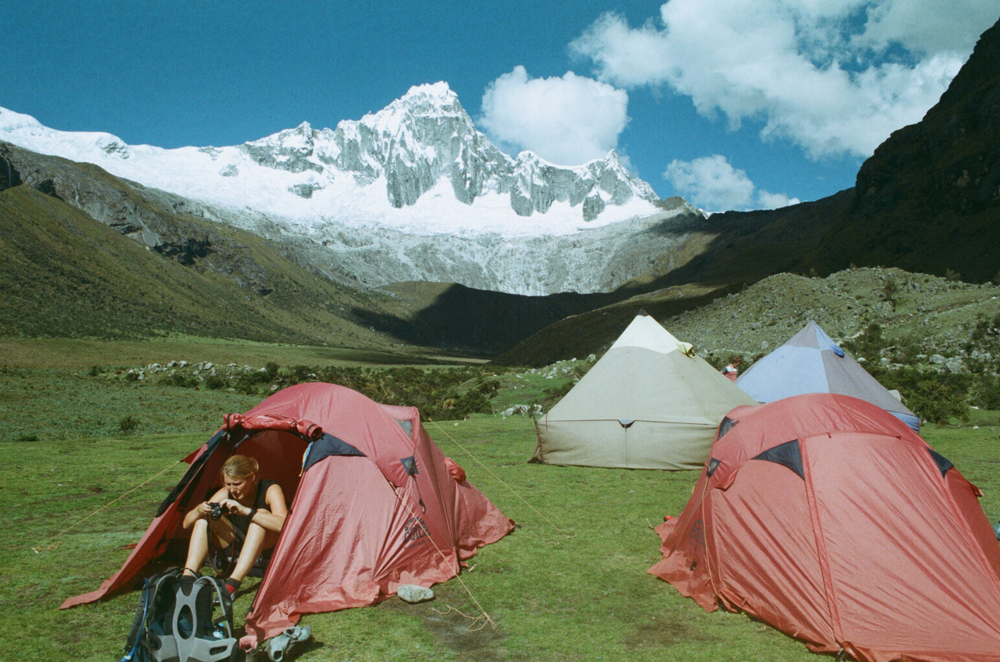 Huaraz & Laguna 69
Huaraz may well be the most underrated travel destination on earth. The city itself is pretty average (if you count a bazaar Peruvian village at 3700m with views of snow capped mountains as average)  but the true treasure lies just outside the city where the Cordillera Blanca and the Cordillera Huayhuash loom.  Given its proximity to this vast mountain expanse, Huaraz is a trekking hub and many enthusiasts come here for weeks, even months, in the high season to sample the endless selection of trails the ranges provide. The mountains certainly are among the most impressive in the world but for some reason everything here is still cheap and easy. The region still only sees a tiny number of tourists in comparison to other Peruvian cities such as Cusco and Arequipa but popular day hikes such as Laguna 69 can still get pretty crowded (don't let this deter you though).   
I stayed here for 9 days and spent 7 of them watching Desperate Housewives from my deathbed. Not only was my untimely flu a barricade to my intensive trekking plans but Huaraz is a city at high altitude so instead of acclimatizing I suffered double the pain!!! Frustrated and incredibly bored (I'd had enough of sock shopping in the markets and eating passion fruit in the dark corners of my dorm room) I finally felt well enough to attempt Laguna 69 (attempt is a loose term as I was actually the first person to reach the lake out of everyone on the hike ((ahah!! aha!!)) This trek is a great way to introduce your body to the altitude with the highest point reaching 4 600m and YOU CAN FEEL IT. You can opt to do the walk solo and get a collectivo or two to the start point but for pure convenience I booked my 'trip' through my hostel for 30 soles (about $10). Don't expect much, the tour is really just a transfer to and from the trail head (which is really all you would want anyway). The path is incredibly beautiful, taking you up a steep valley, past massive peaks and icy plains of grass and wild flowers. Laguna 69 itself is equally as spectacular, we had a few crazy people take off their clothes (while it was snowing) and go for a 'swim'. The walk up to the lake takes between 1.5 and 2.5 hours and down is a little quicker so its not a long walk.  We actually spent longer waiting on the buses at the end for the fucking SLOW PEOPLE than we did at the lake itself. I highly recommend this trek as a good warm up for the bigger hikes in the region such as the 8-14 day Huayhuash Trek (that was closed while I was there) or the 4-5 day Santa Cruz trek (which I write about below yay). 
 I stayed at the 'VACAHOUSE HOSTEL & BNB' that I booked through Hostelworld, mainly because it was the cheapest one available. I think I paid $7 a night for a bed in a dorm. As I stayed far longer than expected I only booked my first night online and just organised the rest once I was there. It was well located, had a kitchen, hot showers and the owners were helpful and happy to book treks for you. The treks and tours they booked were also some of the cheapest prices I could find which saved a massive amount of hassle, knowing I didn't need to shop around.  which was well located, had a kitchen, hot showers and was ridiculously cheap.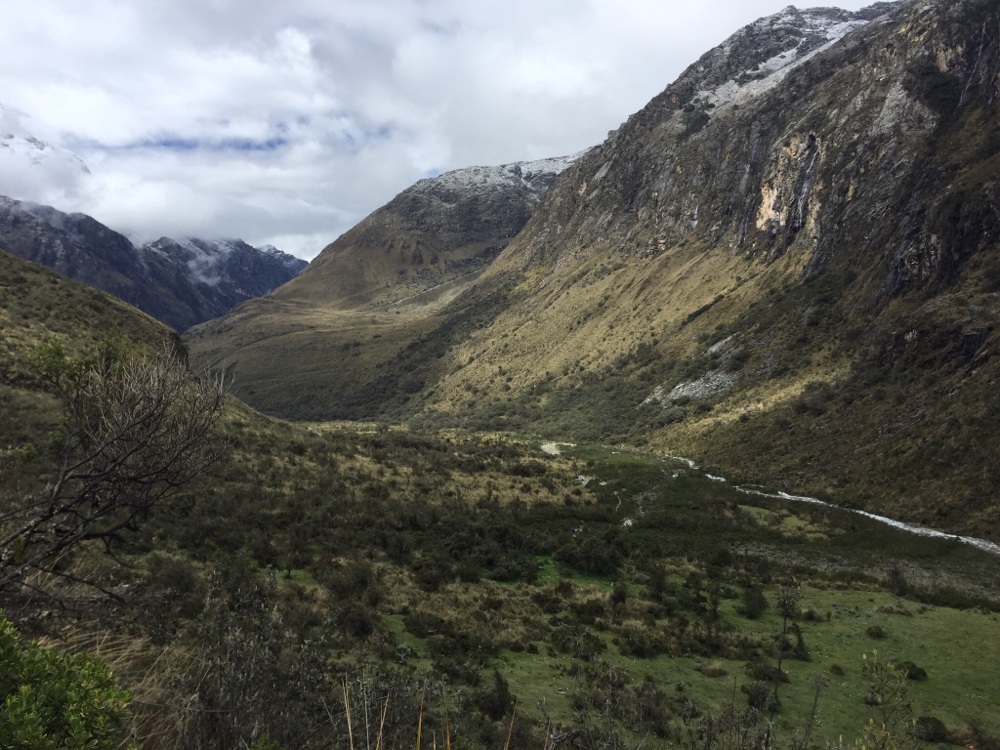 How to get there
 Hot off the plane from Bogota, I had landed in Lima and paid an outrageous $20 for my taxi to the Cruz del Sur bus station (watch out for Lima airport as it is notorious for expensive taxis (try and find other people going to the same area you are to split the cost!!)) . I had booked a 9pm overnight bus to Huaraz which was about a 10 hour journey. Once in Huaraz its relatively easy to get around, taxis are cheap, you can walk most places and local collectivos run too.
Leaving Huaraz, I got an overnight bus to Lima with Cruz del Sur for 55 soles on the night my trek ended.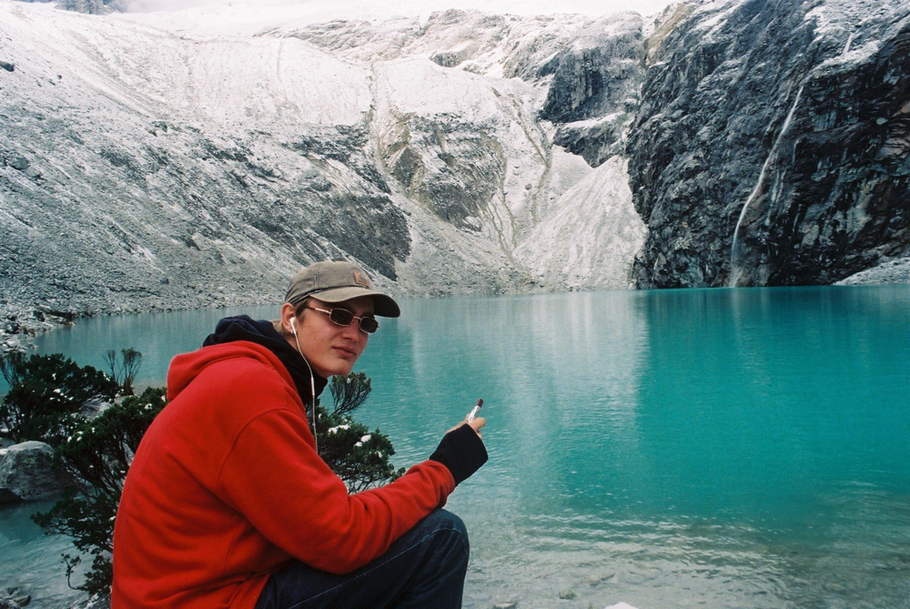 Trujillo & Mancora
After far too long doing absolutely nothing in Huaraz I decided I was definitely well enough to do the Santa Cruz trek only to have my trip cancelled the night before I was due to leave as there weren't enough people interested. Pressed with the horror of having to stay in Huaraz for another day I decided to go north with a friend I had met (who hadn't been scared away by my snotty antics). We took an overnight bus to Trujillo where we left our bags at the bus station and spent the day exploring. Don't expect too much here as the city itself is a little dull (although the main square and church are quite colourful). We spent the morning drinking coffee and lying in a local park (true fun!!) and in the afternoon we got a collectivo out to Huaca del Sol which was an archaeological site of the 'Moche' people. The actual tour (which cost about $4) wasn't anything to write home about but the mountains that surrounded it were so sick!! The area is very barren and sandy with mountains that go on and on and nothing else. We spent most of our afternoon covered in sand (and dirt) as we climbed as high as we could to get the best views and I struggled (without prevail) to remember the Indian Jones theme song which I thought particularly fitting. We then got our second overnight bus to Mancora, a beach town near the boarder of Equador at the very north of Peru. We planned to spend several days here doing not much while I recovered from being sick and to get out of the cold and altitude. The weather here is amazing, it was clear skies and 28 degrees all day, everyday. 
After I was confident I had re-cooperated from being ill I got an overnight bus all the way back to Huaraz (which ended up taking almost 24 hours and involved 3 bus changes) I don't recommend doing this trip all in one go (or if you do, make sure its with one of the better bus companies so you don't have to change and you have some space to breathe).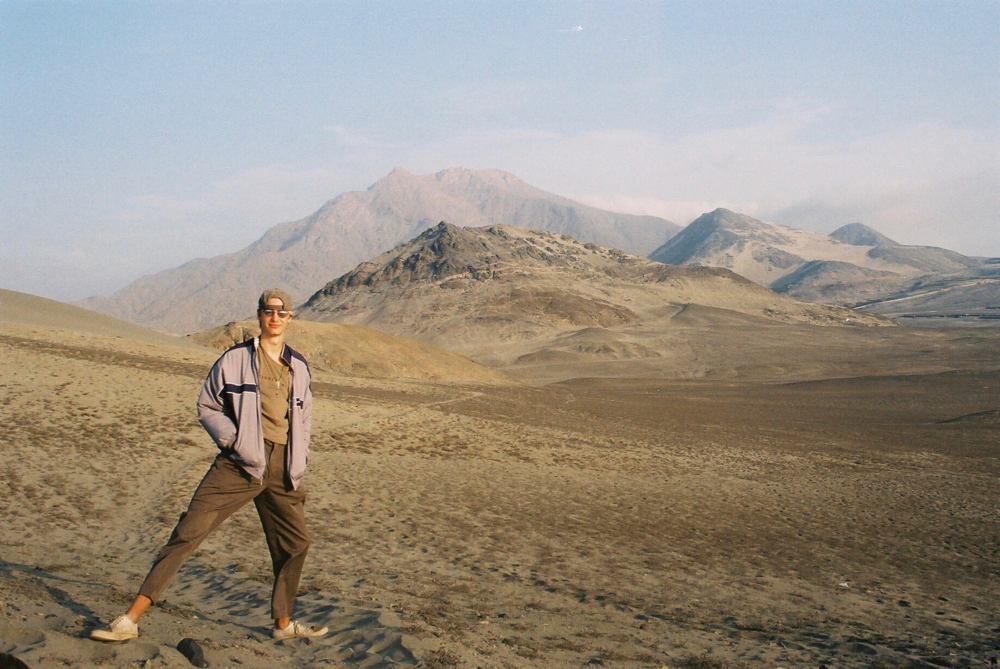 Trekking in Peru is amazing, the best I have done so far. Treks are easily accessible, simple to navigate and quality gear, information and food is easy to attain. The Santa Cruz Trek is a relatively easy 3-4 day hike that takes you through Huascaran National Park in the Cordillera Blanca mountain range of Peru. With a max elevation of 4,750 meters, you spend a lot of time up high and in the mountains, the best place to be!!!!  Wildflower meadows with streams and herds of Lamas, mountain lakes, massive glaciers and sweeping views of incredible peaks, among them Alpamayo (called by some the most beautiful mountain in the world) and Artesonraju (the famous mountain in the Paramount Logo). Guided treks are quite cheap (about $100 for 4-days) including everything!! and gear rental is easy if you're trekking alone. This trek is up there with one of the most amazing things I've ever done and was definitely the most beautiful in Peru!!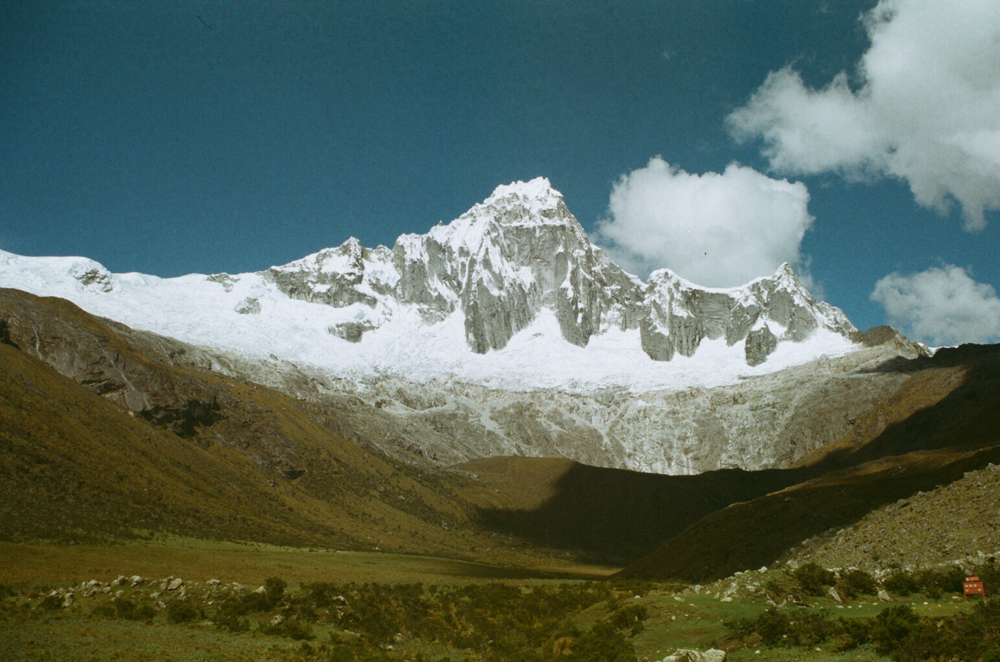 What to expect
Regardless as to whether you do this trek with a guide or on your own, you'll be sleeping in a tent, completely open to the elements for 3 nights. All the food you eat has to be carried with you (and all the rubbish carried out). There's no electricity or toilets and if you're lucky very few other people. That being said, this trek is super accessible and was pretty easy. As long and you don't mind not showering and sleeping in a tent then there's not much stopping you from loving this hike.  As I was hiking with a group, all our meals were cooked for us, water was boiled for us from the streams and our tents were ready and erected in the camp spot before we arrived. As I was on the trek by myself I had to share my tent with two other people that I didn't know, not that this was an issue, they were both lovely and everyone on the hike ended up leaving as really good friends (yay). You are usually asleep by about 8;30pm and you get up around 5;30am for breakfast at 6. The last day of hiking was fairly intense, crossing the pass at 4750m before 8am and then walking 26km down and into the next valley. You can follow the whole trail on maps.me and as I like to have my own pace I always walked on my own and just waited for the group at scenic points and used the map to navigate.
At the trailhead you will probably be asked to buy the entrance ticket to Huascaran National Park for 65 soles, if you haven't already. It is valid for 21 days, so you might be able to take it from somebody who returns to Huaraz after a trek and doesn't need it anymore. Don't lose it, you'll need it when you exit the park at the end of the trek.
On the second day you'll get amazing views of Artesonraju, the 'Paramount Pictures' mountain which may well be one of the most spectacular peaks I've ever seen. 
Make sure you bring snacks with you if you're a hungry person. Some people complain they aren't given enough food (which I didn't think was the case). 
This trek is COLD. During the day you might not be wearing much because the sun is out but at night its freezing. Make sure you have a good quality sleeping bag and some comfy clean thermals to sleep in. 
Don't forget the weed!!! There's nothing more pleasant than changing into your clean, warm clothes, washing you face, your feet and sipping on a cup of hot tea with a joint and a view of the mountains and the sounds of nature!!!!! ah!!
After the hike finishes you've got a 6 hour drive to look forward to. I hated this drive because my headphones were broken and I was squashed into the back seat, HOWEVER, this may well be one of the most scenic drives EVER, so keep your eyes peeled. 
The hostels in Huaraz cater pretty well to the trekking culture so you should be able to leave all your stuff there while you hike. The night I came back I was also able to shower and use the kitchen and pack all my things in the common room even though I wasn't staying there anymore. 
You should get back into Huaraz at around 5pm which, if you're leaving, should give you plenty of time to shower, make some food and pack before getting an overnight bus to your next destination. 
Organizing your trek
Irritatingly I never paid any attention to the name of my trekking company as I booked it through my hostel, paid the money and got picked up the next day (no paperwork required). However, I don't think the company matters too much as they all provide pretty much the same thing. The trek cost me 300 soles ($130) for 4 days including: transport, guide, food (cooked breakfast & dinner, snack bag for lunch), drinking water (boiled water from the stream), tents, mattress, mule driver and mule to carry the bags (which I stupidly didn't use) separated kitchen an dinner tents with table and chairs. You'll also have to pay 65 soles for the entrance fee to Huascaran national park valid for 21 days. I bought mine few days prior when I visited Laguna 69.
I would have loved to do this trek without a group/guide however as I was traveling on my own and had no-one to do the trek with I wasn't really left with many options. If you do want to do the trek yourself, its entirely do-able. You'll need to work out transport to and from the trail heads, carry your own food, gear and navigate too. It is honestly cheaper to do the trek with a guide (which doesn't happen often), as the cost of buying food, transport and renting all your gear in Huaraz adds up far quicker than the all inclusive price of the tour. As much as I am against tours and guides, the luxury of having camp set up and food cooked for us was incredibly nice.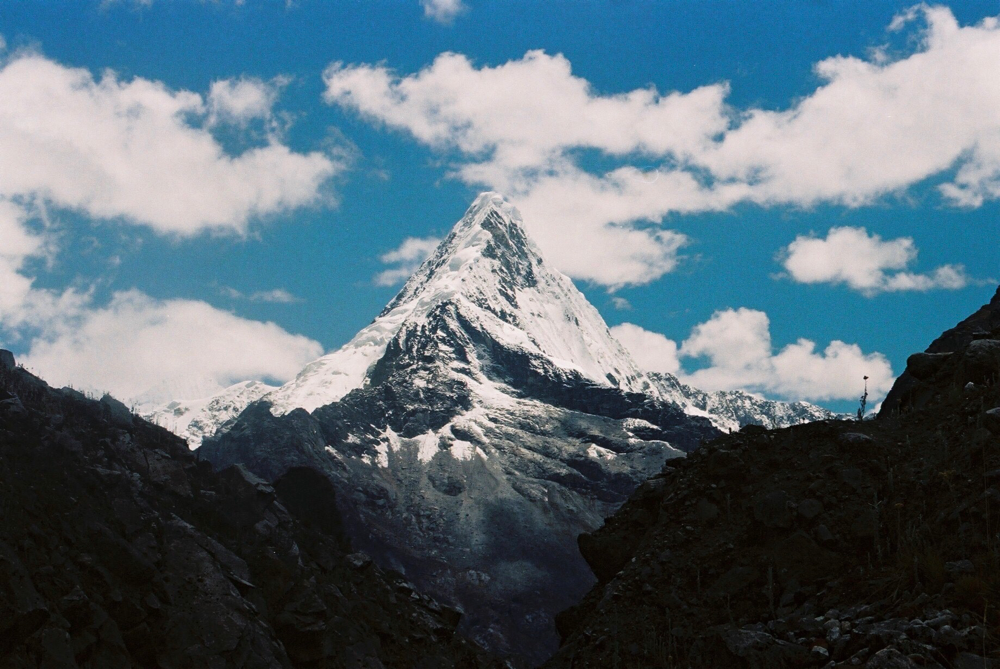 Time of year to go 
May until Sep/Oct (depending on conditions and your gear) is the best time to go is. November to April is known to be rainy, cold, and a bit unpredictable. I trekked in the notoriously dismal month of December, and got lucky with less crowds and beautiful weather. If you can, I'd recommend the shoulder season for the best of both worlds. HOWEVER if you're wanting to do more of the badass trek, such as the Huayhuash Trail its best to go in season as there are more group/guide options.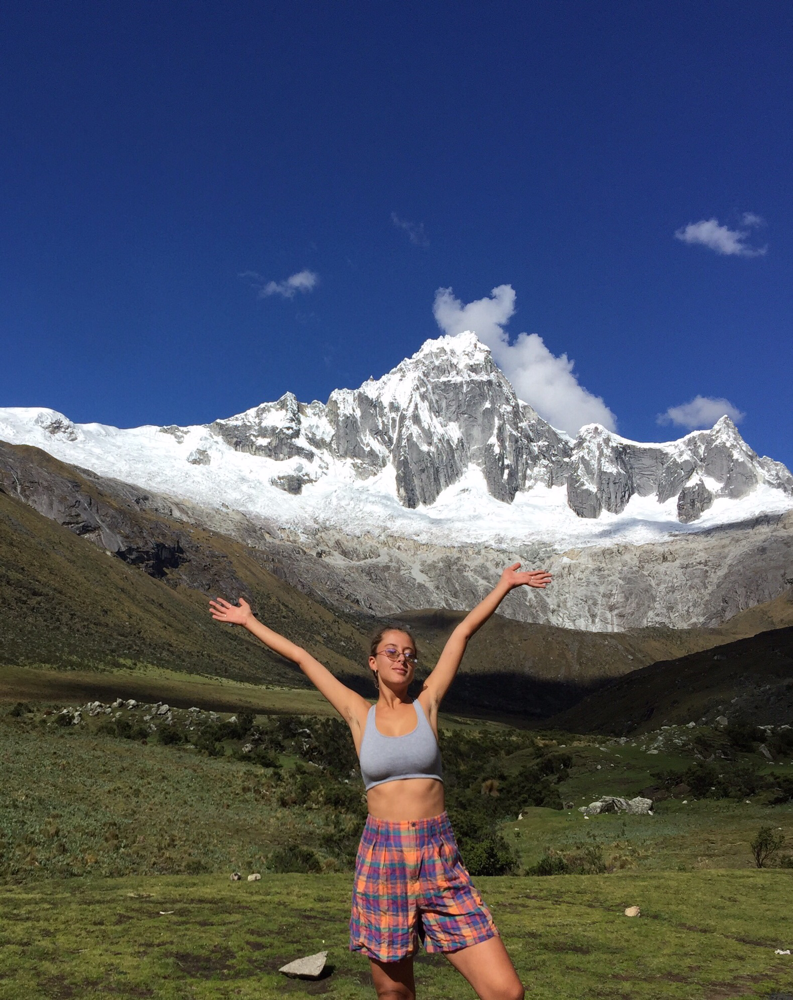 What to bring if you're hiking with a guide
Rain proof hiking gear & cover for your pack
Thermals or warm under layers
Warm layers for the freezing nights: Windproof, gloves, beanie, neck warmer.
Hiking clothes for during the day
Deck of cards
Baby wipes for your afternoon shower
Refillable water bottles
Portable chargers for you camera and phone for music!!
A portable speaker
What to bring if you're hiking solo
Make sure you have everything in the above list
Water purifying tablets (you can pick these up at most local pharmacies 
Tent
Sleeping Bag
Sleeping Mat
Cooking equipment
Petrol burner stove & extra petrol (we were told these are more efficient than gas burners)