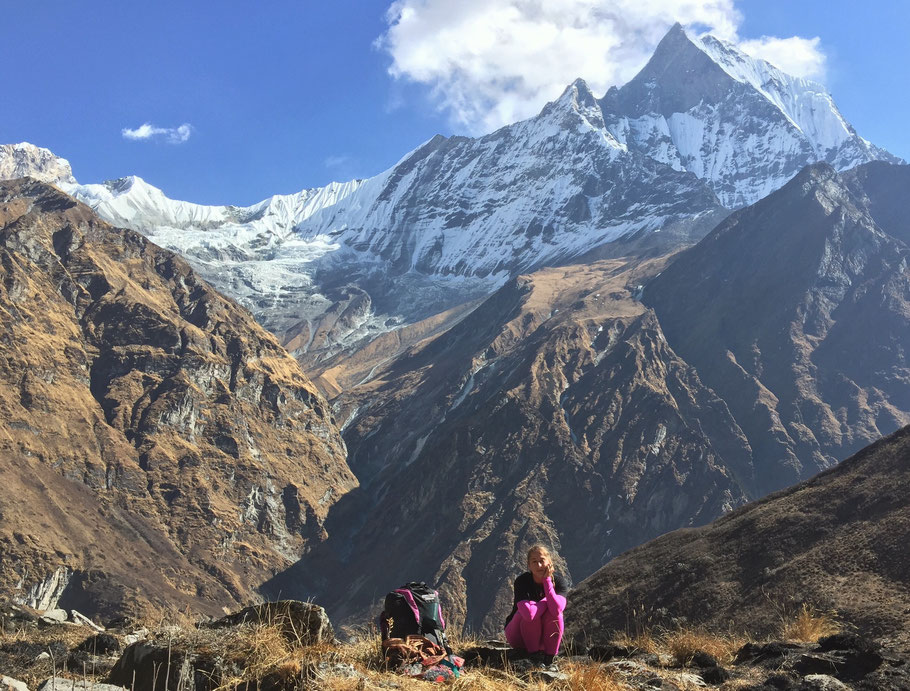 HELLO!!! Welcome to the coolest thing I've ever done. I'm genuinely sorry its taken me so long to write this blog post as I've promised it would be "done by the end of the week" for almost a year!! Several of my lucky friends have undertaken this adventure since Jod and I were there in Dec 2016 and I hope to one day soon, return myself.
Nepal has a firm place in my top 5 countries in the world and the Himalayas are about 85% of the reason why. Jodie and I began our undertaking of this trek in damagingly different mindsets. Me; all we need is some warm stuff and to work out where to get the bus from (vrs) Jodie; we don't have an avalanche kit, we don't have any maps, we don't even know where we are going... IM NOT GOING!! This tussle was all fun and games until we released the crux of our disagreement; we had both researched (and thus believed we were about to embark on) ENTIRELY DIFFERENT TREKS. While I had been researching the Annapurna Base Camp Trek, Jod had been studying the route of the Annapurna Circuit, which she had correctly labeled as an impossible task (given that it takes a minimum of 12 days and is closed in winter). The ABC however was well within our capabilities, being a 5-8 day trek, suitable for winter conditions (given we were there in Dec) and could easily be done without a guide. SO, once we had worked out what we were actually doing, the planning began and we spent several days flailing around Pokhara trying to get all our gear together (I've made this sound hard for some reason but it was actually v fun and involved a fair bit of shopping, albeit for adventure gear, but still shopping none the less) we also had a spot of paragliding which was a fun and ate our weight in falafal from O2K .
This trek should be labeled moderate difficulty, it takes you over several ridges and you finish at the top elevation of 4300m (which at the time I thought was massive). The sheer vastness of the landscape here makes it one of the most beautiful places I've been in the world and although it is entirely accessible for most people its still a serious adventure. 
I've tried to include everything in this blog post, but its likely I've missed some vital information. If there is anything you're unsure about, just message me and your question will probably jog my memory!!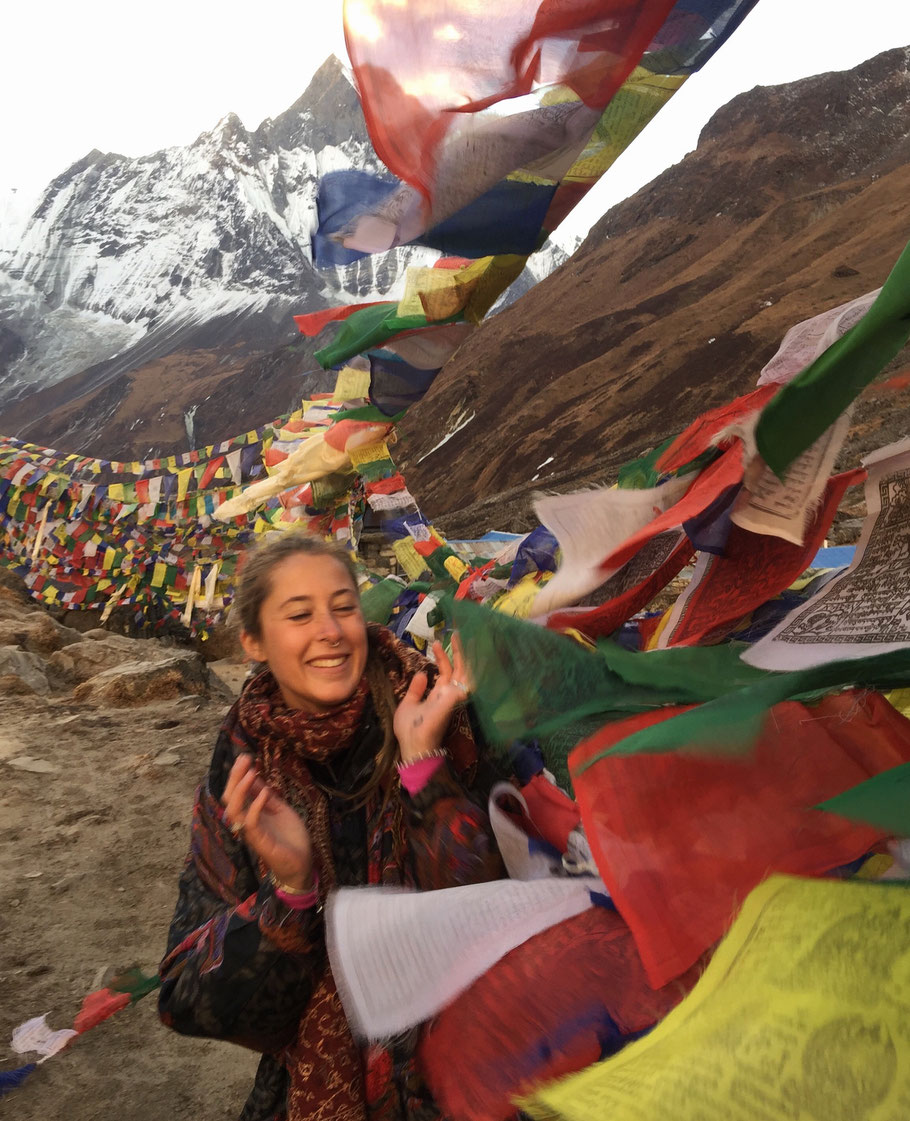 What to expect
You'll be staying in TEA HOUSES which are little huts built in the 'villages' that you pass through on the trek. Each tea house has about 12 rooms with basic beds, shared bathrooms and a common area where you can purchase food and keep warm at night. You can charge your technology, pay for wifi (sometimes), have a hot shower and buy basic items from their 'store'.  The accommodation is basic but outrageously comfortable, considering your location and its also super cheap, for as long as you buy their food for dinner/breakfast the rooms are only 200 rupees pp (which is about $4 each).
Each morning we would rise at 6:00am and head to the dinning room for breakfast which was coffee/tea and porridge or an apple pancake. We starting hiking by 7:00/7:30. The distances between each village were about 2 hours and depending on altitude/terrain we usually passed through them without stopping. At the start of the trek we were using Maps.Me to help with direction, however we were vastly mislead as although it stated the rise and fall of the hike it didn't take it into consideration for the timing and we found ourselves setting some very unrealistic goals. So, if hiking alone, you can rely on maps.me for direction but not for timing !!!  We'd have a break for lunch which was usually fried rice to share and a muesli bar. Dinner was Dahl Bat (and lots of it).
The hike is of moderate difficulty and I'd say most people will be able to do it quite easily, especially if they are determined. I run and absolutely love hiking and I found this hike incredibly easy. The first few days were the most challenging with lots of steps going up (1000m) and down (1000m) and UP AGAIN (several times).  Make sure you take the first day or so to test your capabilities because if you push yourself too hard at the beginning you might not make it to the end.  I'd say as long as you are young and without any physical impairments if you want to do this trek you can. Theres no point embarking on it if you are just going to complain the whole time, because IT IS A CHALLENGE. You'll be tired, hungry and sore, but that's what hiking is all about (and the views obviously). Jodie and I had the most amazing time and really enjoyed the physical challenge. Its definitely important to go with someone whos company you really enjoy and who values the beauty of the surroundings just as much as you. (many thanks jod)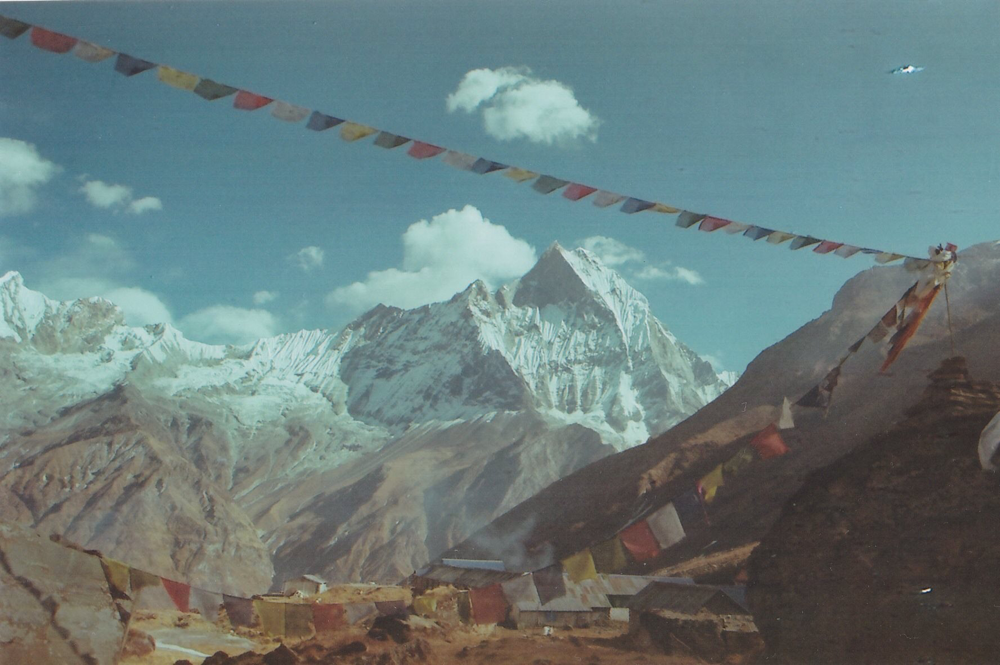 Day One 
Pokhora - Narapul - Kimche - Jhinu
 The first day we got the bus to Narapul, where we got a jeep to Kimche. Here, we had a break for lunch and started our hike at about midday. We ended just as the sun was setting in Jhinu. The tea house here was 200 a night with free showers (given that it is one of the lower villages). 
Day Two
Jhinu - Bamboo
The second day we hiked from Jhinu to Bamboo. This was incredibly scenic and involved a lot of climbing (the first two days are the hardest)
Day Three
Bamboo - Deurali
Today was a short hiking day. We finished in Deurali at about 2pm. We could have continued on quite easily to MBC but decided to enjoy the sunshine and chill out at this camp as we were already very ahead of schedule. 
Day Four
Deurali - ABC
We made it !! What we should have done here was stay the night at MBC as we got quite bad altitude sickness and had a very uncomfortable night sleeping in the camp. The views here were fucking out of control. I've never seen a landscape quite like it. 
Day Five
ABC - Chomrong
Today was our biggest day by far. Fucked up from the altitude, Jod and I were keen to descend so we left base camp at around 8am and charged our way down the valley. We kept pushing ourselves and ended up making it all the way to Chomrong which was a 45 min walk from the hot springs, and usually takes 2 days to reach. Chomrong is my favorite village as the guest houses have the most amazing views of Annapurna 1 and Machapuchare.
Day Six 
Chomrong - Lhandruk - Pokhara
We had a slow morning, taking in the view out of our tea house window before walking to the hot springs at Jhiri. We had the whole place to ourselves and spent an hour or two laying in the sun and soaking up the hot water and the view. Fresh and clean (after our first 'shower' in days) we then started our final decent. This walk took longer than expected and we didn't reach Lhandruk till sunset. We didn't care though and we threw ourselves into the back of the first available jeep who then drove us all the way back to Pokhara.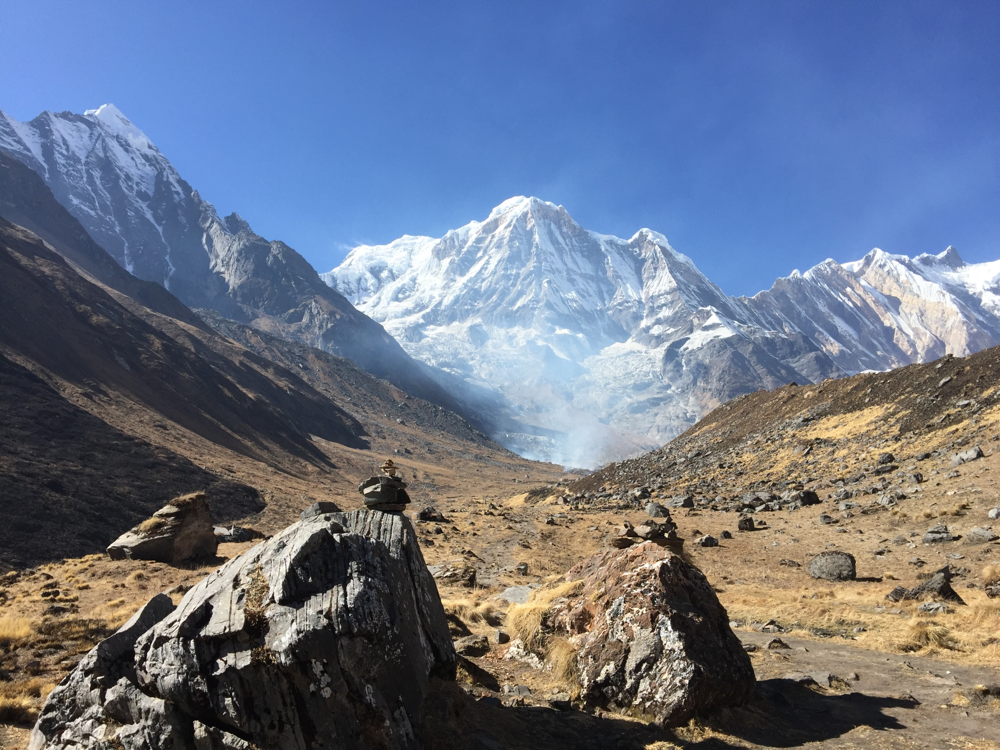 Things to bring 
TREKKING PERMIT (you can get these from the registration buildings in Kathmandu and Pokhara. The process is super easy but you need passport photos and all your documentation. The price for us was $45 (which I think lasted ten days) but it changes all the time, so just do a little research/ask around before you go!
At least 3 rolls of toilet paper (and use it sparingly) your nose will run and there is no toilet paper in any of the bathrooms. 
Thermals x 2 
A down jacket 
A fleece 
A beanie, fleece gloves, scarf 
Bed socks, track pants (to sleep in) 
2 t shirts 
Face wipes (daily showers are expensive and unnecessary) 
A 1litre water bottle to refill and to monitor how much water you're drinking 
Water purification tablets (5 for each day you plan to be trekking) 
Lots of chocolate bars, muesli bars, and crackers (you will want them and they are expensive to buy on the hike) 
Water flavouring (aqua tabs make the water taste a bit iffy but a few times a day I'd put mango flavour in and it would make it heaps nicer) 
Bring shoes from home!! I cannot stress enough how awful it would be doing this trek in hiking boots hired or bought in Nepal beforehand. My boots took me weeks to break in at home and given you're on your feet for 8 ish hours a day it's just not worth risking. 
A 50 litre backpack should be suffice, do not overpack because you'll need a lot less than you expect 
A down sleeping bag that is at least minus ten , the tea houses above 2000 meters supply blankets but they are not enough!! 
A speaker 
Lip balm, Vaseline ( I didn't have any), sunscreen (again I didn't use it but I should have), a hat and sunglasses 
A book to read when you finish for the day 
A deck of cards 
Portable chargers (you have to pay to use the electricity) it gets more expensive the further you go, starting at 150 rupees and it was 300 rupees at the top. 
A micro-fibre towel 
Don't forget weed or hash if you like smoking as I guarantee theres not better place for it after a long day hiking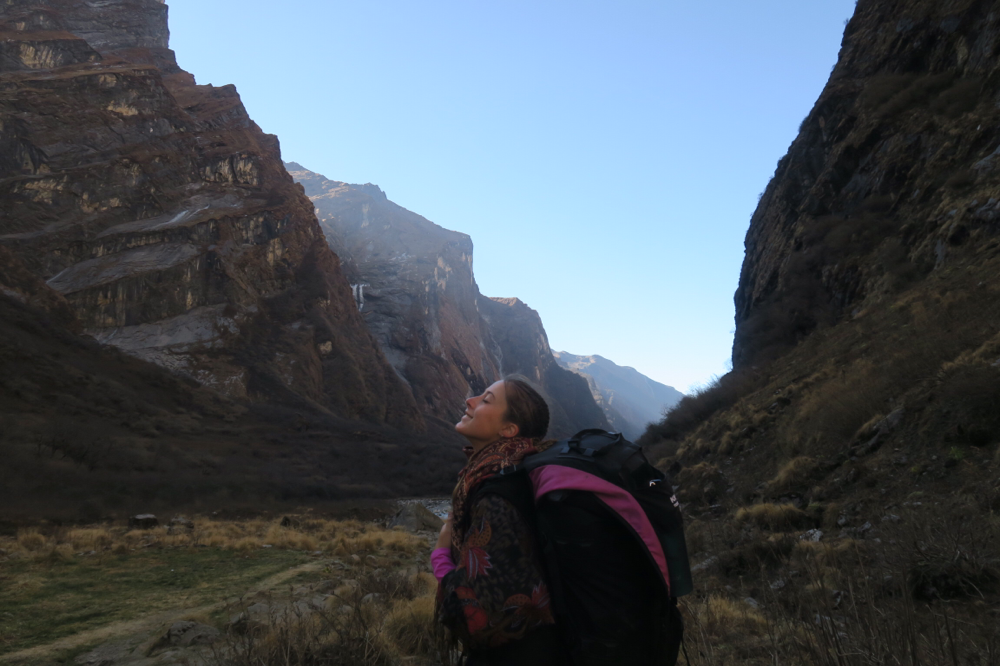 What does it cost?
Trekking in Nepal can be an array of prices depending how you chose to do it. If you're going to pay for a guide, a porter, carry lots of food and then pay for showers and internet at the tea houses then your costs are going to be much higher than ours.
Here is a list of the prices we came across (keep in mind that these will probably change by the time you get there as, depending on season and popularity they alter their prices. We usually paid for 1 charging point to charge our cameras/speakers/phones and we had hot showers when they were free lower down (they started charging the further up you go).
The trekking permit cost us $45 for 10 days 
The bus from Pokhora to Napala cost us 200 rupees each 
Hiring a sleeping bag or jacket was $1 a day
It was 850 rupees each for the jeep to Kimche
A private room in a tea house was 200 rupees each a night
Dal baht ranged from 400- 600 rupees the higher up you went, you get free refills so it's the best way to fuel up for the next day 
Masala tea was 80-100 rupees
Wifi cost between 150-300 rupees 
Charging cost 150-250 rupees
A hot shower 150-200 rupees
Chocolate bars 250 rupees
We stored out luggage for free in our hostel for the duration of our trek
All up we spent about $25 a day including the transport to and from Pokhara and the trekking permit without which (just meals and accommodation) would have cost us about $15 a day.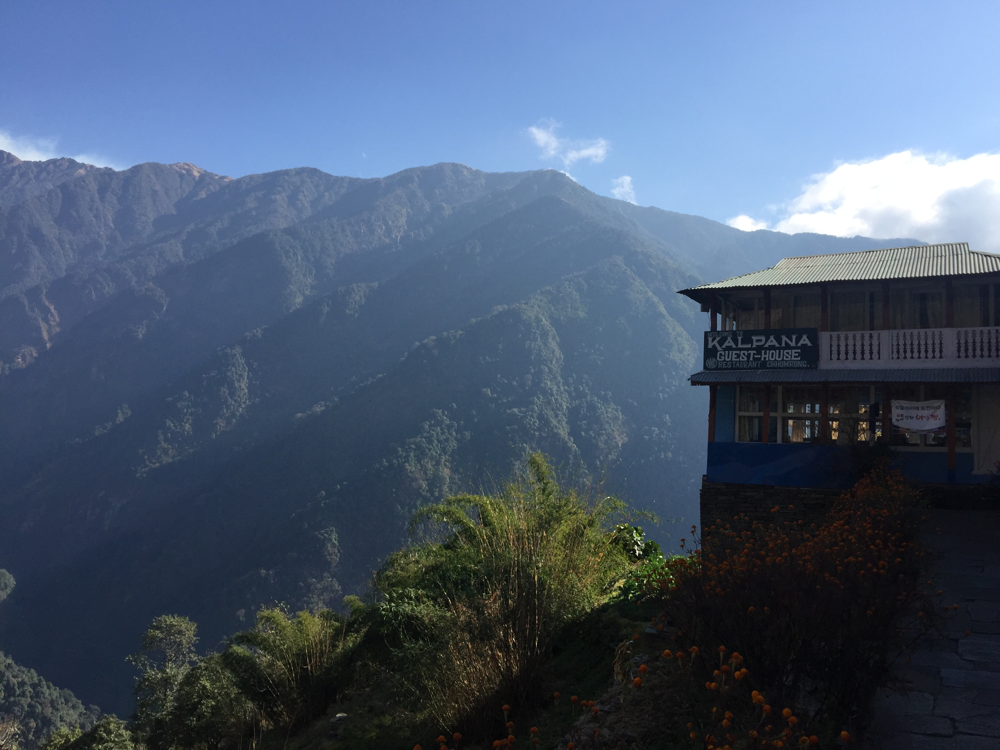 How to get there
We started our trek in Pokhara at 6am from the main bus station, we were shuffled onto a public mini bus headed to Narapul. The drive took just over 2 hours and was ridiculously precarious, luckily we got on first so we had a seat. This wasn't the case for the 20 other passengers that got on after us who were sitting on the floor as we flew over potholes and bounced around corners that fell away to 100 meters precipices.
Once we arrived in Narapul we hired a jeep to take us up the steep road incline to Kimche where we planned to start our trek. Technically we could have walked from Narapul but the walk is barren and on a dirt road where you are passed by jeeps and mini buses and it would have added an extra day to our trek. The jeep cost us 1700 rupees and was an hour and a half long drive. I highly recommend doing this instead of walking as it would have made for a very dull day.